Latin America Inspired Books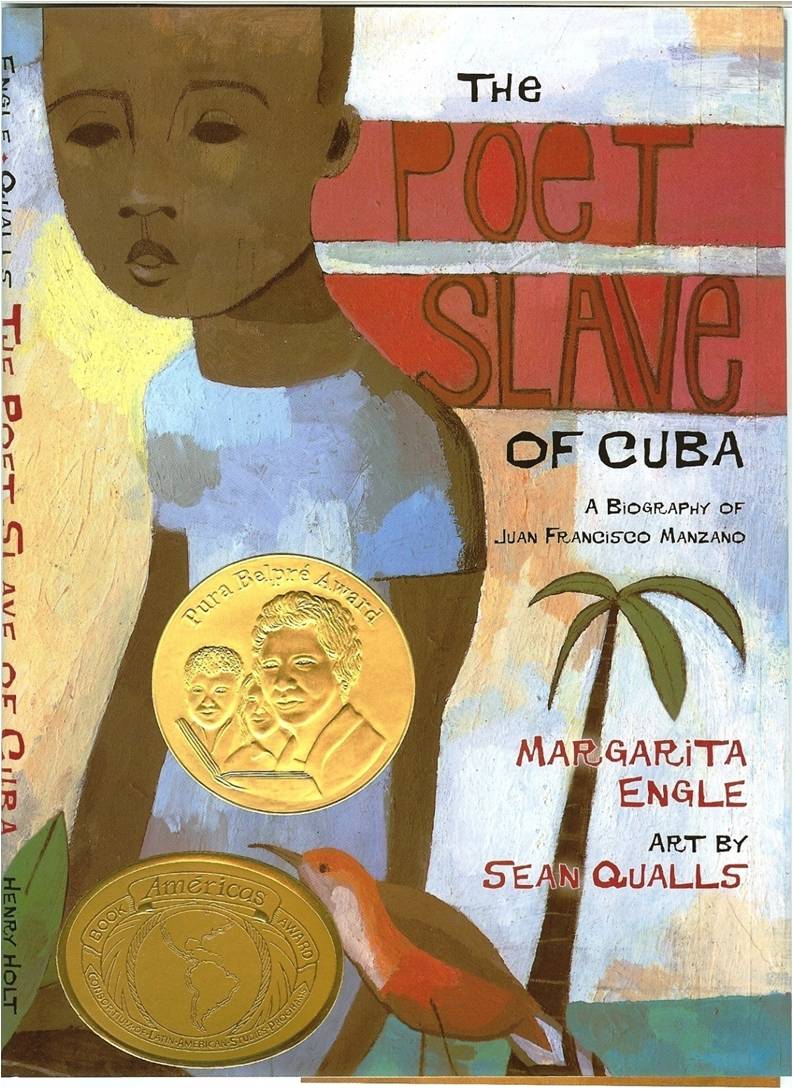 THE POET SLAVE OF CUBA
A Biography of Juan Francisco Manzano
A lyrical biography of a Cuban slave who escaped to become a celebrated poet.
Born into the household of a wealthy slave owner in Cuba in 1797, Juan Francisco Manzano spent his early years by the side of a woman who made him call her Mama, even though he had a mama of his own. Denied an education, young Juan still showed an exceptional talent for poetry. His verses reflect the beauty of his world, but they also expose its hideous cruelty.
Powerful, haunting poems and breathtaking illustrations create a portrait of a life in which even the pain of slavery could not extinguish the capacity for hope.
Order book here
Honors:
Pura Belpré Medal
Américas Award
International Reading Association Children's Book Award
International Reading Association Teachers' Choice
ALA Best Books for Young Adults
NCTE Notable Children's Books in the Language Arts
Bank Street College of Education Best Books of the Year
New York Public Library Best Books for the Teen Age
Bulletin of the Center for Children's Books Blue Ribbon Book
Cooperative Children's Book Center Choice
Booklist Editor's Choice
Arizona Grand Canyon Young Readers Master List
CCBC Global Reading List
Junior Library Guild Selection
Bank Street College of Education Selection List of Reading Aloud With Children Twelve and Older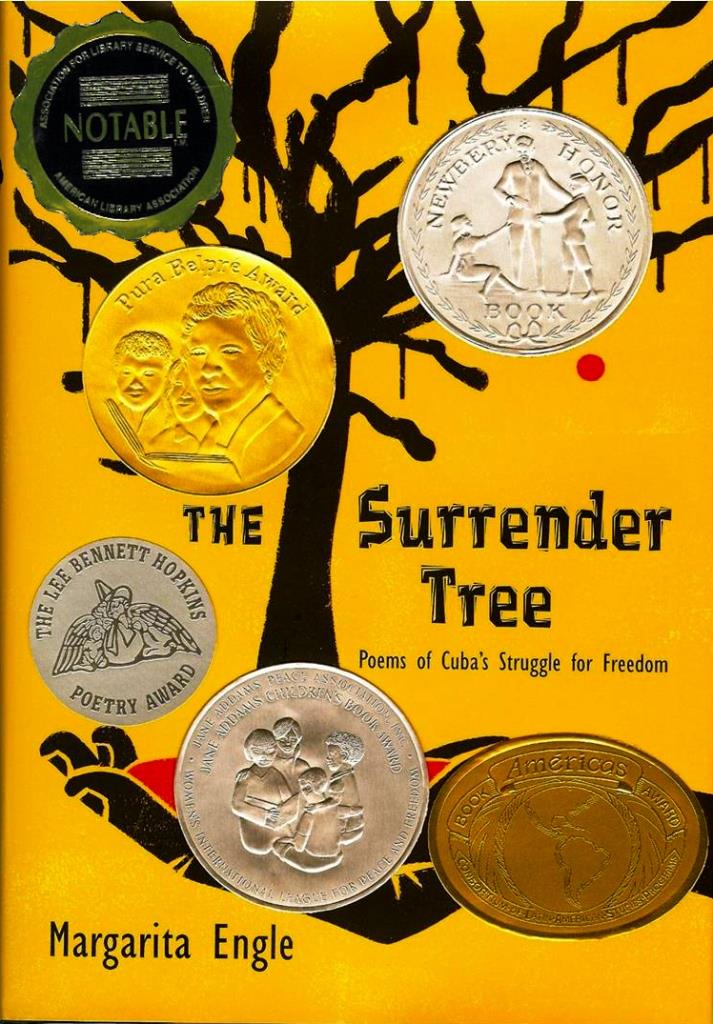 THE SURRENDER TREE
Poems of Cuba's Struggle for Freedom
Who could have guessed that after all these years,
the boy I called Lieutenant Death
when we were both children
would still be out here, in the forest,
chasing me, now,
hunting me, haunting me . . .
It is 1896. Cuba has fought three wars for independence and still is not free. People have been rounded up in concentration camps with too little food and too much illness.
Rosa is a nurse, but with a price on her head for helping the rebels, she dares not go to the camps. Instead, she turns hidden caves into hospitals for those who know how to find her. Black, white, Cuban, Spanish—Rosa does her best for everyone. Yet who can heal a country so torn apart by war?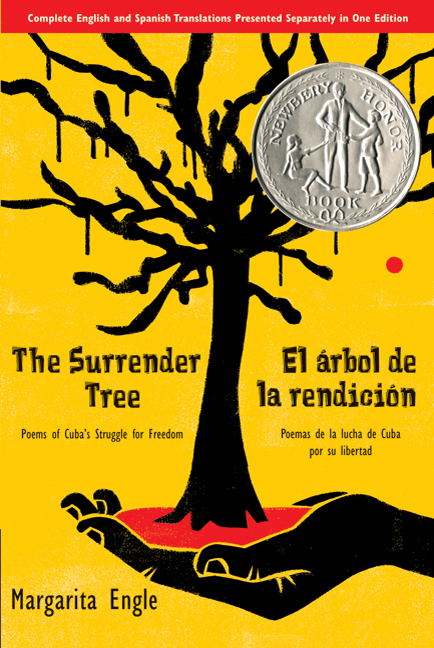 Order book here
This book is also available in bilingual English and Spanish translation.
Honors:
Newbery Honor
Pura Belpré Award
Américas Award
Jane Addams Award
Claudia Lewis Poetry Award
Lee Bennett Hopkins Honor
ALA Best Books for Young Adults
ALA Notable Book
NCSS-CBC Notable Social Studies Book
Amelia Bloomer Book
Booklist Editor's Choice
Kansas State Reading Circle
Michigan Great Lakes Great Books Award Master List
Junior Library Guild Selection
Finalist - Once Upon a Word Children's Book Award, Museum of Tolerance, Simon Wiesenthal Library
Bank Street College of Education Selection List of Reading Aloud With Children Twelve and Older
ALSC Notable Books
Great Social Studies Poetry Books list, from CLA Master Class: Poetry Across the Curriculum (Social Studies and Poetry)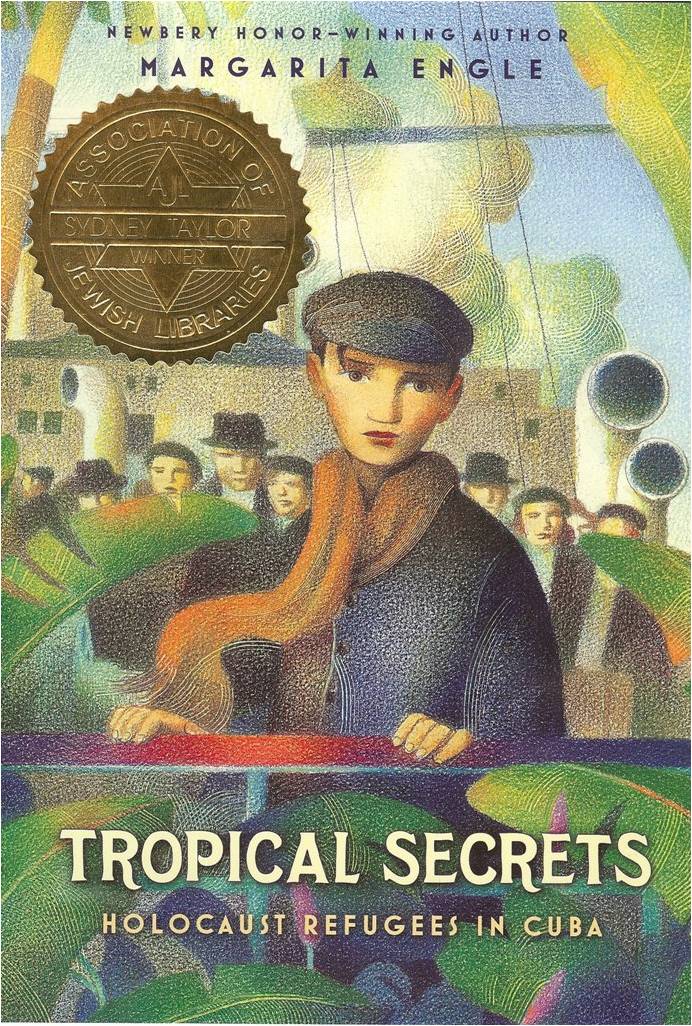 TROPICAL SECRETS
Holocaust Refugees in Cuba
Daniel has escaped Nazi Germany with nothing but a desperate dream that he might one day find his parents again. But that golden land called New York has turned away his ship full of refugees, and Daniel finds himself in Cuba.
As the tropical island begins to work its magic on him, the young refugee befriends a local girl with some painful secrets of her own. Yet even in Cuba, the Nazi darkness is never far away . . .
Order book here
Honors:
Sydney Taylor Award
Paterson Prize
Américas Award
Jane Addams Award Commendation
New York Public Library 100 Titles for Reading and Sharing
ALA Best Books for Young Adults Nominee
California Teachers Association Recommended Book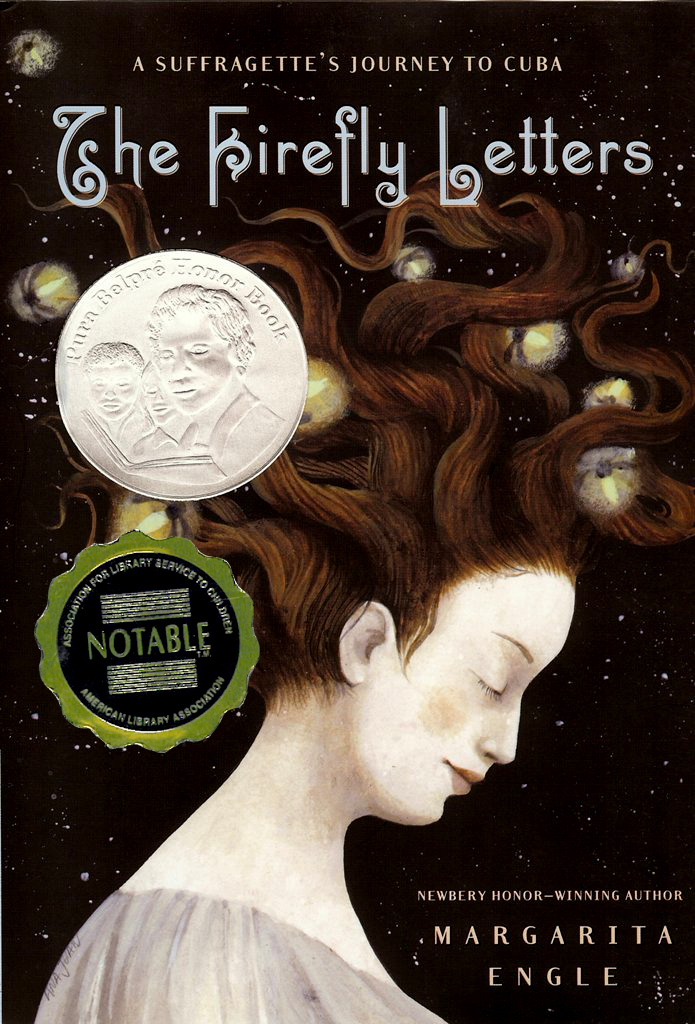 THE FIREFLY LETTERS
A Suffragette's Journey to Cuba
The freedom to roam is something that women and girls in Cuba do not have. Yet when Fredrika Bremer visits from Sweden in 1851 to learn about the people of this magical island, she is accompanied by Cecilia, a young slave who longs for her lost home in Africa. Soon Elena, the wealthy daughter of the house, sneaks out to join them. As the three women explore the lush countryside, they form a bond that breaks the barriers of language and culture.
In this quietly powerful new book, award-winning poet Margarita Engle paints a portrait of early women's rights pioneer Fredrika Bremer and the journey to Cuba that transformed her life.
Order book here
Honors:
Pura Belpré Honor
Jane Addams Award Finalist
California Book Award Finalist
International Reading Association Notable Book for a Global Society
Américas Award Honor
NCSS-CBC Notable Social Studies Book
Amelia Bloomer Book
TAYSHAS Choice
Junior Library Guild Selection
ALSC 2011 Notable Children's Book
Latinas for Latino Lit 2014 Summer Reading Program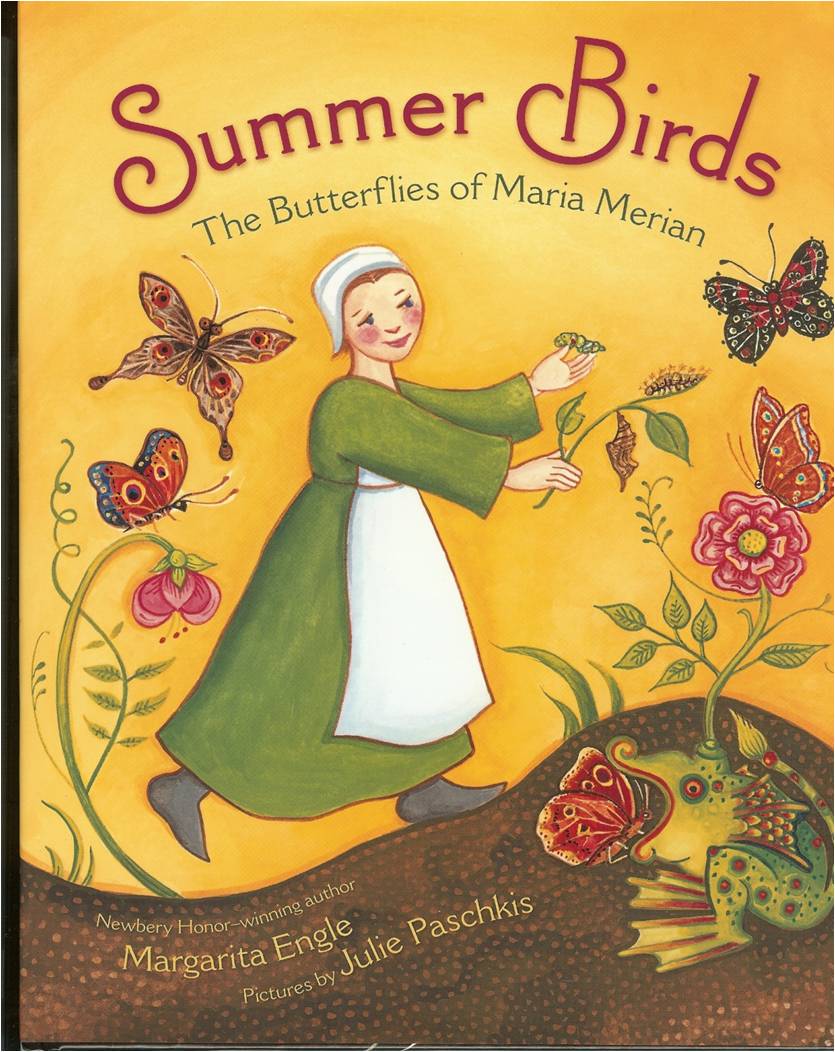 SUMMER BIRDS
The Butterflies of Maria Merian>
(picture book)
In the Middle Ages, people believed that insects were evil, born from mud in a process called spontaneous generation. Maria Merian was only a child, but she disagreed. She watched carefully as caterpillars spun themselves cocoons, which opened to reveal summer birds, or butterflies and moths. Maria studied the whole life cycle of the summer birds, and documented what she learned in vibrant paintings.
This is the story of one young girl who took the time to observe and learn, and in so doing disproved a theory that went all the way back to ancient Greece.
Order book here
Honors:
Kirkus Best Books for Children
NCSS-CBC Notable Social Studies Book
Amelia Bloomer Book
Top 100 Mighty Girls Picture Book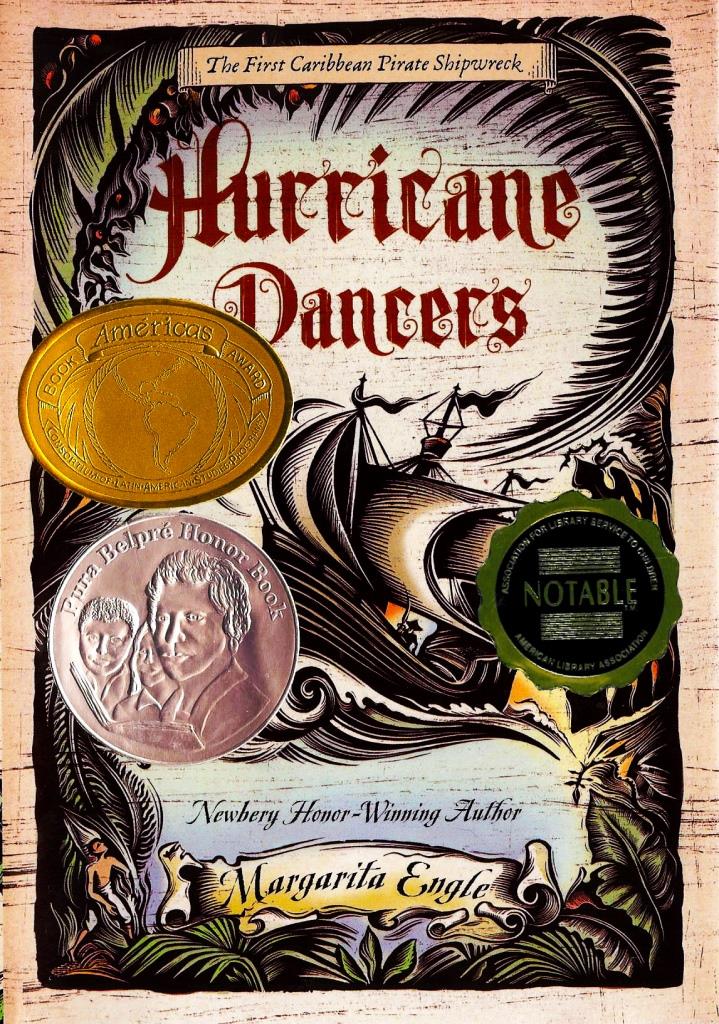 HURRICANE DANCERS
The First Caribbean Pirate Shipwreck
Quebrado has been traded from pirate ship to ship in the Caribbean Sea for as long as he can remember. The sailors he toils under call him el quebrado—half islander, half outsider, a broken one. Now the pirate captain Bernardino de Talavera uses Quebrado as a translator to help navigate the worlds and words between his mother's Taíno Indian language and his father's Spanish.
But when a hurricane sinks the ship and most of its crew, it is Quebrado who escapes to safety. He learns how to live on land again, among people who treat him well. And it is he who must decide the fate of his former captors.
Order book here
Honors:
2012 Pura Belpré Author Honor
2012 Américas Award Winner
ALSC 2012 Notable Children's Book for older readers
ALA Best Books for Young Adults nominee
Poetry for Children Blog's Top 20 Most Distinctive Books of Poetry 2011
2012 White Ravens List
2012 Notable Social Studies Trade Books for Young People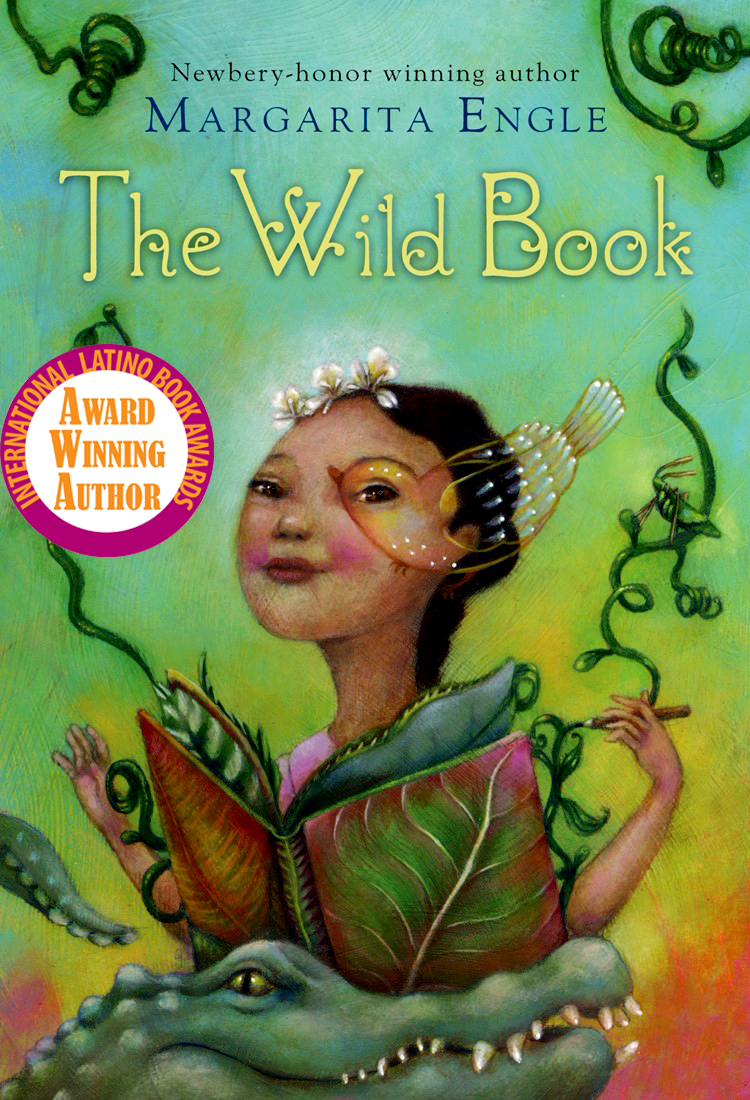 THE WILD BOOK

Fefa struggles with words. She has word blindness, or dyslexia, and the doctor says she will never read or write. Every time she tries, the letters jumble and spill off the page, leaping and hopping away like bullfrogs. How will she ever understand them?
But her mother has an idea. She gives Fefa a blank book filled with clean white pages. "Think of it as a garden," she says. Soon Fefa starts to sprinkle words across the pages of her wild book. She lets her words sprout like seedlings, shaky at first, then growing stronger and surer with each new day. And when her family is threatened, it is what Fefa has learned from her wild book that saves them.
The Wild Book is a novel in verse inspired by stories told by Margarita's grandmother about her childhood. The gorgeous cover is illustrated by talented multiple Pura Belpré winning illustrator, Yuyi Morales.
Follow this link to hear Margarita sharing some of the backstory for The Wild Book.
Order book here
Honors:
Kirkus Reviews New & Notable Books for Children (March 2012)
2012 Staff Favorites at Teaching for Change's Bookstore at Busboy and Poets
2013 Mock Belpre from Reforma Heartland Chapter
Horn Book's Guide to 2012 Notable Novels in Verse, in honor of National Poetry Month
Latinas for Latino Lit 2014 Summer Reading Program
Read reviews here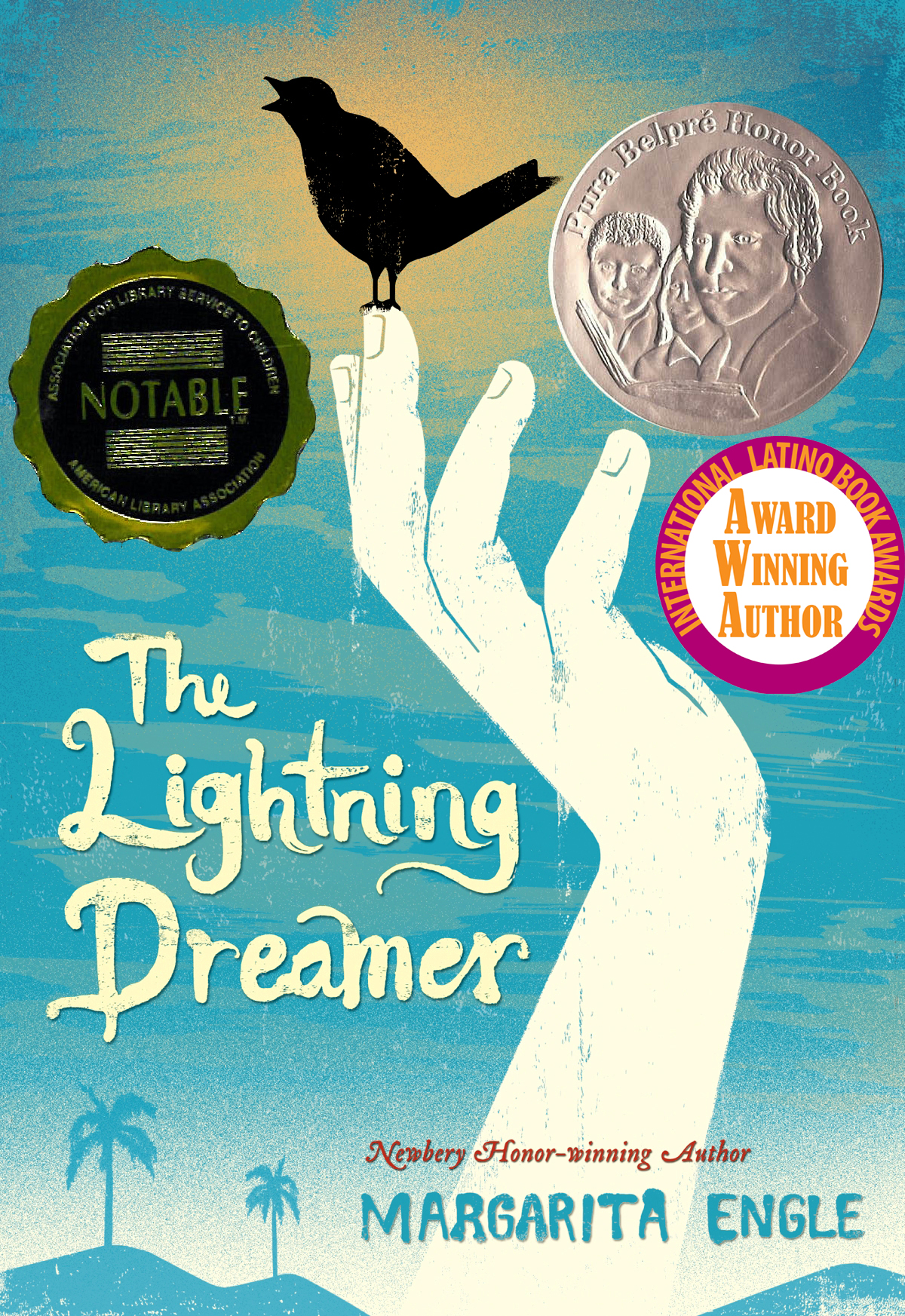 THE LIGHTNING DREAMER
Cuba's Greatest Abolitionist

"I find it so easy to forget / that I'm just a girl who is expected / to live / without thoughts."
Opposing slavery in Cuba in the nineteenth century was dangerous. The most daring abolitionists were poets who veiled their work in metaphor. Of these, the boldest was Gertrudis Gómez de Avellaneda, nicknamed Tula.
In passionate, accessible verses of her own, Engle evokes the voice of this book-loving feminist and abolitionist who bravely resisted an arranged marriage at the age of fourteen, and was ultimately courageous enough to fight against injustice. Historical notes, excerpts, and source notes round out this exceptional tribute.
Order book here
Honors:
Read reviews here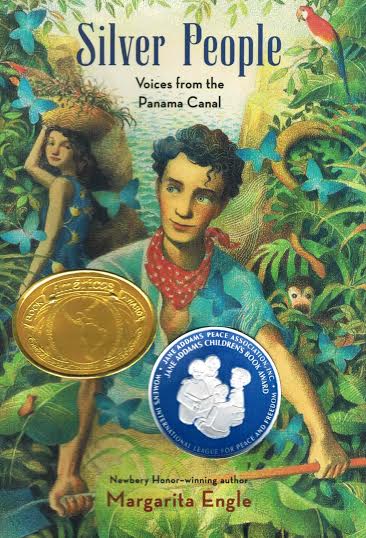 SILVER PEOPLE
Voices from the Panama Canal
Margarita's upcoming book,Silver People, Voices From the Panama Canal will feature Raúl Colón's spectacular cover art.
This book will be publish in the U.S by Harcourt, in Australia and New Zealand by University Press.
Silver People has been selected as one of Junior Library Guild selection in their Spring 2014 catalog.
Honors:
Américas Award
Jane Addams Award 2015 Honor Book
Green Earth Award Honor Book
Junior Library Guild selection
CCBC Global Reading List
Bank Street Center for Children's Literature 2015 Best Children's Books of the Year
ALSC Notable Books in the Social Sciences
ALSC Building STEAM with Dia list
New York Public Library Top 25 Books for Young Adults
CCBC Choices Fiction for Young Adults
CCBC Global Reading List
International Latino Book Award finalist and Honorable Mention
Best Multicultural Books selection from the Center for the Study of Multicultural Children's Literature
Distinguished Books of 2014 list, Association of Children's Librarians of Northern California
Teaching for Change Best Books
Poetry for Children Favorites
VOYA Perfect Ten
Top 10 YA list, Latinas for Latino Lit
Top Ten Verse Novels - Nerdy Book Club
ABC Best Books for Children list of ABA (American Booksellers Association)
Recommended by Rethinking Schools in the School Resource section of the January 2014 issue.
A VOYA Perfect Ten (5Q/5P) review
Booklist starred review from Michael Cart (Feb. 15, 2014 issue)
2015 International Reading Association Notable Books for a Global Society
Read reviews here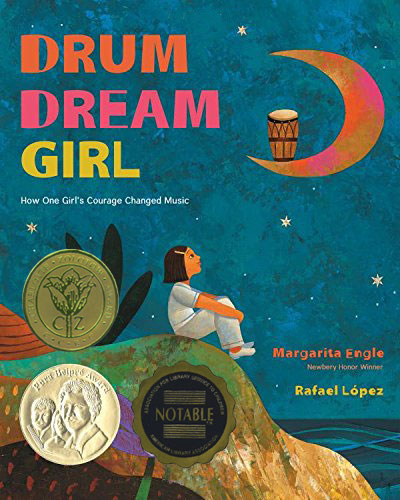 DRUM DREAM GIRL
How One Girl's Courage Changed Music
Released in March 2015, this story is inspired by the childhood of Millo Castro Zaldarriaga, a Chinese-African-Cuban girl who broke Cuba's traditional taboo against female drummers.
Order book here
Honors:
Read reviews here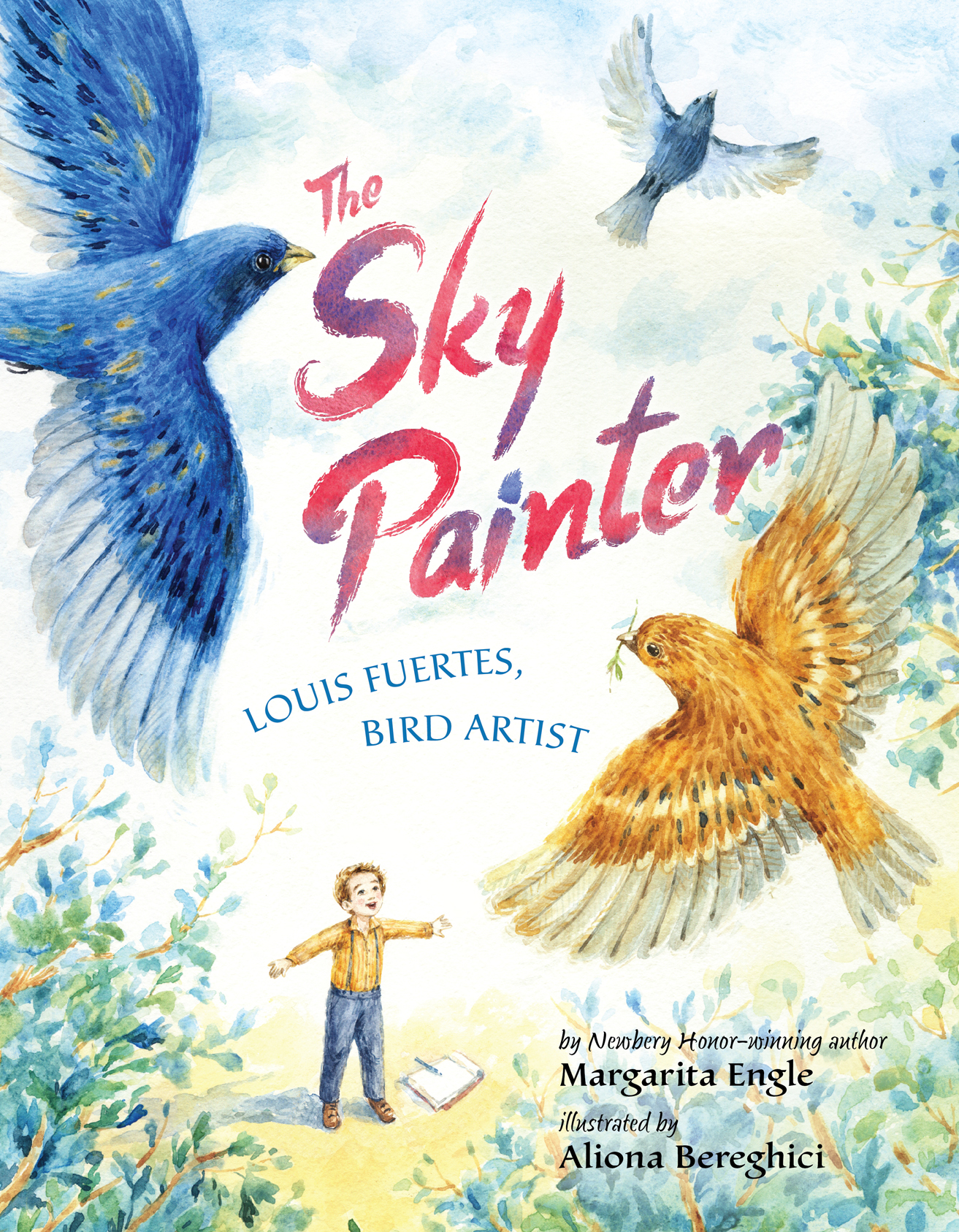 THE SKY PAINTER
Louis Fuertes, Bird Artist
This book will be released in April 2015. The story is inspired by the life of Louis Fuertes and the deep sense of wonder that he felt when he painted the sky.
Book trailer for The Sky Painter by Margarita Engle, illustrated by Aliona Bereghici
Download The Sky Painter activity kit
Order book here
Honors: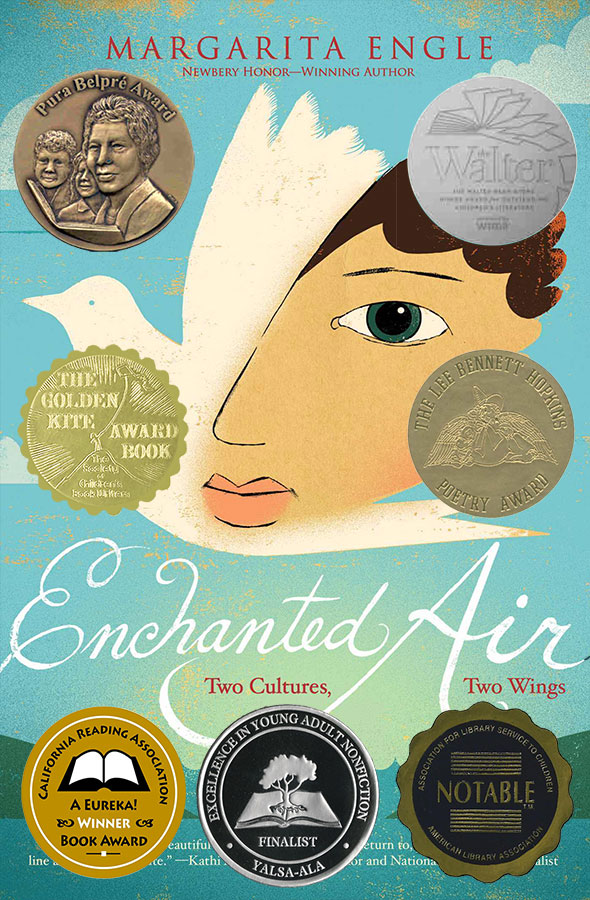 ENCHANTED AIR
Two Cultures, Two Wings
This book is a poetic memoir of Margarita's childhood growing up as a child of two cultures, United staes and Cuba, during the Cold War.
Order book here
Honors:
Read reviews here