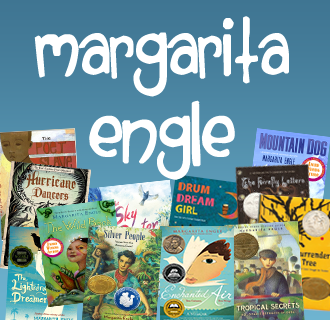 Coming Soon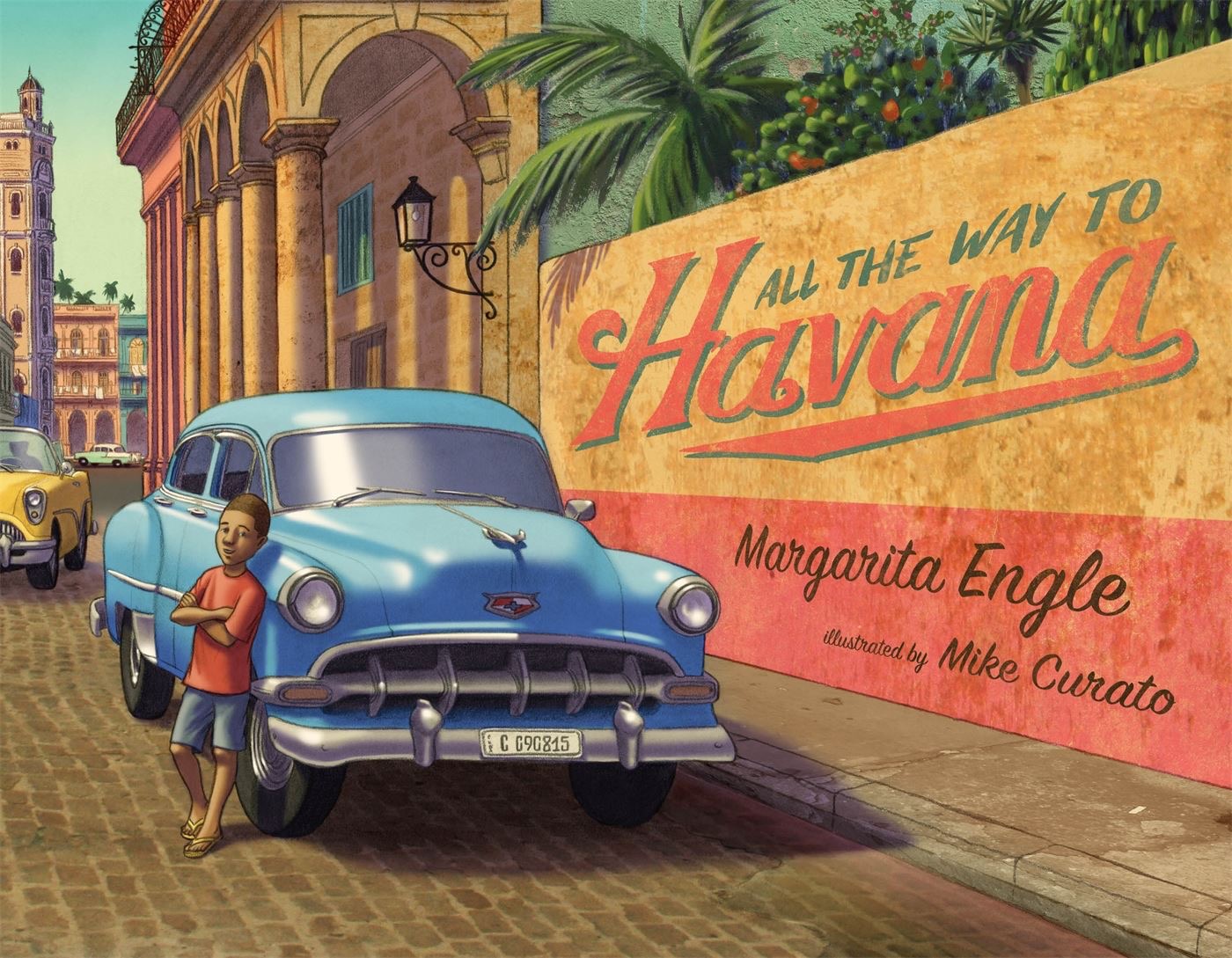 August 2017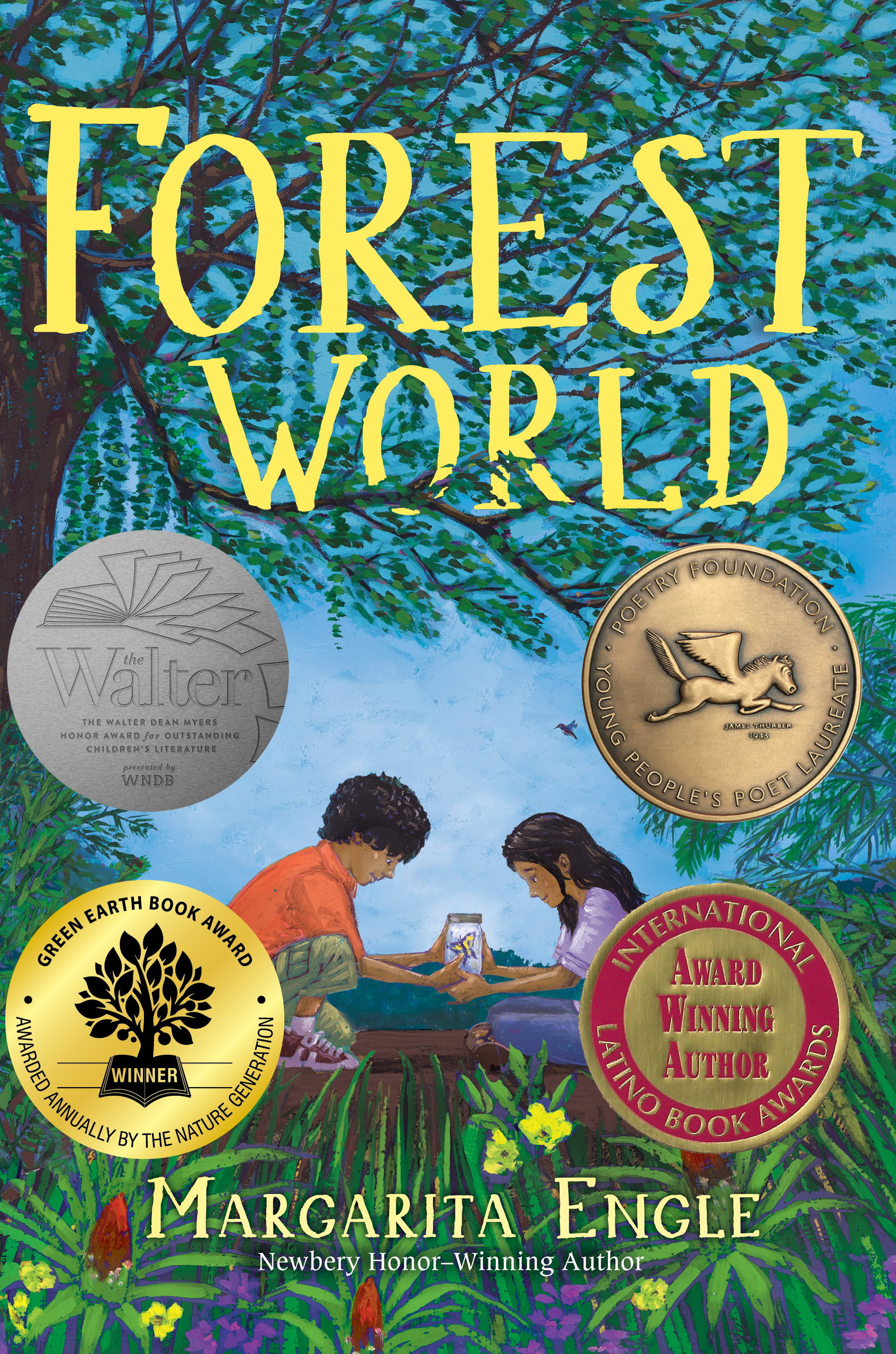 August 2017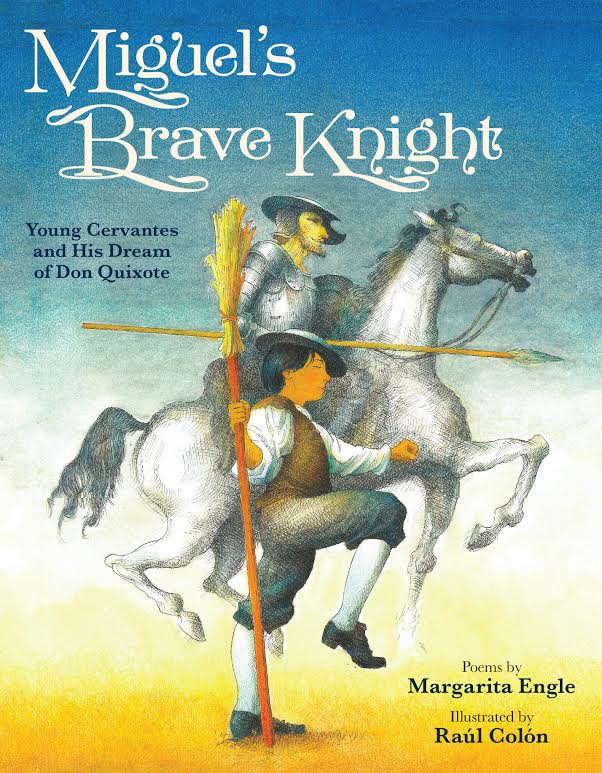 October 2017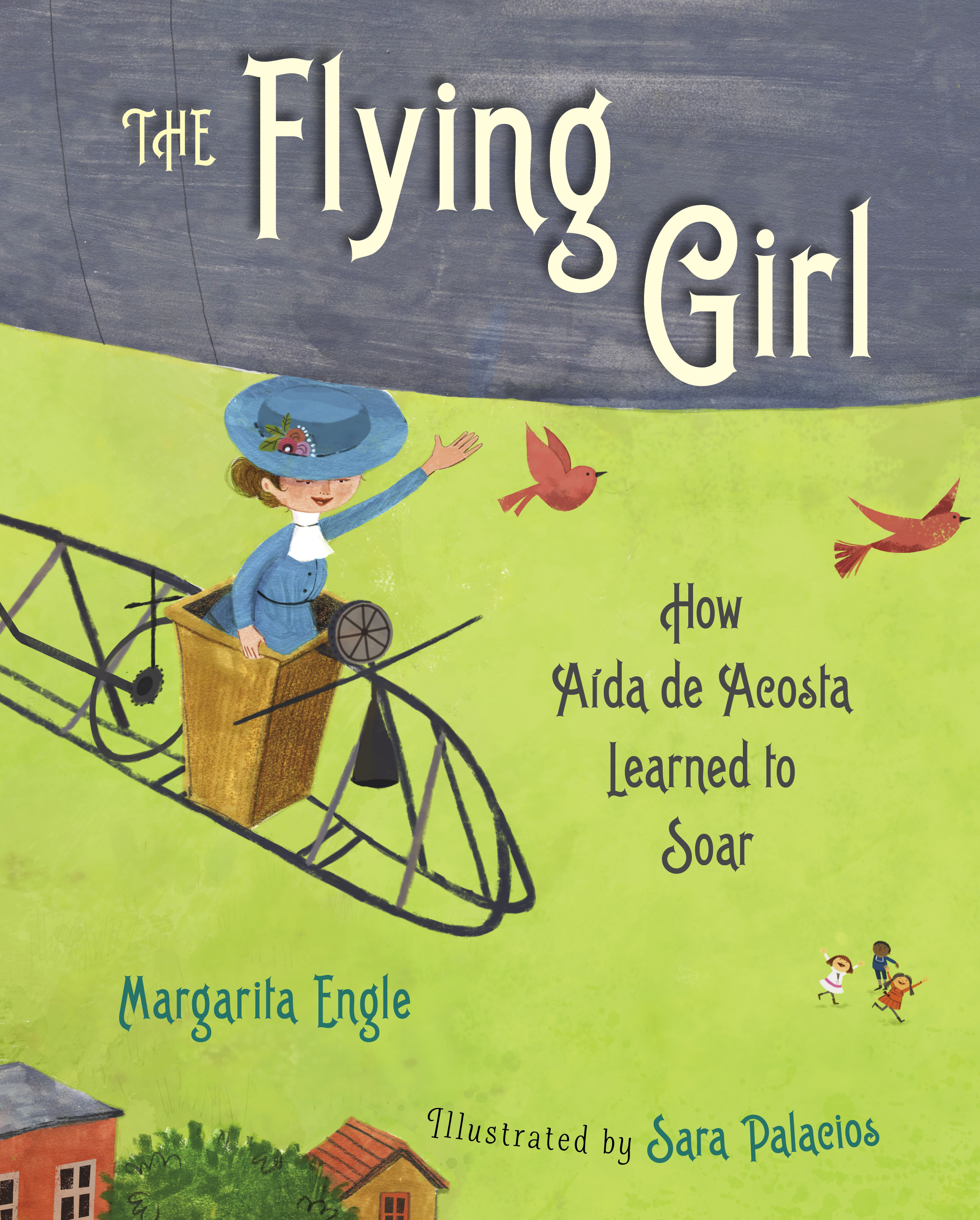 March 2018
Now Available
Lion Island: Cuba's Warrior of Words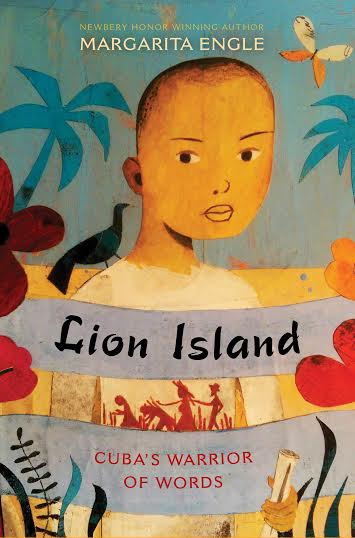 Booklist, issue: July 1, 2016

The newest historical novel in verse from award-winner Engle (Enchanted Air, 2015) tells the true story of Antonio Chuffat, whose mixed Chinese African descent made him an ideal messenger and, later, story- recorder for the indentured Chinese and African slaves in Cuba in the late 1800s. Young Antonio and his friends, Wing and Fan, collude to help victims of forced-labor practices escape to freedom. When word of Cuba's inhuman policies reaches the Chinese emperor, he sends emissaries to collect the people's stories, and Antonio is tasked with recording them. Their stories are interwoven with those of the three protagonists, to powerful effect.

Once again, Engle has brought the dark truths of colonial history out of the shadows and into a young readership's world. She draws attention to topics as diverse as forced migration, foreign policy, cultural blending, racism, poetry, love, peaceful resistance, and the power of words. This poetic glimpse into Cuba's troubled past shines a light on an important human-rights activist and will pique readers' curiosity about Cuba's complicated history. — Amina Chaudhri.


THE WILD BOOK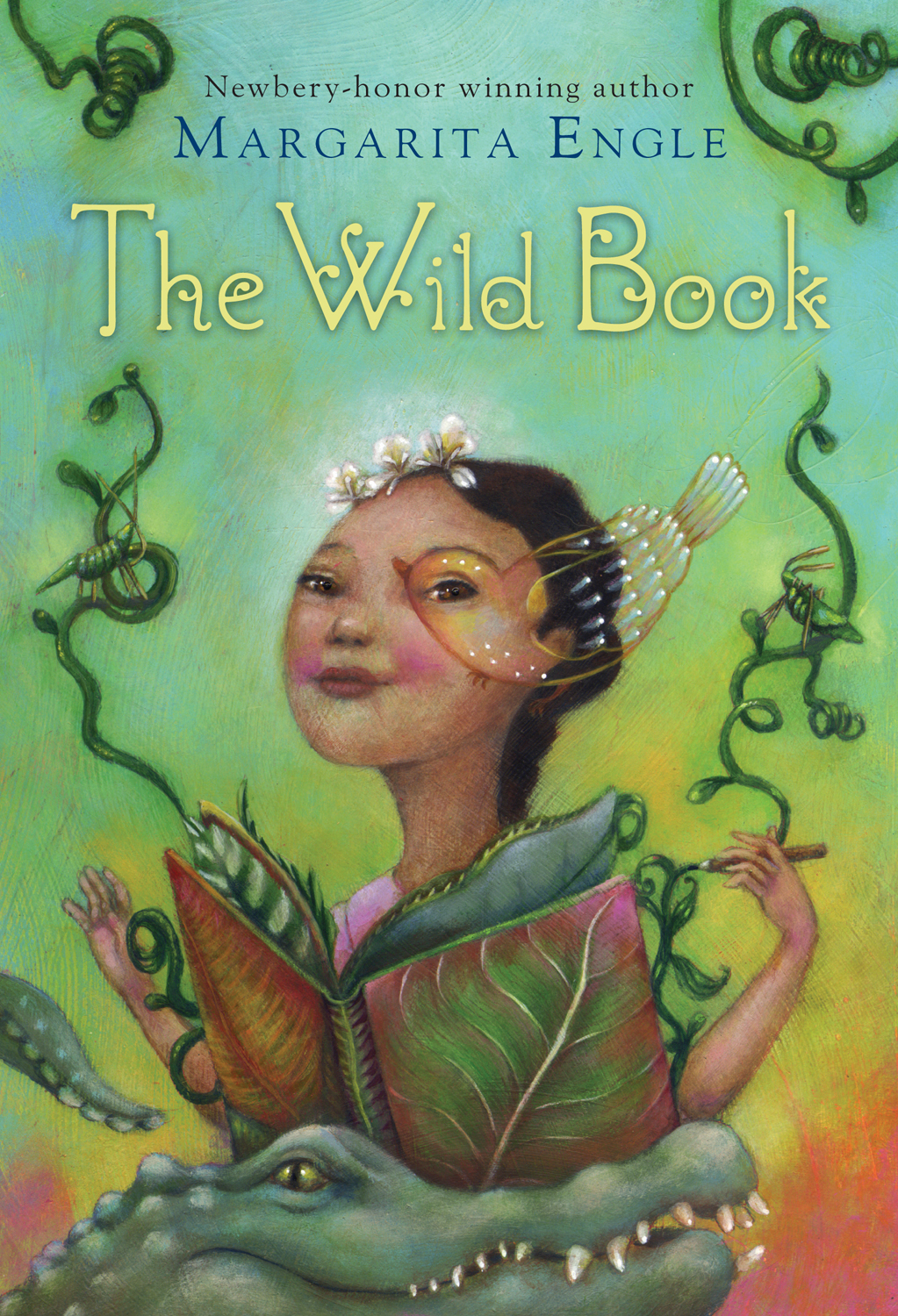 "A beautiful tale of perseverance." - Kirkus, starred review
"Readers will be enchanted." - VOYA
"This lyrical glimpse of early twentieth-century Cuba will enrich multicultural studies." - Booklist
"Engle uses words sparingly and with grace . . . The idea of a wild book on which to let words sprout is one that should speak to those with reading difficulties and to aspiring poets as well." - School Library Journal
Full Reviews:
Kirkus Review (Starred Review), issue date: February 1, 2012

A young girl tackles a learning disability and the uncertainty of daily life in early-20th-century Cuba.

Ten years old at the tale's opening, Josefa "Fefa" de la Caridad Uría Peña lives with her parents and 10 siblings on their farm, Goatzacoalco. Diagnosed with "word blindness" (a misnomer for dyslexia), Fefa struggles at school and in a home rich with words, including the writings of Nicaraguan poet Rubén Darío. Discounting a doctor's opinion that "Fefa will never be able / to read, or write, / or be happy / in school," her mother gives her a blank diary: "Let the words sprout / like seedlings, / then relax and watch / as your wild diary / grows." "Let the words sprout / like seedlings, / then relax and watch / as your wild diary / grows." Basing her tale on the life of her maternal grandmother, Engle captures the frustrations, setbacks and triumphs of Fefa's language development in this often lyrical free-verse novel. Her reading difficulties are heightened when bandits begin roving the countryside, kidnapping local children for ransom: "All I can think of / is learning how / to read / terrifying / ransom notes."

The author gives readers a portrait of a tumultuous period in Cuban history and skillfully integrates island flora, fauna and mythology into Fefa's first-person tale. This canvas heightens Fefa's determination to rise above the expectations of her siblings, peers and society.

A beautiful tale of perseverance. (author's note) (Historical fiction. 10-14)


VOYA, issue date: December 2011 - 5Q 4P M J

Josefa, or "Fefa," is an eleven-year-old girl living in the Cuban countryside in 1912. We learn about her and the world that surrounds her through a blank book given to her by her mother, a poet, that Fefa fills with simple, but elegant, poetry. We learn of Fefa's struggles with "word blindness" (dyslexia?) through her words and poems. Words are a challenge for her—but she has "word hunger" and aspires to and gains "word freedom" despite others believing she would never read. While Fefa struggles with words, she observes and writes about the struggles around her—political strife, kidnappings, and violence.

The Wild Book is a beautiful collection of poems that together tell the story of a young girl's challenge with language, and it is much more. We learn the history and culture of Cuba, and the power and importance of family. Younger readers will connect with Fefa as she observes her surroundings and her older sisters' romantic relationships, wondering if anyone will ever love her, ever write words of affection to her. Teachers could us this book in many ways—to teach poetry, understanding a learning disability, history, sociology, culture, and perseverance.

Whatever the motivation of the reader, after completing The Wild Book, they will be enchanted by the beautiful words, words with which Fefa struggled, but ultimately, with whom she became dearest friends. - Nancy Pierce.


School Library Journal, issue date: March 2012

This novel in verse is about a girl growing up with dyslexia in early 20th-century Cuba. Family love and the chaos that comes with large families are mixed with historical tidbits about Cuba after its wars for independence from Spain. Engle uses words sparingly and with grace: "…I love the way poetry/turns ordinary words/into winged things/that rise up/and soar!"

In other poems, the protagonist's voice (based on Engle's grandmother) speaks of the struggles of learning to read and write with "word blindness," a term used to describe learning disabilities a century ago. While Fefa's great sadness over her inability to read is the primary focus, Engle includes rich cultural details and peeks into a time in which bandits roamed the countryside and children were often captured and held for ransom.

Throughout all the drama, poetry is an integral part of daily life, in the play of children and the entertainment of adults, solace to Fefa in her struggle, and even as a means of expression by a kidnapper-poet. The idea of a wild book on which to let her words sprout is one that should speak to those with reading difficulties and to aspiring poets as well. - Wendy Smith-D'Arezzo, Loyola College, Baltimore, MD


Booklist, issue date: March 2012

Diagnosed as having "word blindness," 11-year-old narrator Josefa, affectionately known as Fefa, struggles with reading and records her frustrations in this diary. Danger lurks in the 1912 Cuban countryside. Bandits rustle cattle and threaten to kidnap children. Her brother accidentally shoots himself, and the farm manager writes an "ugly" poem for Fefa that makes her feel uncomfortable. She eventually learns to read and triumphantly declares, "I am surprised to discover / that I can no longer bear / the thought of an entire day / without the natural flow / of twining / vinelike words."

Written in free verse and inspired by family stories, the slender narrative conveys the frustrations of dyslexia and captures the lush setting. On the minus side, Fefa's family members never emerge as distinct characters. Sprinkled with references to Cuban and Nicaraguan poetry, this lyrical glimpse of early twentieth-century Cuba will enrich multicultural studies.


Shelf Awareness for Readers, issue date: March 23, 2012

Written in verse and inspired by stories told to her by her grandmother, this suspenseful, lyrical novel by a Newbery Honor author illuminates a time and place when "poetry was a treasured aspect of daily life."

"Word blindness/ the doctor hisses it/ like a curse/... / Fefa will never be able/ to read, or write/ or be happy/ in school." Fefa's mother refuses to accept this pronouncement, and gives her 11-year-old daughter a blank book to fill with words, like seeds in a garden. "Seeds of learning grow slowly," she assures Fefa. Despite the girl's best efforts, the words still jumble and spill. "The skin of a frog/ feels just as slippery/ and tricky as a wild/ inky word," she writes. Still she continues to practice in her "wild book," where she conveys her poetic thoughts with immediacy and emotion. Slowly she begins to savor "small tasty bites of easy words."

Engle (The Surrender Tree) sets her haunting story, peppered with Spanish, in the lush Cuban countryside of 1912. Despite its fragrant fruit and flowers, the land is overrun by bandits and kidnappers. Fefa lives in fear, and her sense of foreboding comes to pass when Fausto, the farm manager, makes overtures toward her through his own poems. When her family receives a ransom note that they could never hope to pay, Fefa's keen eye uncovers an essential clue. By tale's end, Fefa realizes she's learned a few things about facing fear. - Bette Wendell-Branco, bookseller emerita and reviewer.

Discover: A story in verse set in the Cuban countryside of 1912, recorded by Fefa in the pages of her "wild book."


Bulletin of the Center for Children's Books, issue: May 2012

This lyrically composed novel in verse, based on the life of the author's grandmother, is set in Cuba in 1912, when eleven-year-old Fefa is first diagnosed with "word blindness," or dyslexia. While the doctor treats the diagnosis as an irrevocable and untreatable scar, Mamá responds by giving Fefa a blank book and the instructions to use it for writing: "Throw wildflower seeds/ all over each page . . . Let the words sprout/ like seedlings,/ then relax and watch/ as your wild diary/ grows."

It is not an easy task: Fefa is mocked by her siblings, dizzied by the glowing white pages, and frightened about the possible consequences of her inability to read. In the end, however, Fefa's slow and observant style of reading saves the family from a dangerous situation.

The plotting, though carefully constructed, is secondary here to the remarkable, intimate depiction of Fefa's struggle with dyslexia; Engle is masterful at using words to evoke this difficulty, and even those readers unfamiliar with the condition will understand its meaning through her rich use of imagery and detail ("The skin of a frog/feels just as slippery/and tricky as a wild/inky word"). An author's note provides information about the real life Josefa de la Caridad Uría Peña as well as some basic information about dyslexia. HM


Because of Shoe and Other Dog Stories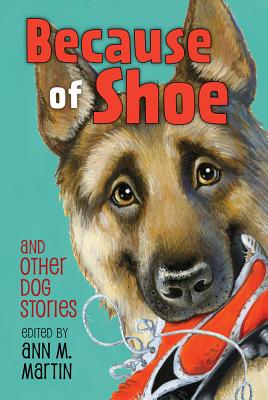 Horn Book, issue: July/August 2012

Each with his or her own style and sensibility, eight children's authors plus Ann Martin herself contribute dog-centered stories.

The collection begins with Wendy Orr's lighthearted mystery involving kidnapped poodles and a dachshund detective working together with his boy, and continues with Pam Muñoz Ryan's title story about a German shepherd named Shoe, whose tale we learn from a little girl testifying before a judge on a very important day in her life. Several of the tales reflect the consolation and comfort of having a dog when life is especially difficult and the terrible fear a pet owner feels when a dog goes missing, but there are no dead dogs here.

One of the most moving entries comes from Margarita Engle, recounting in poetry the story of a boy whose mother (now in jail) kept pit bulls for fighting: "Life-or-death games are all I knew / back in my old life, when I had to take care / of dogs that could have killed me." Some of the authors, such as Mark Teague and Jon J. Muth, illustrate their own stories, and Olga and Aleksey Ivanov illustrate the rest, catching the dogs' inherent humor and personality.

This has an eye-catching cover, a premise that practically book-talks itself, and a great format for reading aloud in class or at home. susan dove lempke


School Library Journal

Gr 3-6 – Wendy Orr, Pam Muñoz Ryan, Thacher Hurd, Ann M. Martin, Valerie Hobbs, Matt de la Peña, and Jon J. Muth are among the writers included in this anthology. Students looking for a hilarious story will enjoy Mark Teague's "Science Fair" in which a nerdy science whiz is determined to take first place in this year's fair. He's convinced he is a genius, and he can't understand why his solar-powered pooper-scooper hasn't netted him top honors in the past.

In "Trail Magic," Margarita Engle writes evocative verse about a boy whose horrific early life revolved around his mother's cruel dogfighting business. When she is sent to prison, the boy goes to live with his forest-ranger uncle and his dog. The natural world and his inspiring relative help heal him from his nightmarish past, as does his bonding adventures with Gabe.

There's sure to be a story here to please any dog lover, whether it's a mystery about a poodle napper, a realistic tale about a picked-on Latino boy with a "wolfigator" mutt, or a thrilling adventure in which a lovable but chicken-killing dog has been given his last warning. Occasional black-and-white spot art by various illustrators captures the personalities of the canines and their antics. – Diane McCabe, Loyola Village Elementary School, Los Angeles


The Lightning Dreamer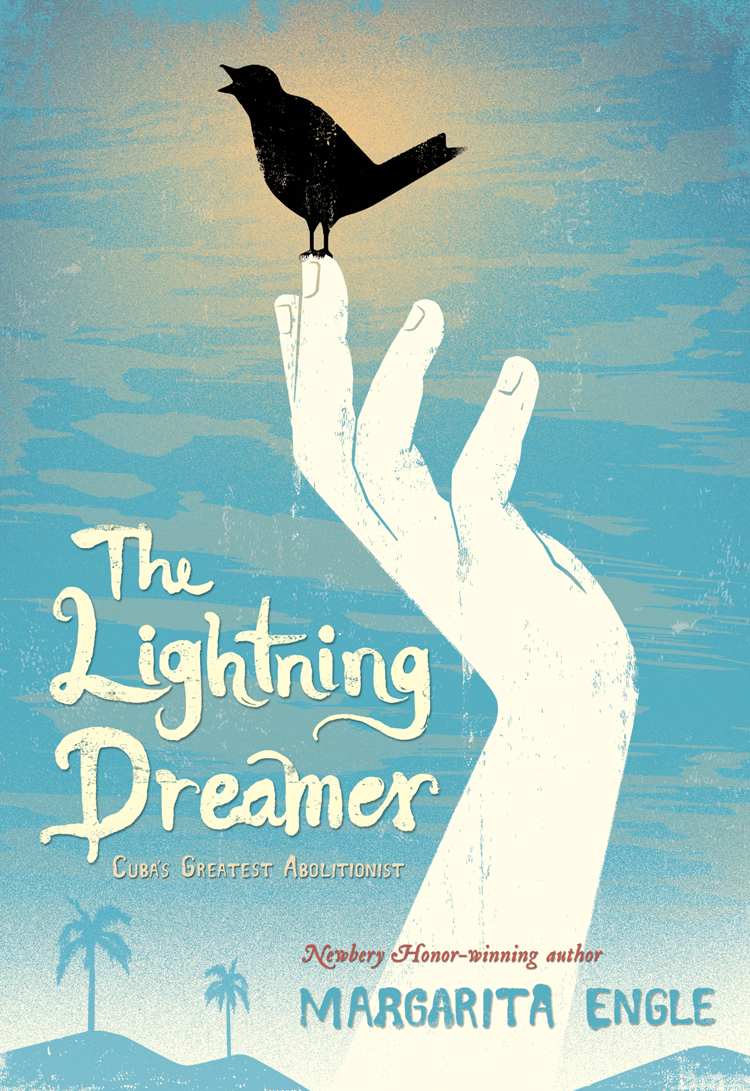 School Library Journal, issue: June 2013

Engle adds another superb title to her lengthening list of historical novels in verse. In The Lightning Dreamer, she brings to life the story of Cuban abolitionist and writer Gertrudis Gómez de Avellaneda.

Tula, a 13-year-old with big thoughts, lives in fear of her encroaching betrothal. "My mother and grandfather are already planning to auction me away to the highest-bidding rich man," she rues. Even in such a simple statement, Engle metaphorically ties Tula's story to the plight of those for whom she's most concerned, the enslaved. Tula's dread of a loveless arranged marriage is second only to her fear that she'll be shackled to a slave owner. Whenever possible, she steals away to surreptitiously pour her thoughts out onto the page, an activity thought to be unsuitable for a young woman.

Engle paints a vivid picture of Tula's world and summons her unique voice across the ages through clear, poignant verse. Historical notes at the book's end include brief biographies of Avellaneda and her idol, the Cuban poet José María Heredia, replete with excerpts of her writing. These excerpts provide readers with a direct sense of Avellaneda's style while evidencing how masterfully Engle has evoked her voice throughout the preceding verse.

This is a must-have for collections where Engle's other works are known and loved or for anyone in need of a comparative study to our own country's struggle with slavery.– Jill Heritage Maza, Montclair Kimberley Academy, Montclair, NJ.


SILVER PEOPLE
Voices from the Panama Canal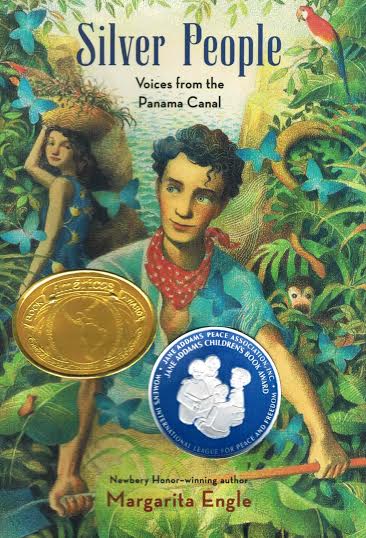 VOYA, issue: December 2013

"A masterful command of language and space. . . Engle blends the voices of her fictional characters, historical figures, and even the forest into a dynamic coming-of-age story not only of young adults but also of a blustering and arrogant United States." —VOYA Perfect Ten (5Q 5P) M J S.


Tiny Rabbit's Big Wish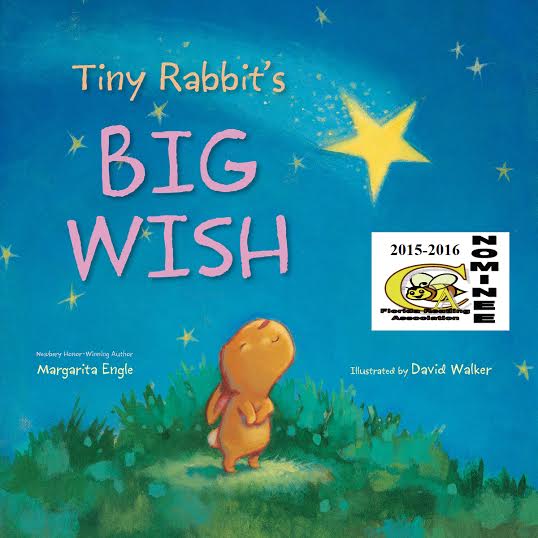 School Library Journal, issue: January 2014

(PreS-Gr 1) Tiny rabbit is not happy about his size. In his dreams, he envisions having "legs as tall as trees and eyes the size of moons." He longs for a nose like an elephant and a tail that resembles a snowy mountain. As time passes, his body doesn't grow much, but his ears do. When he realizes what his long ears allow him to hear, Rabbit begins to appreciate his body and his mind.

Engle's rich adjectives and repetition make this an enjoyable read aloud. Walker's summer scenes, rendered in acrylic, show Rabbit interacting with a variety of differently sized animals. This book could easily be turned into a fun flannel board adaptation. —Tanya Boudreau, Cold Lake Public Library, AB, Canada.


Drum Dream Girl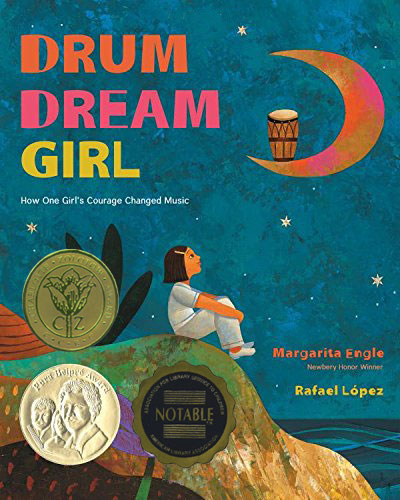 School Library Journal, issue: January 2015

(Gr 1-4) Engle's spare, rhythmic text gets at the heart of the struggle to achieve a dream in this picture-book biography about a Chinese African Cuban girl who aspired to play drums even when society's double standards stood as a barrier. Growing up in tempestuous 1930s Havana, during a time when universities were often shut down because of their opposition to the dictatorial President Machado, Millo Castro Zaldarriaga dared to dream of playing percussion instruments—timbales, congas, bongós—but her father was adamant that "only boys should play drums." But still she persisted in her hopes and eventually, with the help of her sisters and music teacher, became a member of the renowned Anacaona, Cuba's first all-girl dance band, founded by her sister, Cuchito Castro. López's zinging, neon-tinged art highlights the island's diversity, depicting the drum girl's flights of fancy set against the backdrop of carnival scenes and outdoor cafes. Details of Cuba's and the protagonist's Chinese, African, Taíno, and Spanish roots are seamlessly interwoven into the lyrical narrative and luminous acrylic paintings. The alliterative text parallels the snappy syncopation of the subject's instruments. The heroine's tenacity in the face of naysayers will inspire all dreamers, and the illustrator's smile-inducing cameo on the last page emphasizes the universality of Millo's story. For those looking for more nonfiction titles about female musical powerhouses, such as Monica Brown's My Name Is Celia/Me llamo Celia (Cooper Square, 2004), Katheryn Russell-Brown's Little Melba and Her Big Trombone (Lee & Low, 2014), and Carole Boston Weatherford's Leontyne Price: Voice of a Century (Knopf, 2014). An author's note gives more background on the groundbreaking percussionist. —Shelley Diaz, School Library Journal.


Enchanted Air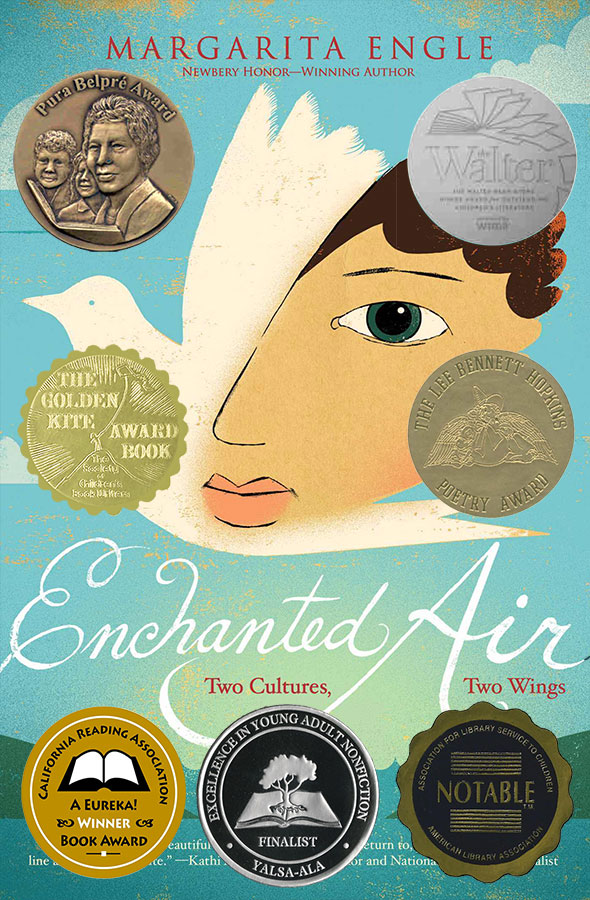 New York Times Sunday Book Review, issue November 8, 2015

From the very first sentence, Margarita Engle's memoir "Enchanted Air" takes wing. "When my parents met, it was love at first sight," Engle writes. "They were standing on the terrace of an art school in an elegant palace now known as the Museo Romántico, the Romantic Museum." Since her Cuban mother and American father did not speak the same language, they "communicated by passing drawings back and forth, like children in the back of a classroom. .?.?. Sketches, signs and gestures had to substitute for words."
After this opening the book moves into verse, and a generation coming of age on Snapchat and Instagram will find the power Engle is able to pack into each exquisite phrase to be deeply satisfying:
Old women love fresh air, but they are also
Afraid of aires, a word that can be a whoosh
of refreshing sky breath, or it can mean
dangerous
spirits.
The child in this memoir is a bird, lifted each year from her home in California to Cuba, where she spends blissful summers. Then in April 1961, the Bay of Pigs invasion occurs and she cannot return to Cuba. She is cut off from her extended family, the melody of her second language, the "crocodile-shaped" country she loves. This pattern of shifts, abrupt, unexpected change, doors to homelands opening and closing, the young Margarita comes to understand, goes back for generations:
When Mami tells her flowery tales of Cuba, she fills the twining words with relatives. But when I ask my Ukrainian-Jewish-American grandma about her childhood in a village near snowy Kiev, All she reveals is a single memory of ice-skating on a frozen pond. Apparently the length of a grown-up's growing-up story is determined by the difference between immigration and escape.
"Enchanted Air" is at its heart a book about travel. Some of it is specific: how we travel between languages, cultures and countries. But because Engle is such a gifted writer, this is a book that generously gives every reader a ticket to ride as she explores what it means to journey toward adulthood, traversing from one side of her family to the other, from the natural world of "tropical jungles, wild green parrots" that "remind me of island skies" to the back of the car on a family road trip when all her family can afford is a long, hot, adventure-seeking drive to Mexico.
-by Veronica Chambers


Bulletin of the Center for Children's Books, issue: November 2015

(Gr 5-8) Engle is familiar to many readers as a verse historian with a strong Cuban focus; here she turns her poetic lens to her own history in this memoir of her childhood. Young Margarita is torn between the bucolic summers with her mother's relatives in Cuba and life in the U.S. the rest of the year ("Two countries./ Two families./ Two sets of words"), a quandary that sharpens as the Cold War hits, the Cuban embargo cuts the family off from their Cuban side, and Margarita's mother is left passportless and stateless. Engle's free-verse poems, each titled and most a page or less in length, are prosy and accessible, and they vividly evoke the Cuban agrarian life that looks like "luxurious wealth/ to a city girl/ who loves/ farms." The view of the U.S.'s changing relationship with Cuba, including the Bay of Pigs and the Cuban Missile Crisis, gains impact from its personal resonance, and the larger story of young Margarita's attempt to figure out herself and her identity (it's telling that she finds comfort in being a traveler when her family decides to trek through Europe) is one with which many readers will sympathize. With books such as Woodson's Brown Girl Dreaming (BCCB 9/14) and Nelson's How I Discovered Poetry (BCCB 3/14), we're in a rich time for verse memoir, and Engle's offering adds a new dimension. -DS


School Library Journal, issue: May 2015

(Gr 6-10) A deeply personal memoir-in-verse filled with Engle's trademark intricately woven lyricism. The author's memories focus on the first 14 years of her life, beginning with idyllic summers spent in her mother's homeland of Cuba and ending during the aftermath of the Cuban Missile Crisis and subsequent travel ban. Engle captures the heart of a quiet, young girl torn between two cultures. This historical memoir/love poem to Cuba couldn't be more timely. With the recent easing of relations with Cuba, teachers can use the text as an accessible entry point into the history behind this very current event. And while the narrative unfolds over 50 years ago, Engle's experiences will still resonate with adolescents and teens today. Any child who has felt like an outsider will recognize themselves in Margarita's tale. When the Cuban Missile Crisis ended and everyone's focus shifted, the author was left confused, empty and unfulfilled by her school's seemingly senseless focus on what felt like irrelevant historical events. What American child with ties to a country experiencing turmoil couldn't relate to the lingering after-effects of far off events in our era of two-minute news bytes? VERDICT A more than worthwhile purchase for any library in need of a universally applicable coming-of-age tale, a fantastic new memoir-in-verse, or a glimpse into Cuba's past. —Jill Heritage Maza, Montclair Kimberley Academy, Montclair, NJ.


Orangutanka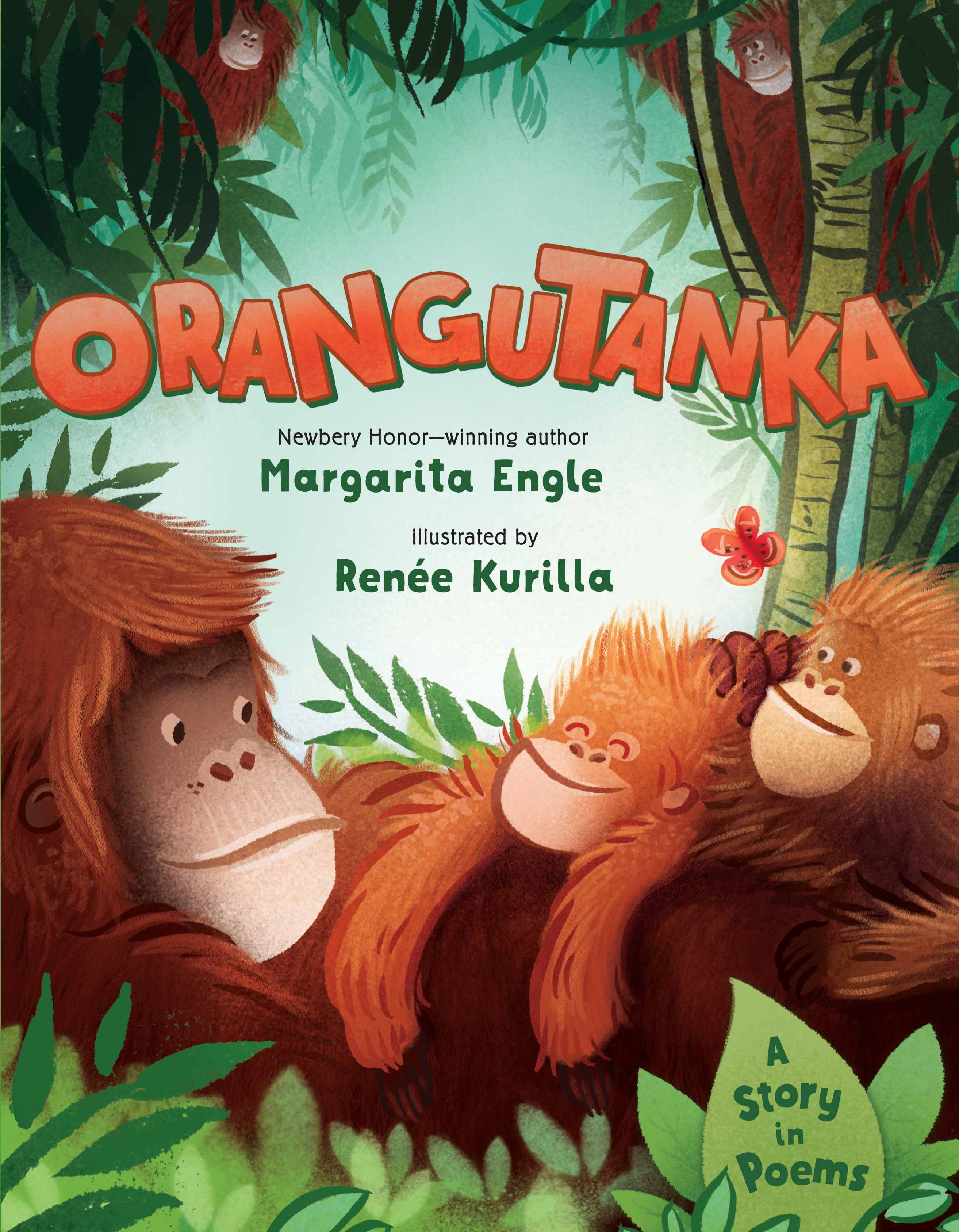 Booklist, issue: April 2015

Cleverly combining poetry with scientific information, Engle's modern tanka poems (a Japanese style often used as a travel diary) express humor and energy. The fun begins as the cheerful orangs play in their jungle trees of Borneo, cuddling in their mama's leafy nest or flipping, dipping, and swooping through the towering trees and hanging vines. The chattering humans in the orangs' wildlife refuge preserve revel in the antics of these highly intelligent creatures, as they watch them somersault and cartwheel and clamber upside down. This book is not only an inspiration to children to create their own tanka poems, but it also informs readers about these critically endangered primates. Back matter gives some orangutan facts and a bibliography for more research. The hilarious digitally colored pencil-and-ink illustrations depict the lush jungle environment and the furry orange orangutans' extended family at rest and play. Children will be inspired to move their arms and legs energetically like a happy orangutan, dancing the "Orangudance" to the music of the rain forest. —Lolly Gepson.