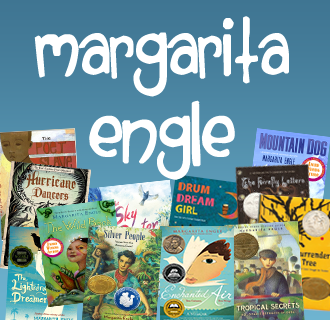 Coming Soon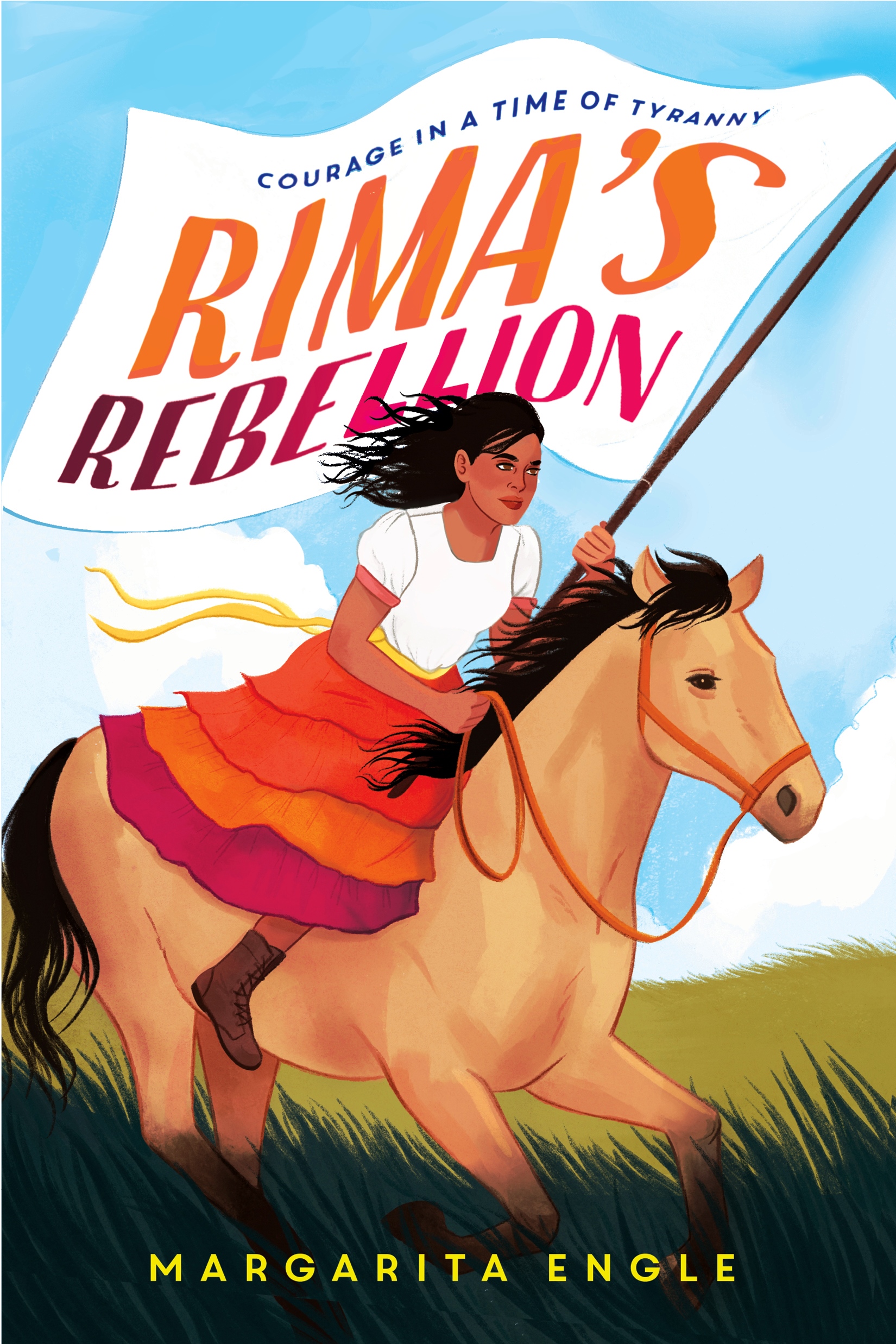 February 2022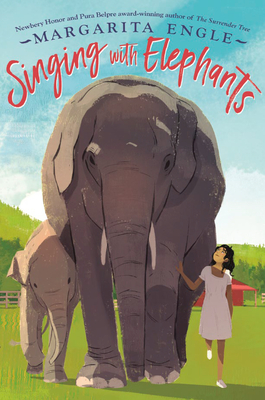 May 2022
Now Available
May 2022: SINGING WITH ELEPHANTS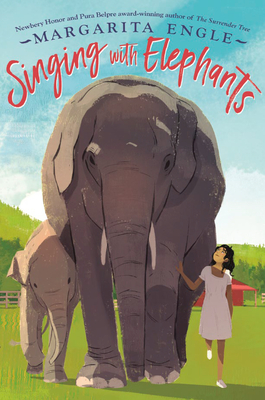 A powerful novel in verse from Newbery and Pura Belpré Award-winning author Margarita Engle about the friendship between a young girl and the poet Gabriela Mistral that leads to healing and hope for both of them.
Cuban-born eleven-year-old Oriol lives in Santa Barbara, California, where she struggles to belong. But most of the time that's okay, because she enjoys helping her parents care for the many injured animals at their veterinary clinic.
Then Gabriela Mistral, the first Latin American winner of a Nobel Prize in Literature, moves to town, and aspiring writer Oriol finds herself opening up. As she begins to create a world of words for herself, Oriol learns it will take courage to stay true to herself and do what she thinks is right--attempting to rescue a baby elephant in need--even if it means keeping secrets from those she loves.
More information available through Viking Books for Young Readers.


February 2022: RIMA'S REBELLION
Courage in a Time of Tyranny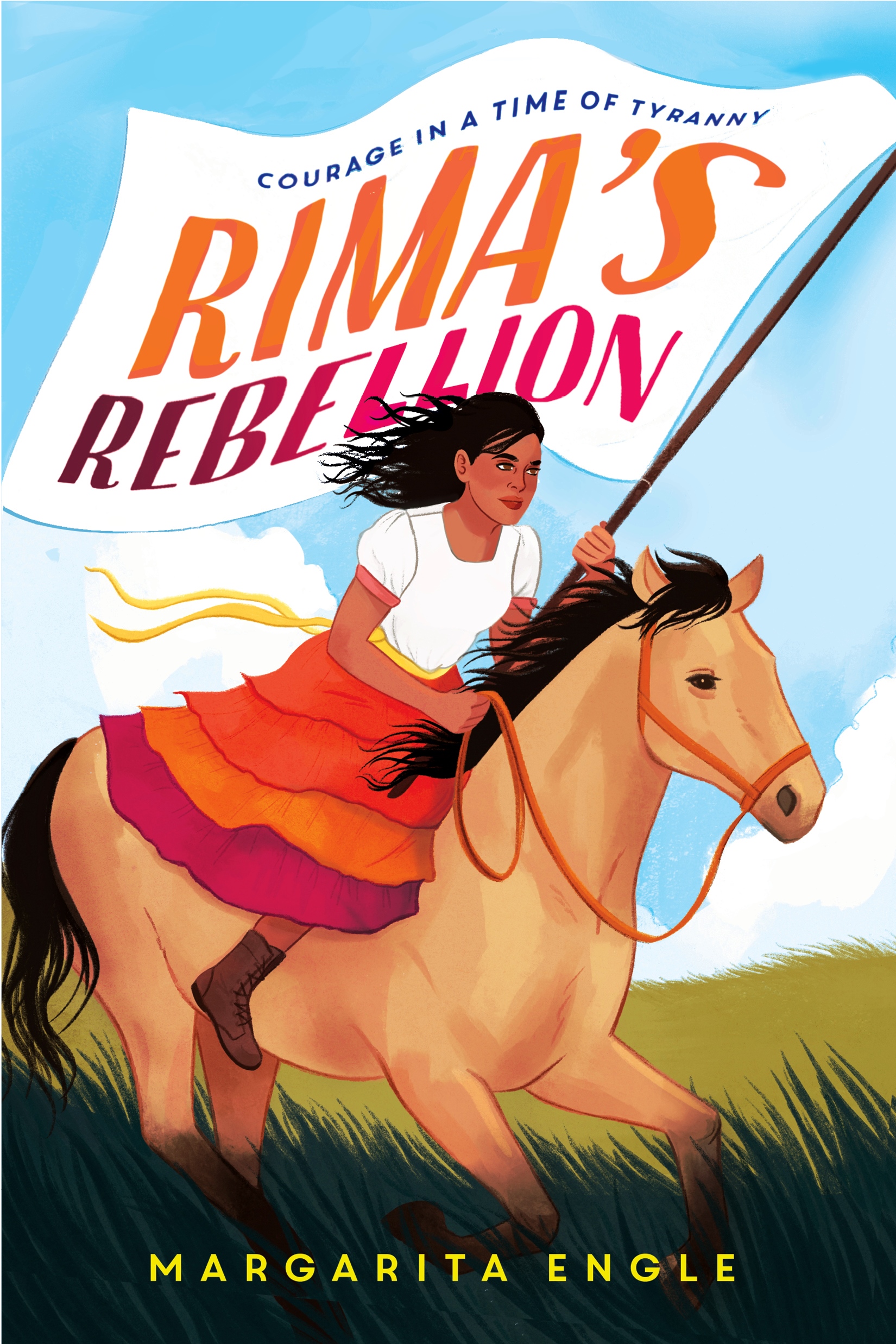 An inspiring coming-of-age story from award-winning author Margarita Engle about a girl falling in love for the first time while finding the courage to protest for women's right to vote in 1920s Cuba.
Rima loves to ride horses alongside her abuela and Las Mambisas, the fierce women veterans who fought during Cuba's wars for independence. Feminists from many backgrounds have gathered in voting clubs to demand suffrage and equality for women, but not everybody wants equality for all—especially not for someone like Rima. In 1920s Cuba, illegitimate children like her are bullied and shunned.
Rima dreams of a day when she is free from fear and shame, the way she feels when she's riding with Las Mambisas. As she seeks her way, Rima forges unexpected friendships with others who long for freedom, especially a handsome young artist named Maceo. Through turbulent times, hope soars, and with it…love.
More information available through Simon & Schuster.


Honors:
LIGHT FOR ALL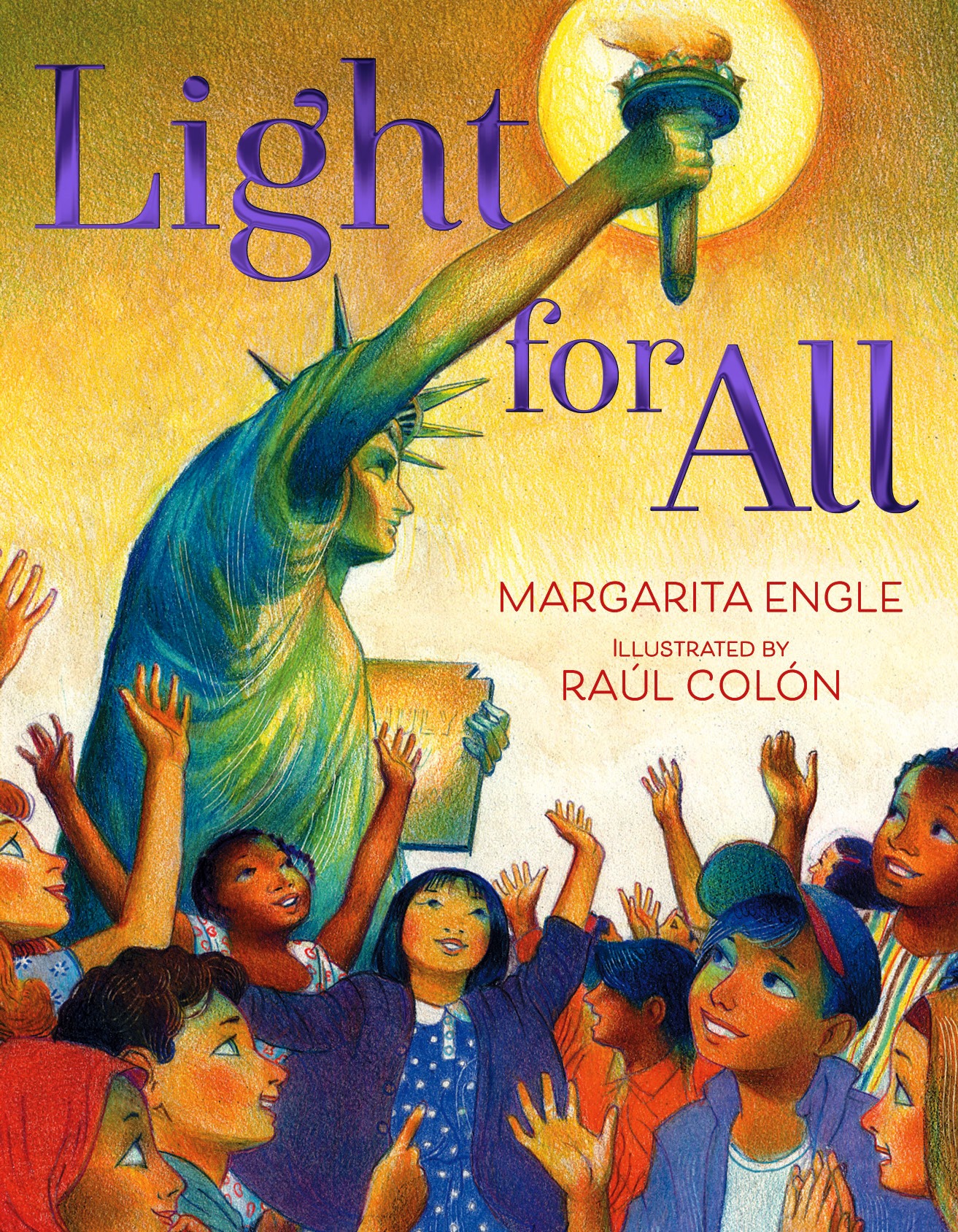 A lyrical and unifying picture book that celebrates the immigrant experience in America from Newbery Honoree Margarita Engle and award-winning illustrator Raúl Colón.
Discover the myriad contributions that all immigrants have made as they come to join family or start their own lives together in a new country they call home. Coming with their hopes, dreams, and determination, generations of immigrants have made the fabric of this country diverse, vivid, and welcoming.
This vibrant and timely celebration demonstrates the thousands of immigrants who built America and the importance of having acceptance and light for everyone.
More information available through Simon & Schuster.


Honors:
Publishers Weekly Notable Book
A SONG OF FRUTAS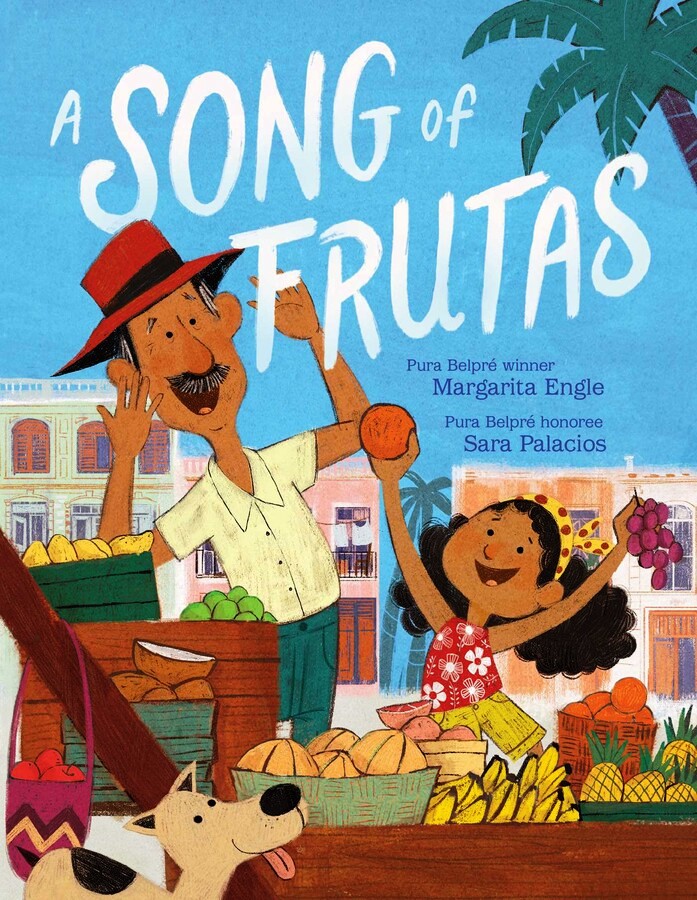 From Pura Belpré Award–winning author Margarita Engle comes a lively, rhythmic picture book about a little girl visiting her grandfather who is a pregonero—a singing street vendor in Cuba—and helping him sell his frutas.
When we visit mi abuelo, I help him sell
frutas, singing the names of each fruit
as we walk, our footsteps like drumbeats,
our hands like maracas, shaking…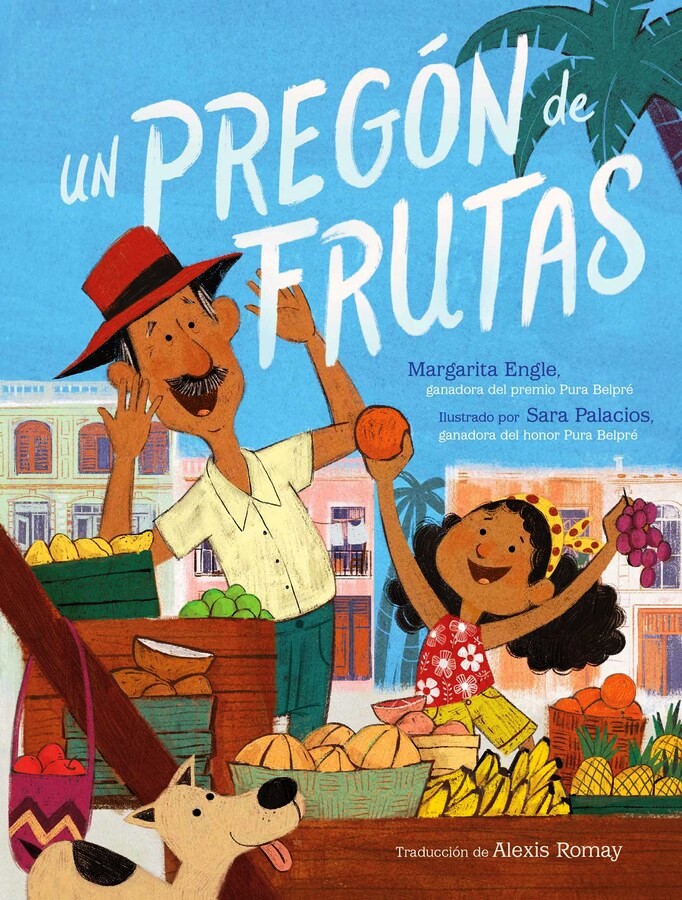 The little girl loves visiting her grandfather in Cuba and singing his special songs to sell all kinds of fruit: mango, limón, naranja, piña, and more! Even when they're apart, grandfather and granddaughter can share rhymes between their countries like un abrazo—a hug—made of words carried on letters that soar across the distance like songbirds.
More information available through Atheneum Books for Young Readers in English and in Spanish.


Honors:
Parents Latina Magazine's list of Best Books of 2021 for Un pregón de frutas
Junior Library Guild Selection for Un pregón de frutas
YOUR HEART, MY SKY
Love in a Time of Hunger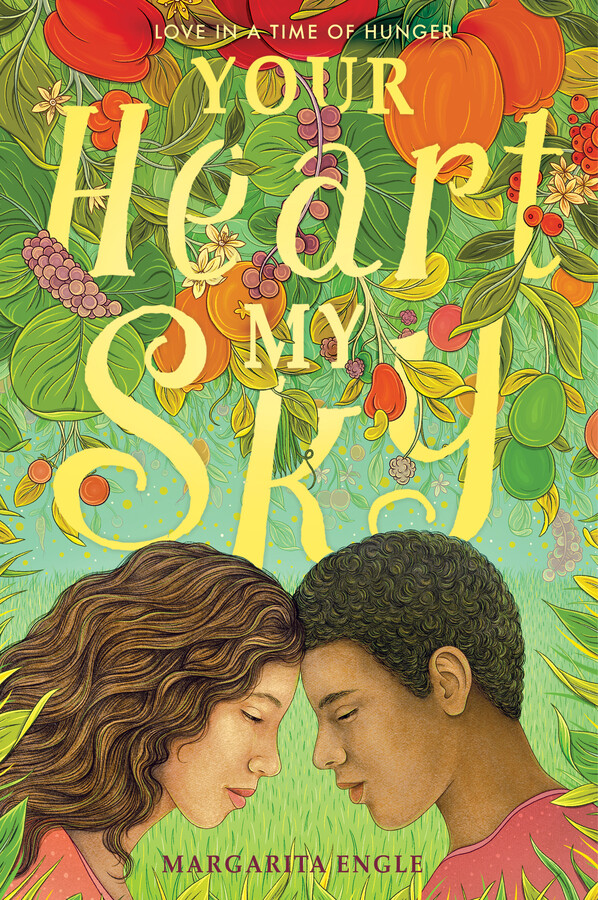 The people of Cuba are living in el período especial en tiempos de paz—the special period in times of peace. That's what the government insists that this era must be called, but the reality behind these words is starvation.
Liana is struggling to find enough to eat. Yet hunger has also made her brave: she finds the courage to skip a summer of so-called volunteer farm labor, even though she risks government retribution. Nearby, a quiet, handsome boy named Amado also refuses to comply, so he wanders alone, trying to discover rare sources of food. A chance encounter with an enigmatic dog brings Liana and Amado together. United in hope and hunger, they soon discover that their feelings for each other run deep. Love can feed their souls and hearts—but is it enough to withstand el período especial?
Acclaimed author Margarita Engle tells a painful, poignant story of love in a time of hunger inspired by her own family's struggles during a dark period in Cuba's history.
More information available through Atheneum Books for Young Readers
Honors:
WITH A STAR IN MY HAND
Rubén Darío, Poetry Hero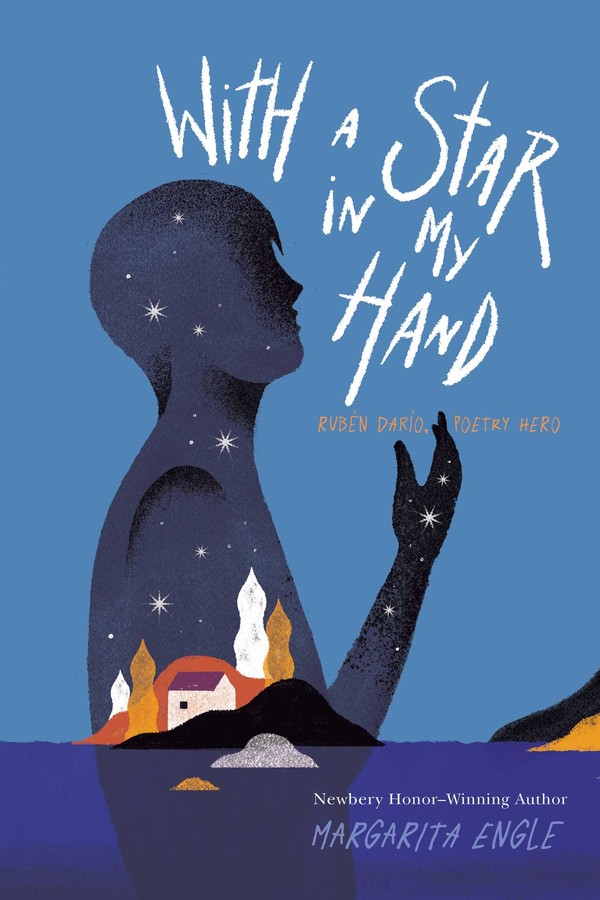 As a little boy, Rubén Darío loved to listen to his great uncle, a man who told tall tales in a booming, larger-than-life voice. Rubén quickly learned the magic of storytelling, and discovered the rapture and beauty of verse.
A restless and romantic soul, Rubén traveled across Central and South America seeking adventure and connection. As he discovered new places and new loves, he wrote poems to express his wild storm of feelings. But the traditional forms felt too restrictive. He began to improvise his own poetic forms so he could capture the entire world in his words. At the age of twenty-one, he published his first book Azul, which heralded a vibrant new literary movement called Modernismo that blended poetry and prose into something magical.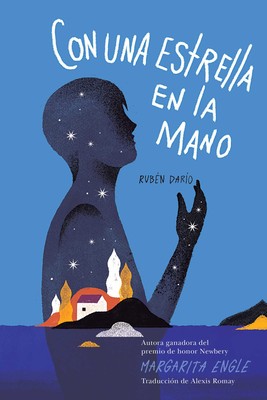 From acclaimed author Margarita Engle comes a gorgeous new novel in verse about Rubén Darío, the Nicaraguan poet and folk hero who initiated the literary movement of Modernismo.
More information available through Atheneum Books for Young Readers in English and Spanish
Honors:
DREAMS FROM MANY RIVERS
A Hispanic History of the United States Told in Poems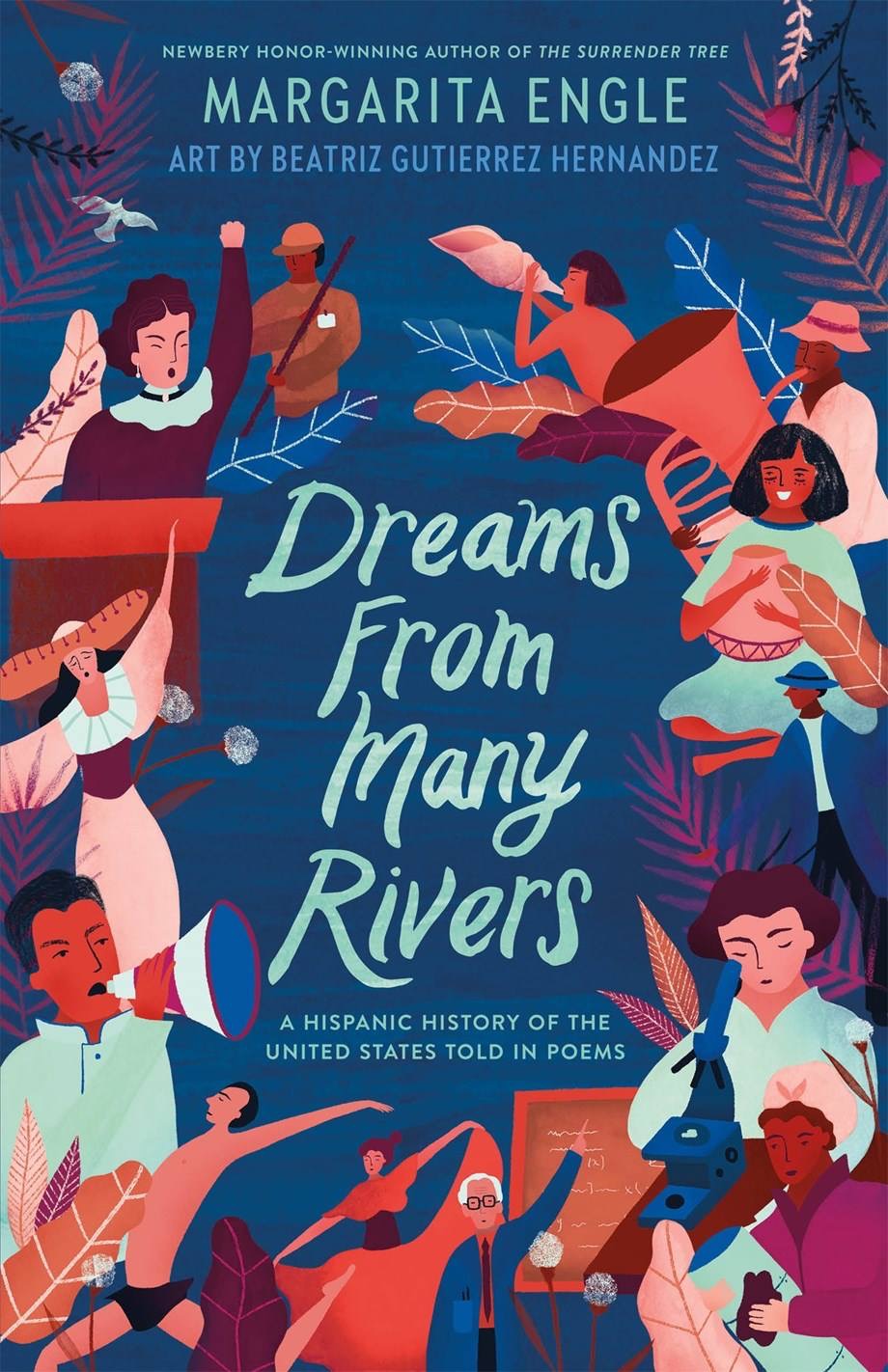 From Juana Briones and Juan Ponce de León, to eighteenth century slaves and modern-day sixth graders, the many and varied people depicted in this moving narrative speak to the experiences and contributions of Latinos throughout the history of the United States, from the earliest known stories up to present day. It's a portrait of a great, enormously varied, and enduring heritage. A compelling treatment of an important topic.
This is a middle grade verse history of Latinos in the United States, told through many voices, and featuring illustrations by Beatriz Gutierrez Hernandez.
More information available through Holt Books for Young Readers
Honors:
DANCING HANDS
How Teresa Carreño Played the Piano for President Lincoln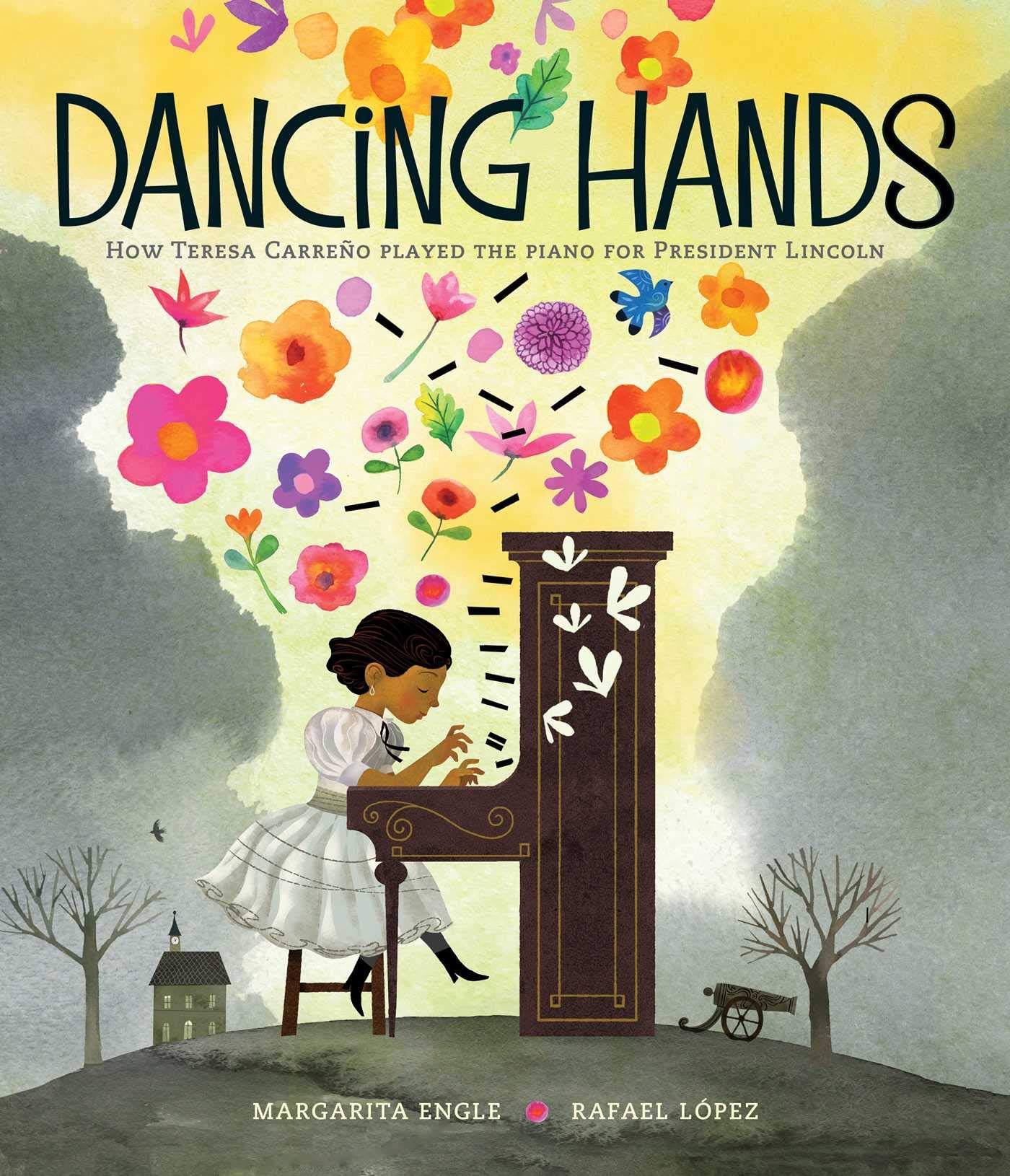 As a little girl, Teresa Carreño loved to let her hands dance across the beautiful keys of the piano. If she felt sad, music cheered her up, and when she was happy, the piano helped her share that joy. Soon she was writing her own songs and performing in grand cathedrals. Then a revolution in Venezuela forced her family to flee to the United States. Teresa felt lonely in this unfamiliar place, where few of the people she met spoke Spanish. Worst of all, there was fighting in her new home, too—the Civil War.
Still, Teresa kept playing, and soon she grew famous as the talented Piano Girl who could play anything from a folk song to a sonata. So famous, in fact, that President Abraham Lincoln wanted her to play at the White House! Yet with the country torn apart by war, could Teresa's music bring comfort to those who needed it most?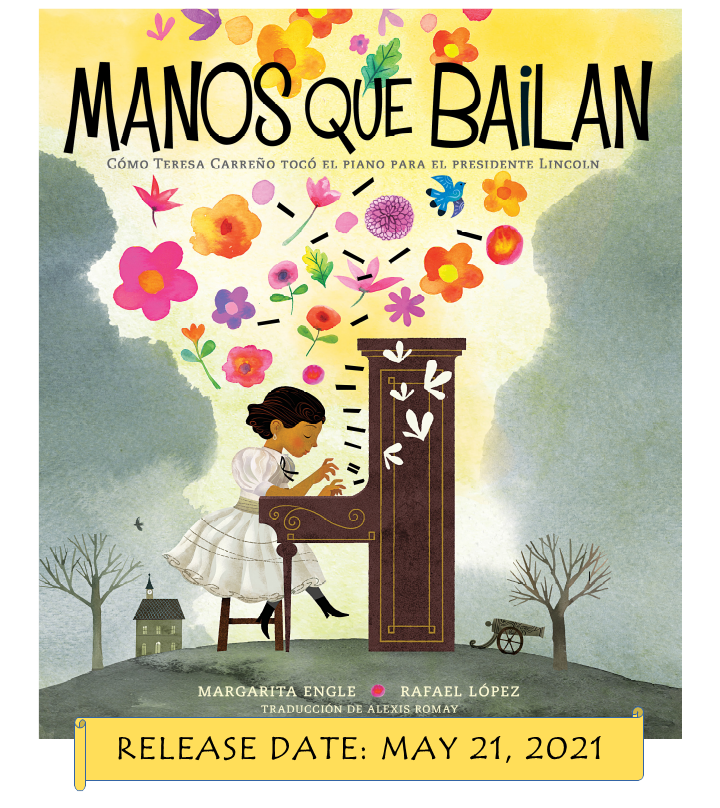 More information available through Atheneum Books for Young Readers
Honors:
Los Angeles Public Library's Lo mejor del 2021 list for Manos que bailan: Co´mo Teresa Carren~o toco´ el piano para el Presidente Lincoln
Target Stores' Hispanic Heritage Month Featured Books 2021
Scholastic Book Club
2021 Texas Topaz Nonfiction Reading List
Beehive Award Nominee 2022, Children's Literature Association of Utah
The Brainstorm Plus' Top 10 Picture Book Biographies
International Latino Book Award's children non-fiction picture book, 2nd place
Bank Street's 2020 Best Children's Books of the Year
Nevada Young Readers Award nomination
Florida SSYRA List
Scranton Memorial Library Kids Nonfiction Pick
Keystone to Reading Award List
Sunshine State Award Reading List
Nevada Young Readers Award Nominee
School Library Journal Latinx Luminaries, Picture Book Biographies Featuring Latinx Superstars
Kirkus Reviews Best Picture Book Biography 2019
Winner of the 2020 Pura Belpré Illustrator Award
NCSS-CBC Notable Social Studies Trade Books, 2020
ALSC Notable Books, 2020
Best Multicultural Children's Books 2019, Center for the Study of Multicultural Children's Literature
Nerdy Award Winner, Nonfiction, 2019
Chicago Public Library 2019 Best of the Best
New York Public Library Best Books of 2019
Mighty Girl Best Books of the Year, 2019
Nonfiction Detectives Best of 2019
Latina Book Club Books of the Year, 2019
SLJ Fuse8 2019 Unique Biographies
SOARING EARTH
A Companion Memoir to Enchanted Air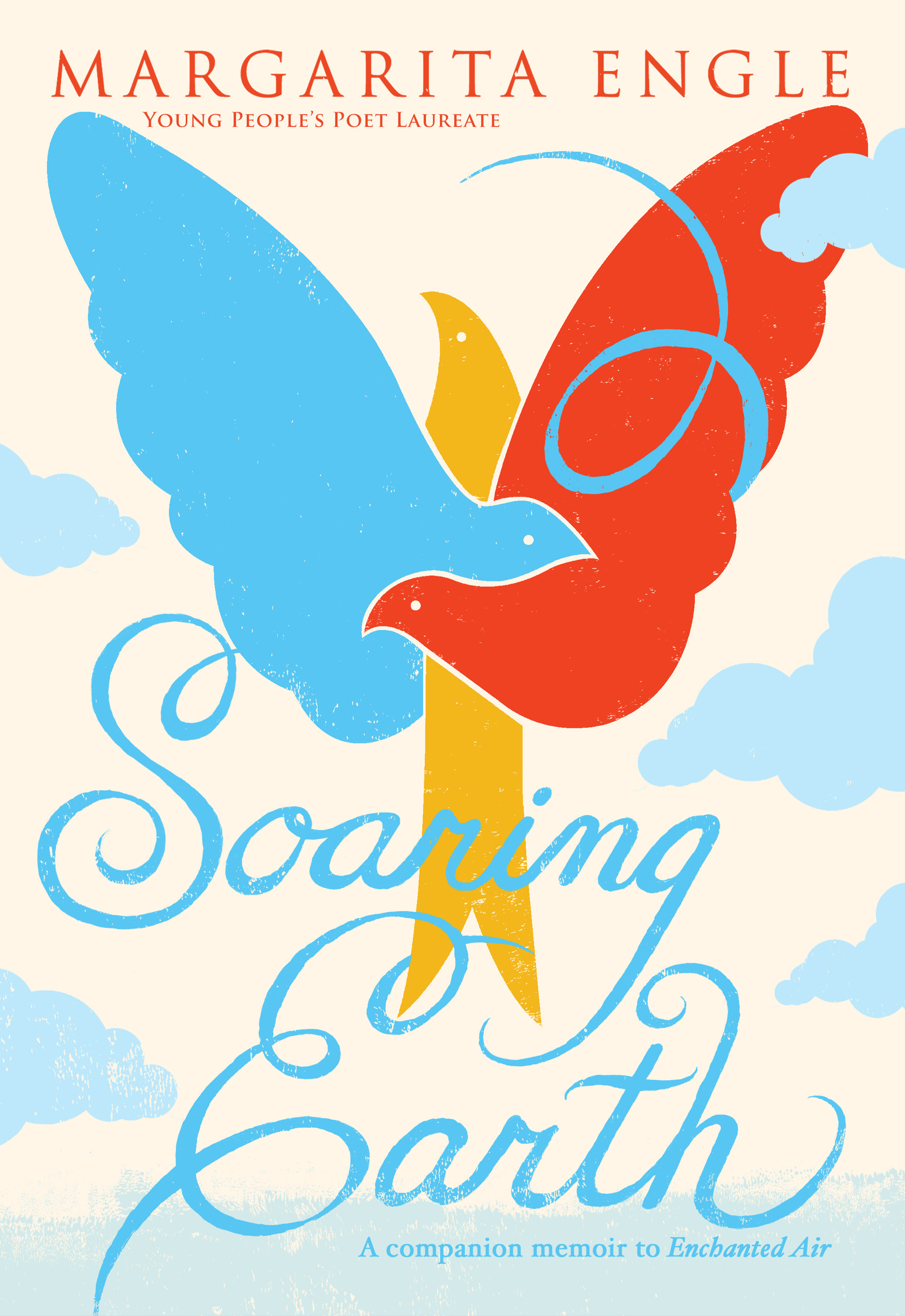 Margarita Engle's childhood straddled two worlds: the lush, welcoming island of Cuba and the lonely, dream-soaked reality of Los Angeles. But the revolution has transformed Cuba into a mystery of impossibility, no longer reachable in real life. Margarita longs to travel the world, yet before she can become independent, she'll have to start high school.
Then the shock waves of war reach America, rippling Margarita's plans in their wake. Cast into uncertainty, she must grapple with the philosophies of peace, civil rights, freedom of expression, and environmental protection. Despite overwhelming circumstances, she finds solace and empowerment through her education. Amid the challenges of adolescence and a world steeped in conflict, Margarita finds hope beyond the struggle, and love in the most unexpected of places.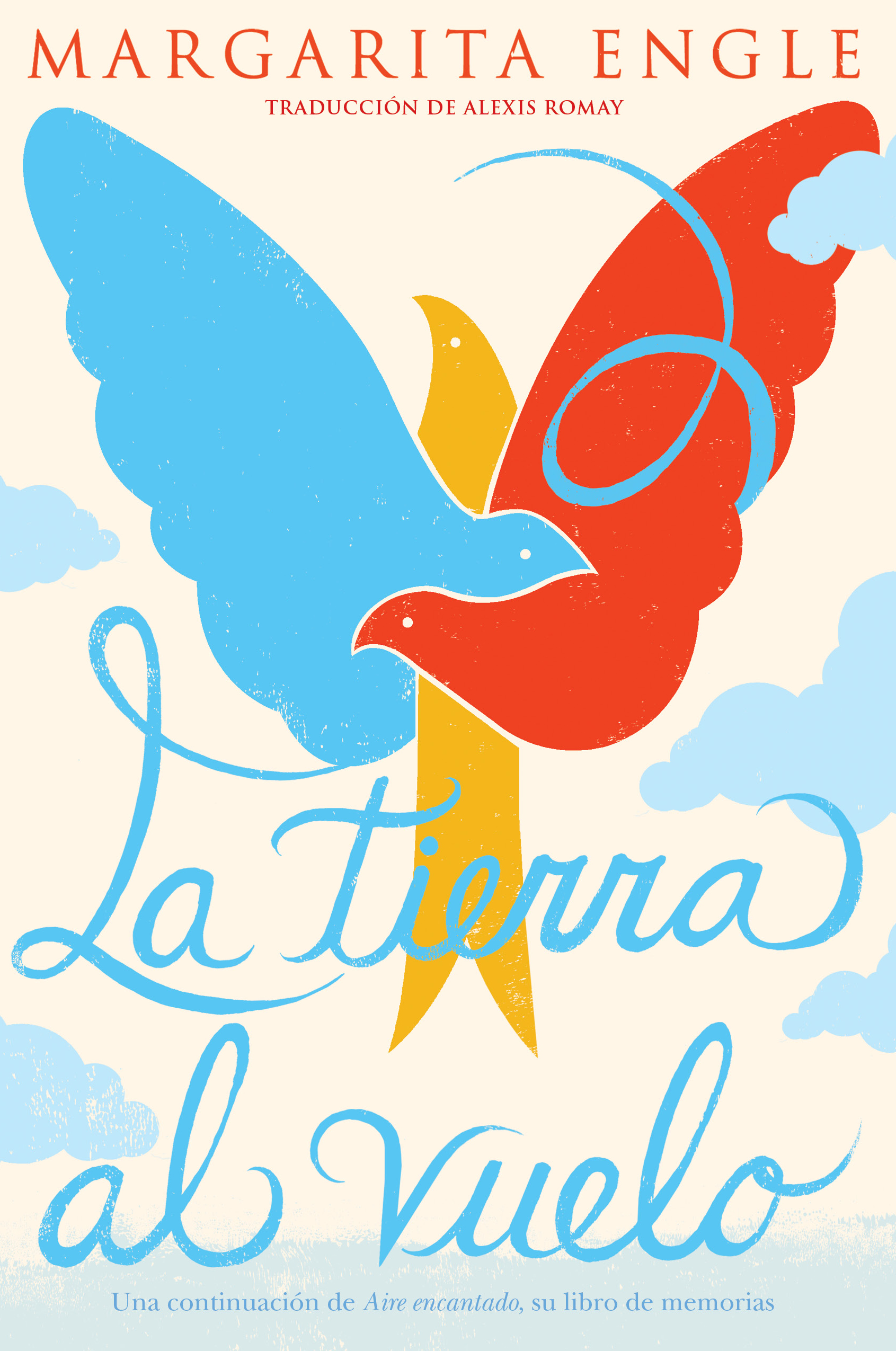 More information available through Atheneum Books for Young Readers
Honors:
Los Angeles Public Library Lo mejor de 2020
Bank Street's 2020 Best Children's Books of the Year
International Latino Book Award's honorable mention
Horn Book 2019 Summer Reading Selection
International Literacy Association CLR-SIG List
Three Inspiring Books For Young Readers, Washington Post
Golden Leaves Award, Cal Poly, Pomona
Latina Book Club Books of the Year, 2019
Nerdy Book Club Award Winner, Poetry and Verse Novels, 2019
NCSS-CBC Notable Social Studies Trade Books, 2020
CCCB Choices
New York Public Library Best Books of 2019
ALSC Notable Children's Books Midwinter Discussion List
JAZZ OWLS
A Novel of the Zoot Suit Riots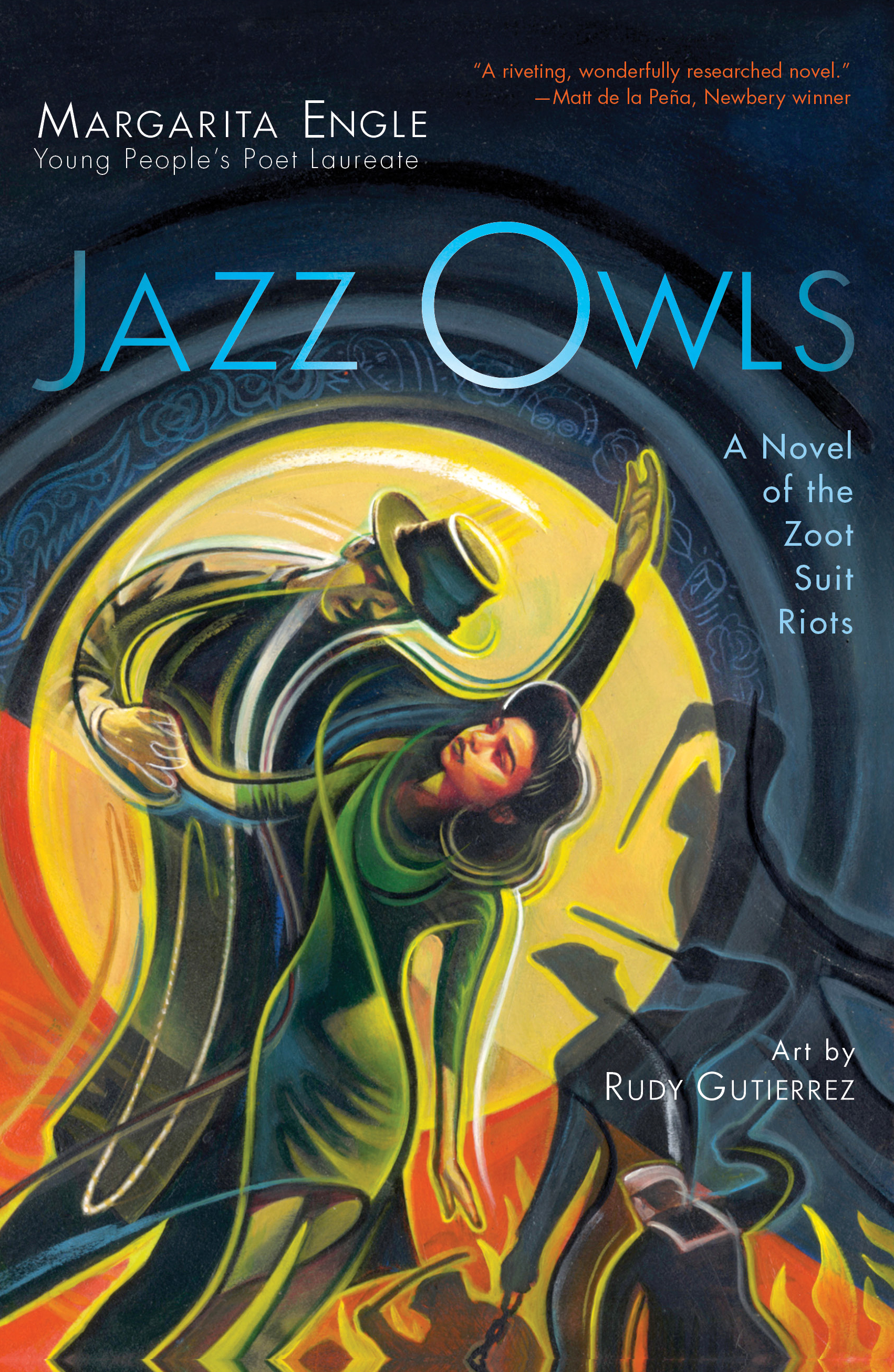 From the Young People's Poet Laureate Margarita Engle comes a searing novel in verse about the Zoot Suit Riots of 1943.
Thousands of young Navy sailors are pouring into Los Angeles on their way to the front lines of World War II. They are teenagers, scared, longing to feel alive before they have to face the horrors of battle. Hot jazz music spiced with cool salsa rhythms calls them to dance with the local Mexican American girls, who jitterbug all night before working all day in the canneries. Proud to do their part for the war effort, these Jazz Owl girls are happy to dance with the sailors—until the blazing summer night when racial violence leads to murder.
Suddenly the young white sailors are attacking these girls' brothers and boyfriends. The cool, loose zoot suits they wear are supposedly the reason for the violence—when in reality these boys are viciously beaten and arrested simply because of the color of their skin.
More information available through Atheneum Books for Young Readers
Honors:
THE FLYING GIRL
How Aida de Acosta Learned to Soar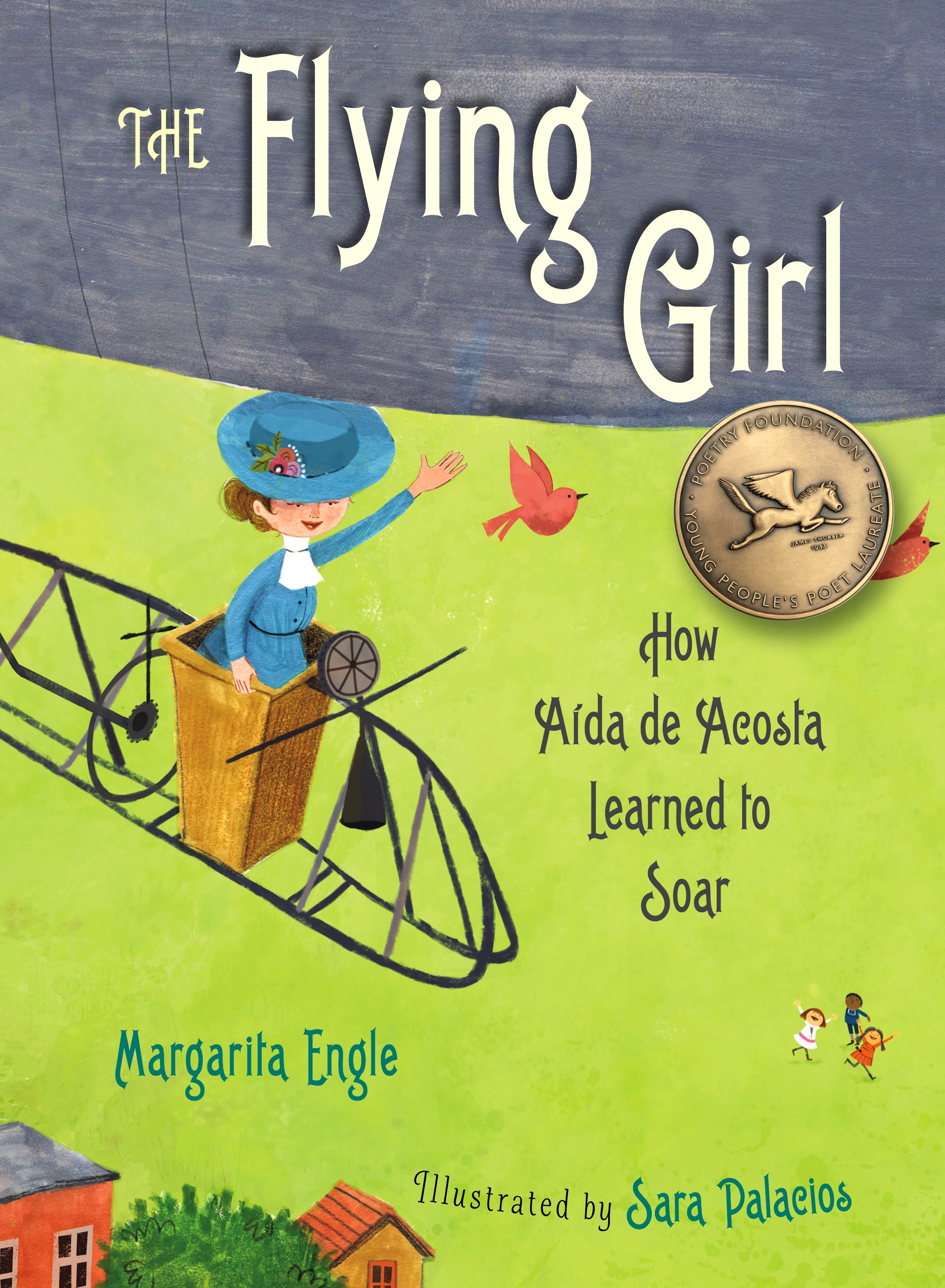 In this beautiful picture book filled with soaring words and buoyant illustrations, award-winners Margarita Engle and Sara Palacios tell the inspiring true story of Aída de Acosta, the first woman to fly a motorized aircraft.
On a lively street in the lovely city of Paris, a girl named Aída glanced up and was dazzled by the sight of an airship. Oh, how she wished she could soar through the sky like that! The inventor of the airship, Alberto, invited Aída to ride with him, but she didn't want to be a passenger. She wanted to be the pilot.
Aída was just a teenager, and no woman or girl had ever flown before. She didn't let that stop her, though. All she needed was courage and a chance to try.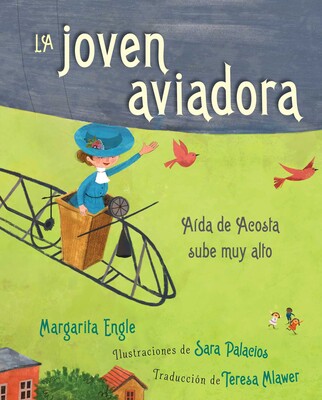 More information available through Atheneum Books for Young Readers in English and in Spanish.
Honors:
Scholastic Book Club
Junior Library Guild Selection
Best Children's Books of the Year, Bank Street College of Education
2018 International Latino Book Awards, 1st Prize in the Best Nonfiction Picture Book category
Finalist, Connecticut's Charter Oak Children's Book Award, nonfiction picture book category
SLJ 23 Titles to Celebrate Women's History Month
Bank Street Best Children's Books
Eureka! Award Honor, California Reading Association
MIGUEL'S BRAVE KNIGHT
Young Cervantes and His Dream of Don Quixote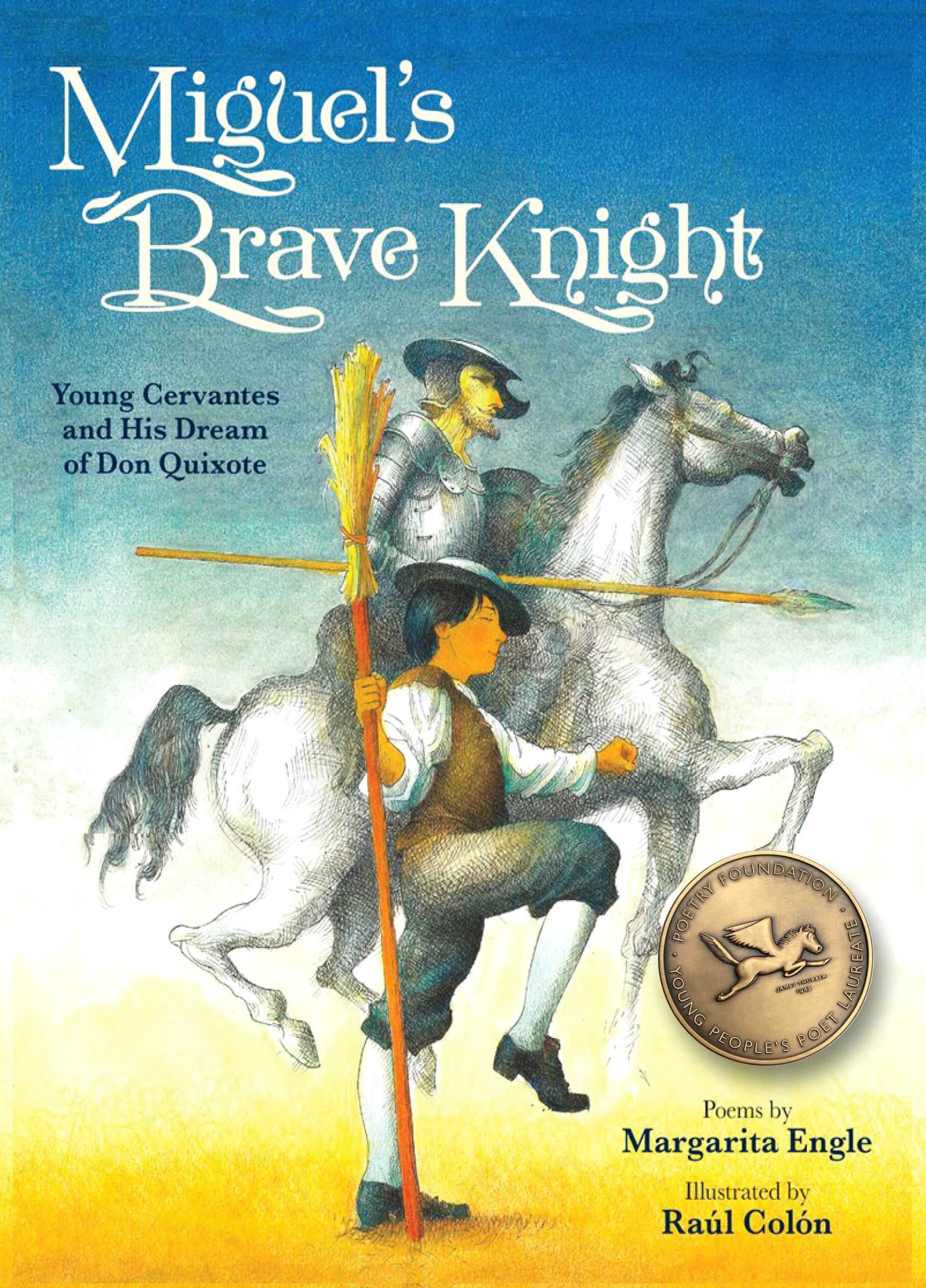 Story of Miguel de Cervantes as he grew up and developed the idea for Don Quixote.
This fictionalized first-person biography in verse of Miguel de Cervantes Saavedra follows the early years of the child who grows up to pen Don Quixote, the first modern novel. Miguel, inspired by storytellers and wandering actors who perform during festivals, looks to his own imagination for an escape from his family's troubles and finds comfort in his colorful daydreams.
More information available through Peachtree Publishers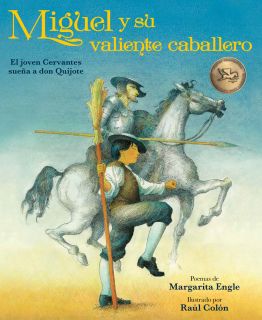 Honors:
FOREST WORLD (La Selva)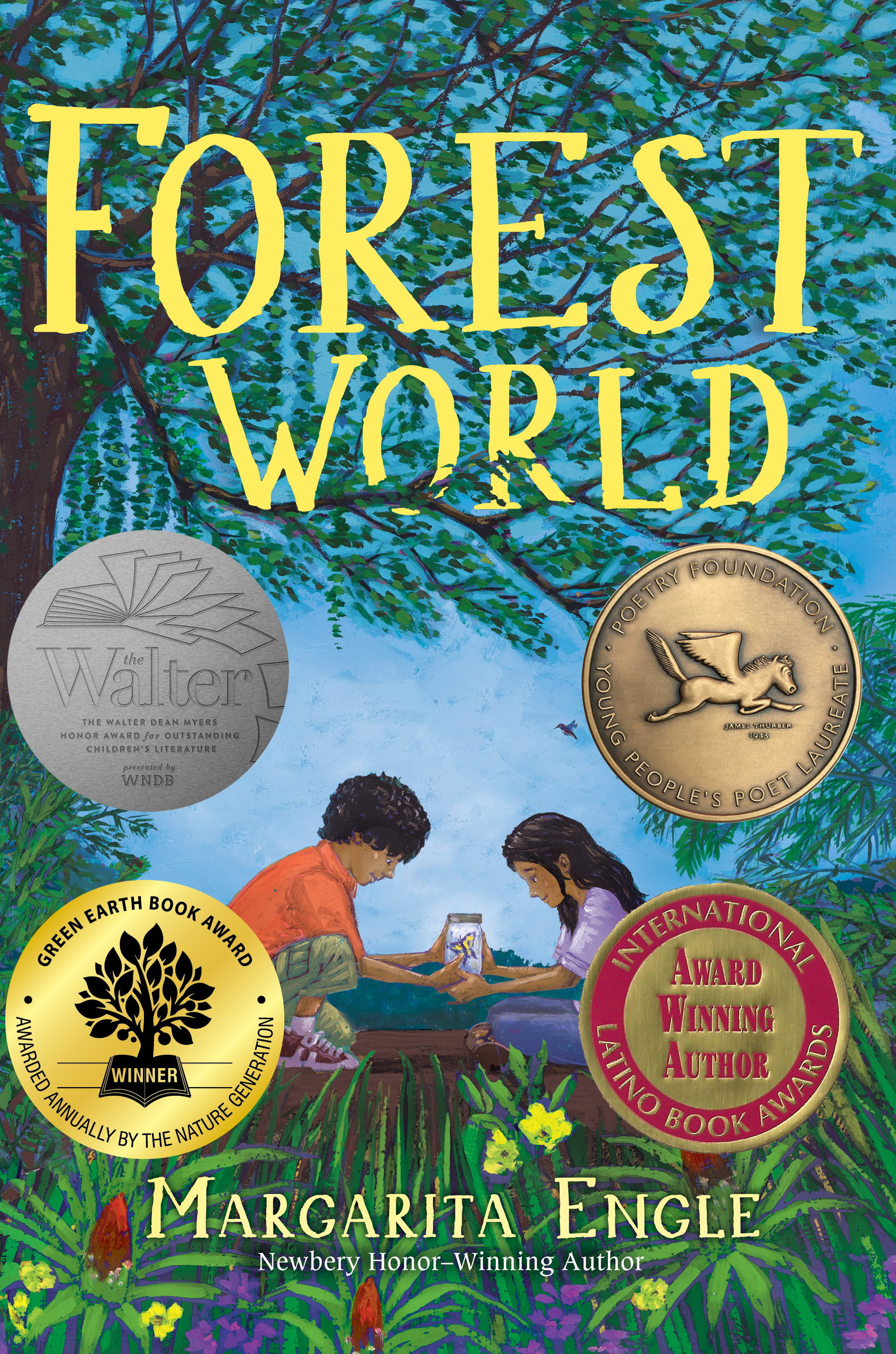 Story of a Cuban-American boy who visits his family's village in Cuba for the first time—and meets a sister he didn't know he had.
Edver isn't happy about being shipped off to Cuba to visit the father he barely knows. The island is a place that no one in Miami ever mentions without a sigh, but travel laws have suddenly changed, and now it's a lot easier for divided families to be reunited. Technology in Cuba hasn't caught up with the times, though, and Edver is expecting a long, boring summer.
He was NOT expecting to meet a sister he didn't know he had. Luza is a year older and excited to see her little brother, until she realizes what a spoiled American he is. Looking for something—anything—they might have in common, the siblings sneak onto the Internet, despite it being forbidden in Cuba, and make up a fake butterfly. Maybe now their cryptozoologist mother will come to visit. But their message is intercepted by a dangerous poacher, and suddenly much more than their family is at stake. Edver and Luza have to find a way to overcome their differences to save the Cuban jungle that they both have grown to love.
Order English language edition here.
-- Errata on page 146, CITES should be shown as having passed in 1973, not 1873.
Order Spanish language edition here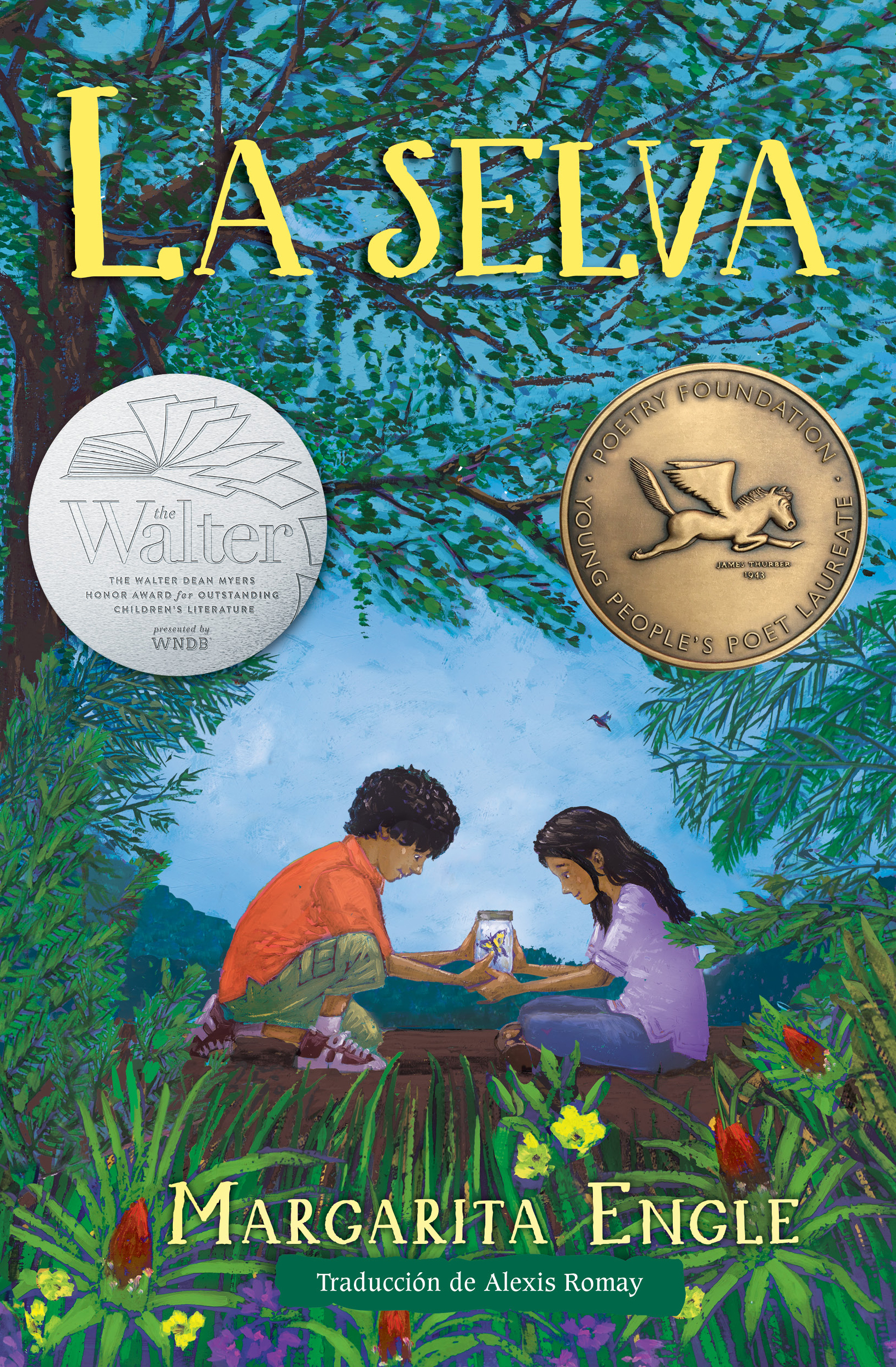 Honors:
ALL THE WAY TO HAVANA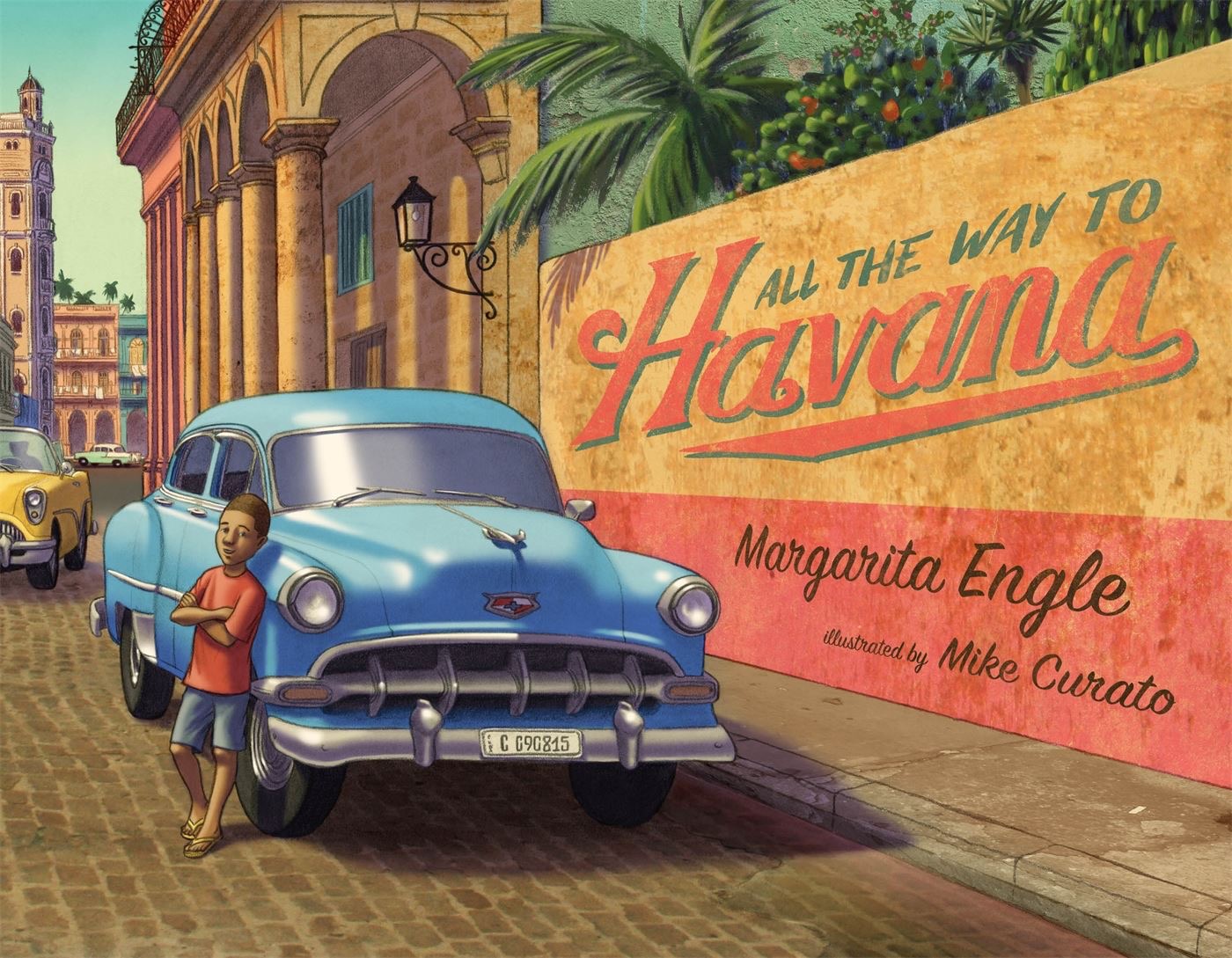 So we purr, cara cara, and we glide, taka taka, and we zoom, zoom, ZOOM!
A family drives into the city of Havana to celebrate a cousin's first birthday. Before their journey, the boy helps his papa tune up their old car, Cara Cara, which has been in their family for many years. They drive along the sea wall, along the coast, past other colorful old cars. The sounds of the city are rich—the putt putts and honks and bumpety bumps of other cars chorus through the streets. A rich celebration of the culture of the Cuban people, their resourcefulness and innovative spirit, and their joy.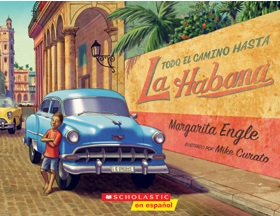 Book trailer: Link from All the Wonder
Order book here.
Honors:
Starred reviews in Publishers Weekly
Starred reviews in Booklist
Starred reviews in Kirkus
Starred reviews in School Library Journal
Parents Magazine's Celebrating Diversity Through Book list
Américas Award Honor Book
Mr. Brian's Picture Book Picks' My Favorite 52 Fiction Picture Books of the Decade (2010-2019)
Banks Street Best Books 2018, Outstanding Merit Star
CCBC Choices 2018
2018 International Latino Book Awards, 1st Prize in the Most Inspiring Picture Book category
Distinguished Books, Association of Children's Literature of Northern California
2018-2019 Keystone to Reading Book Award Finalist
3 Fantastic Picture Books About Appreciating What You Have, from the ReadLearnRepeat blog
2017 Cybils Award Nominee
Booklist's Top 10 Diverse Picture Book
2018 ALSC Notable Children's Books
Charlotte Zolotow Awards Highly Recommended Title from CCBC
Kirkus Best Children's Picture Books of 2017
CCBC Best Multicultural Children's Books of 2017
Nerdy Book Club Award, fiction picture books
Evanston Public Library 101 Great Books for Kids
Denver Public Library Best and Brightest Books of 2017
Huffington Post Best Books of 2017, Honorable Mention, Picture books
Best Multiracial Picture Books, Honorable Mention, Bookstagram Choice Awards
NEPR- Grace Lin's list of Good Books for Opening Young Minds
Horn Book Calling Caldecott list
100 Scopenotes Caldecott Honor Prediction
The Best of the Best, readerbuzz
SLJ Fuse 8 Picture Book list
Favorite Picture Books of 2017, mackinbooksinbloom.com
National Education Association Calendar
Silver Medal for Raúl Colón, Original Art Exhibit, Society of Illustrators
NEA Read Across America Calendar, September
Best New Picture Books from childrensbookreview.com
BRAVO!
Poems about Amazing Hispanics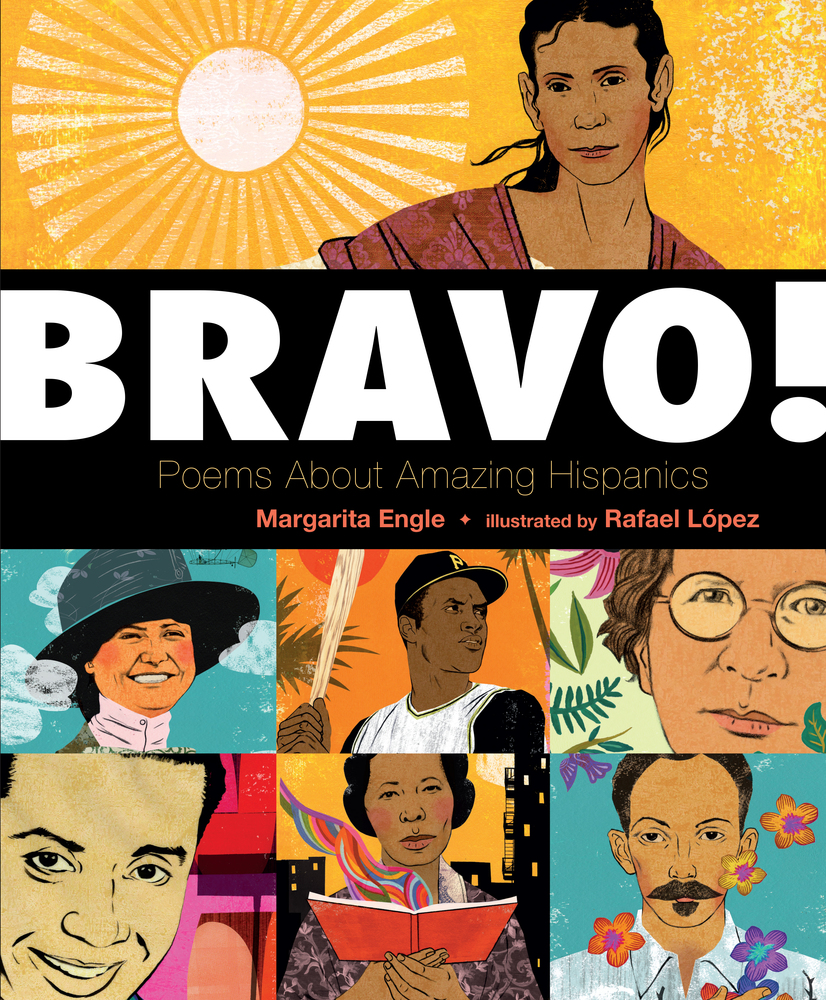 Musician, botanist, baseball player, pilot—the Latinos featured in this collection come from many different countries and from many different backgrounds. Celebrate their accomplishments and their contributions to a collective history and a community that continues to evolve and thrive today!
Biographical poems include: Aida de Acosta, Arnold Rojas, Baruj Benacerraf, César Chávez, Fabiola Cabeza de Baca, Félix Varela, George Meléndez, José Martí, Juan de Miralles, Juana Briones, Julia de Burgos, Louis Agassiz Fuertes, Paulina Pedroso, Pura Belpré, Roberto Clemente, Tito Puente, Ynes Mexia, Tomás Rivera.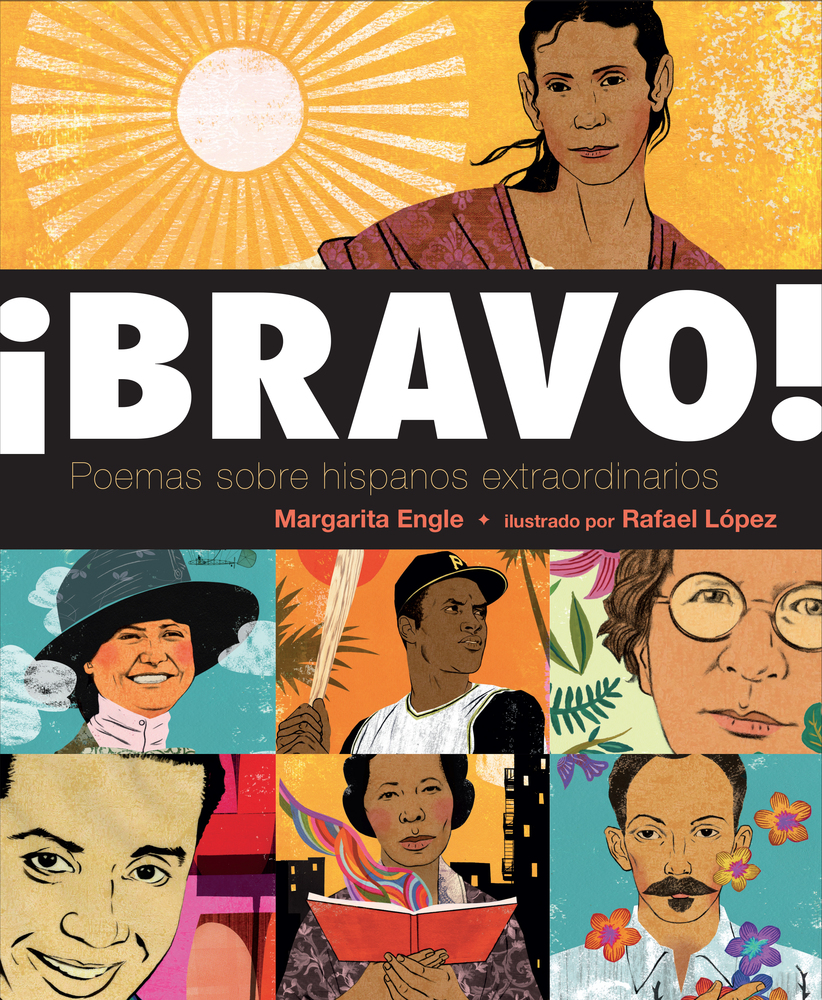 * Order English language edition book here
* Order Spanish language edition book here
* Order the bilingual board book edition here


Honors:
2018-2019 Texas Bluebonnet Award Master List
2018 Notable Social Studies Trade Books for Young People
50 Must-Read Poetry Books for Kids, Bookriot.com
Américas Award Commended Title
Banks Street Best Books 2018
NCSS Notable Books 2018
CCBC Choices 2018
2018 International Latino Book Awards, 1st Prize in the Best Educational Picture book category
School Library Journal Starred Review (January 2017)
School Library Journal list of Poetry Titles to Share with Tweens
SLJ Best Children's Nonfiction Books of 2017
SLJ Fuse 8, Bilingual Children's Books
SLJ Fuse 8 Biography list
NYPL Showstopper Favorites Top 10 Children's Books of 2017
Chicago Public Library Best Informational Books for Young Readers
Huffington Post Best Books of 2017, Honorable Mention, Most Powerful
CCBC Recommended Book
Nerdy Book Club Award Winner
The Best Kids Books of 2017 for Tweens and Preteens, The Children's Book Review
2018 Rhode Island Latino Books Nominee
Latina Book Club 2017 Books of the Year
Action Book Club selection, Little Free Library
St. Catherine University's Nonfiction Best List
Silver Medal, Society of Illustrators Original Art Exhibit
School Library Journal's 23 Books to Honor Hispanic Heritage Month
Read Brightly's 10 Exciting New Middle Grade Books With Latino Main Characters
We Are Teachers' 50 nonfiction Picture Books for Learning About the World
Featured in the Reading Rockets 2017 Summer Reading Guide
International Literacy Association's review of Poetry That Begs to be Spoken
Review from Librarian's Quest
Bustle's 2017 Releases from Latinx Authors from Women's History Month
Readbrightly.com's list of 22 Diverse Poetry Picture Books for Kids
Vamos A Leer's list of 10 Children's and YA Books Celebrating Latinx Poetry and Verse
MORNING STAR HORSE (El Caballo Lucero)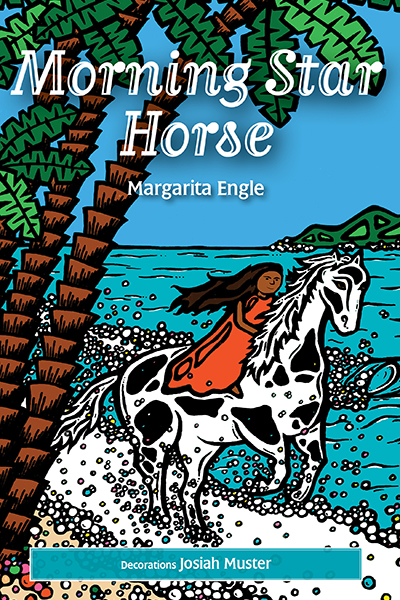 "When Mamacita chose to call me Estrellita, / it was her way of imagining a little bit / of starlight, deep down in that cavern / where only rare streaks of day or night / could reach—now, Lucero and I will be / Morning Star and Little Star, / a lit-from-within racing team!"
A young girl stricken with rickets and her mother face the aftermath of the Spanish-American War, the challenges of a new century and innovative teachers. Dreams realized and dreams crushed exploring the freedoms only a magical horse can offer.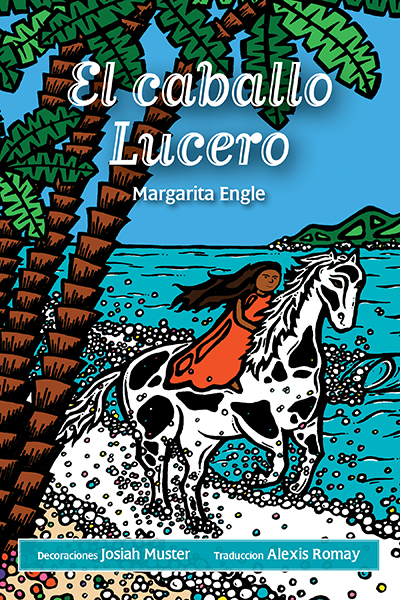 Award winning author Margarita Engle brings a tale of history mixed with a touch of fantasy.
* Order English edition here
* Order Spanish edition here
* Order bilingual English/Spanish edition here.
Honors:
Goodreads Middle Grade/YA Speculative Fiction list
LION ISLAND
Cuba's Warrior of Words (Isla de Leones)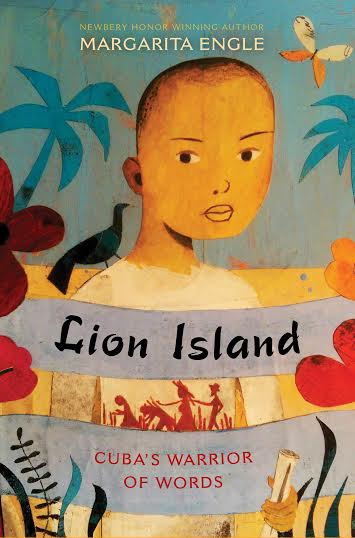 In a haunting yet hopeful novel in verse, award-winning author Margarita Engle tells the story of Antonio Chuffat, a young man of African, Chinese, and Cuban descent who became a champion of civil rights.
Asia, Africa, Europe—Antonio Chuffat's ancestors clashed and blended on the beautiful island of Cuba. Yet for most Cubans in the nineteenth century, life is anything but beautiful. The country is fighting for freedom from Spain. Enslaved Africans and nearly-enslaved Chinese indentured servants are forced to work long, backbreaking hours in the fields.
So Antonio feels lucky to have found a good job as a messenger, where his richly blended cultural background is an asset. Through his work he meets Wing, a young Chinese fruit seller who barely escaped the anti-Asian riots in San Francisco, and his sister Fan, a talented singer. With injustice all around them, the three friends are determined that violence will not be the only way to gain liberty.
Order English language edition here
Order Spanish language edition here
Click here for curriculum guide of Lion Island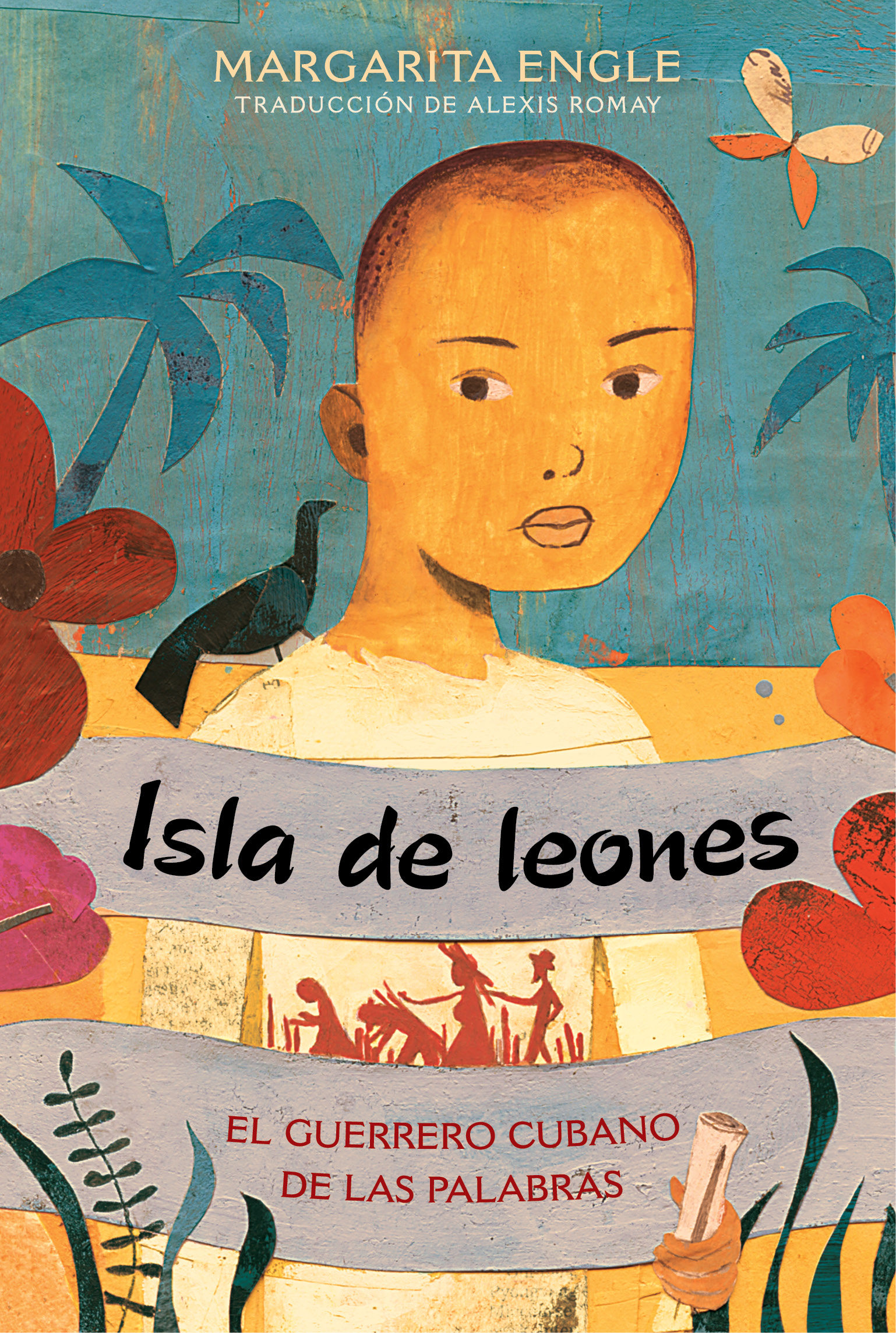 Honors:
ENCHANTED AIR
Two Cultures, Two Wings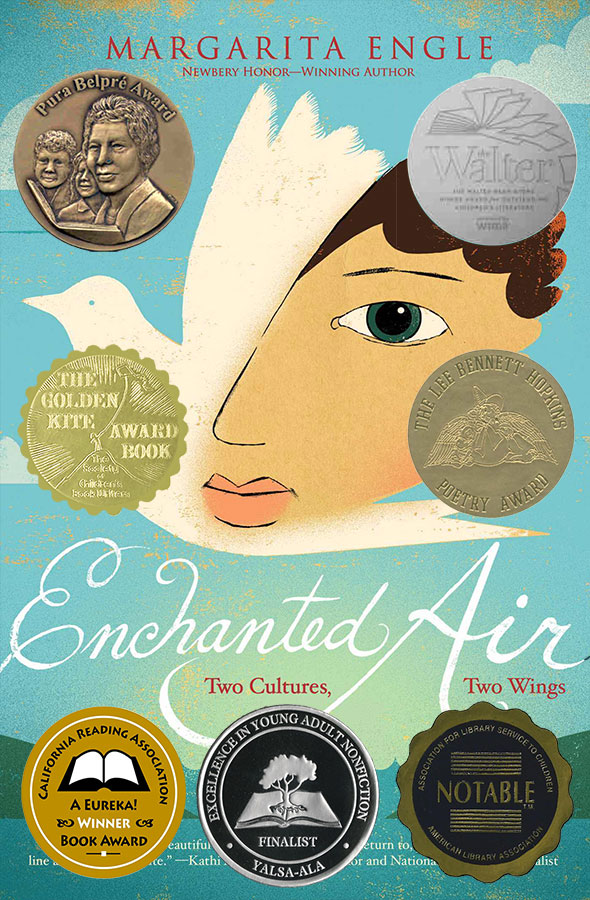 This book is a poetic memoir of Margarita's childhood growing up as a child of two cultures, United States and Cuba, during the Cold War.
Margarita is a girl from two worlds. Her heart lies in Cuba, her mother's tropical island country, a place so lush with vibrant life that it seems like a fairy tale kingdom. But most of the time she lives in Los Angeles, lonely in the noisy city and dreaming of the summers when she can take a plane through the enchanted air to her beloved island. Words and images are her constant companions, friendly and comforting when the children at school are not.
Read reviews here
Order book here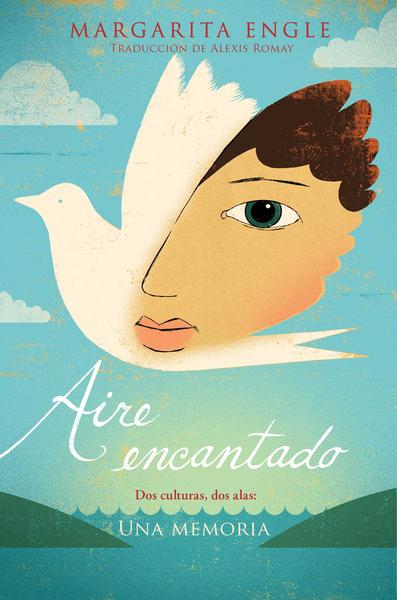 Honors:
2016 Pura Belpré Award for text
William Allen White Award Master List
Voice in Verse: Four Outstanding Mentor Texts, NCTE
2018 Book Recommendations: Poetry, NCTE
30 Mg/YA Verse Novels for National Poetry Month, YAWednesday.com
2018 International Latino Book Awards, 1st Prize in the Best Young Adult Translation Award (translation by Alexis Romay)
NCTE National Poetry Month book recommendation
30 MG/YA Verse Novels for National Poetry Month for Engaging Reluctant Readers, YAWednesday.com
25 of the Best Poetry Books for Teens, TeachThought.com
2016 Notable Verse Novel, NCTE
Bookriot.com's 10 Great Works of YA Nonfiction
Teachingthought.com's 25 of the Best Poetry Books for Teens
YALSA Excellence in Nonfiction for Young Adults Finalist
SCBWI Golden Kite Award winner in non-fiction
NBCnews.com Latino Holiday Gift Guide Great Latino Books for Kids
International Latino Book Award, Second Place, Best Nonfiction Young Adult Book
25 Books About the Immigrant Experience (amightygirl.com)
Walter Award Honor
ALA Notable Children's Books
Arnold Adoff Teen Poetry Award
Américas Award Commended Book
Skipping Stones Honor Award
2016 CBC Notable Social Studies Trade Book for Young People
International Latino Book Award Finalist, Best YA Nonfiction Book
Ten Classic (and Destined to Become Classic) Books to Read Aloud With Tweens and Teens, Brainchild Magazine
9 YA Nonfiction Books That Will Change the Way You Look at the World (Bustle.com)
Bank Street 2015 Best Books of the Year
2015 Eureka! Gold Award by the California Reading Association
School Library Journal Top 10 Latino Books for 2015
2015 Cybils Award Nominee
Starred review from Shelf Awareness.
Vamos a Leer Featured Title
Teaching for Change Recommended Book
Junior Library Guild Fall 2015 selection
Starred review from Kirkus Book Review
Starred review from School Library Journal
Los Angeles Times Summer Reading List
THE SKY PAINTER
Louis Fuertes, Bird Artist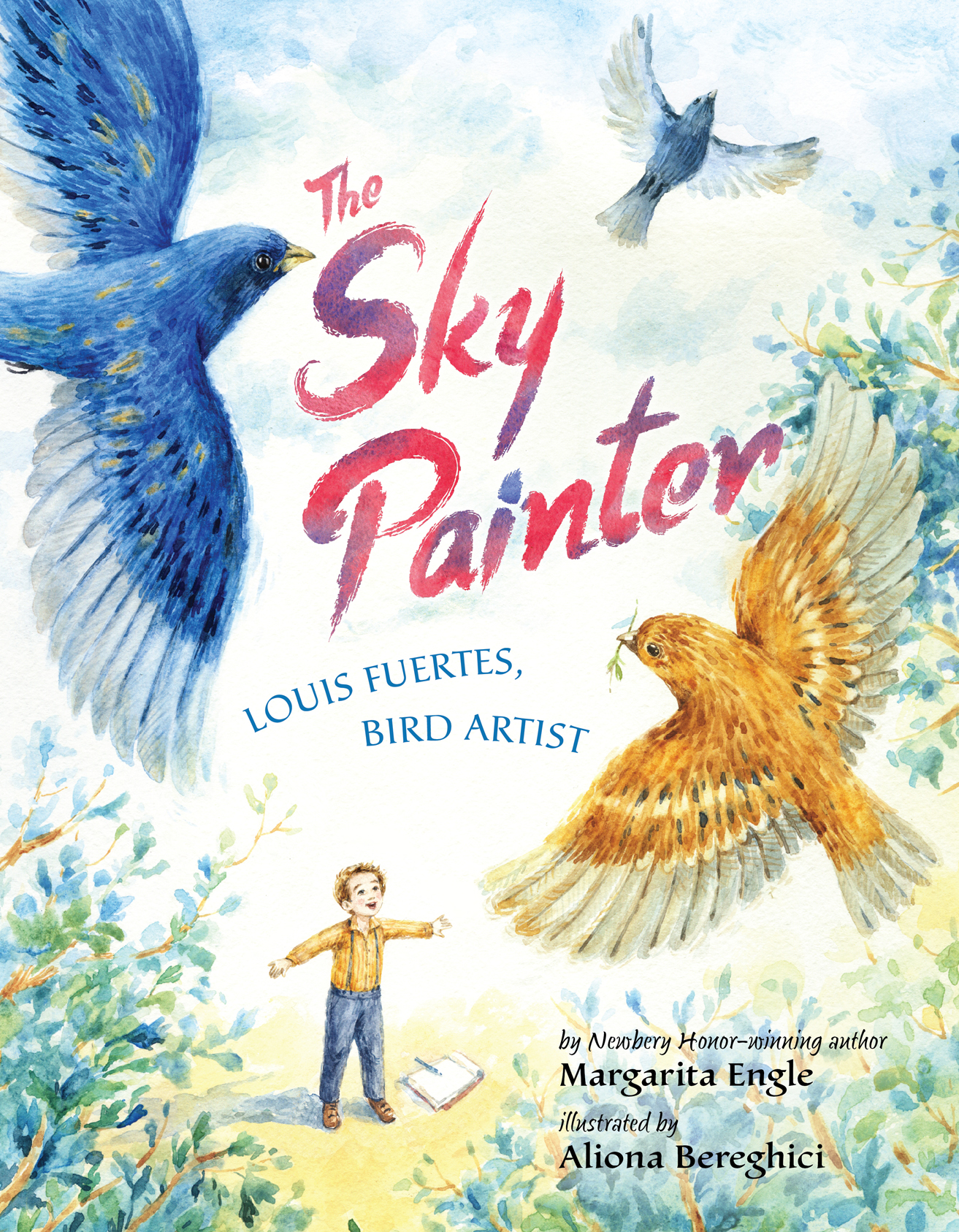 Louis loves to watch birds. He takes care of injured birds and studies how they look and how they move. His father wants him to become an engineer, but Louis dreams of being a bird artist. To achieve this dream, he must practice, practice, practice. He learns from the art of John James Audubon. But as Louis grows up, he begins to draw and paint living, flying birds in their natural habitats.
Released in April 2015, the story is inspired by the life of Louis Fuertes and the deep sense of wonder that he felt when he painted the sky.
Download The Sky Painter activity kit
Book trailer for The Sky Painter by Margarita Engle, illustrated by Aliona Bereghici
Order book here
Honors:
Gathering Books' Social and Emotional Learning list
Social Justice Books' Environment Books
2016 Bank Street Best Books of the Year
International Latino Book Awards Finalist, Best Educational Children's Picture Book
International Latino Book Award, Best Educational Children's Picture Book
2015 Cybils Award Nominee
Selected as one of Teaching For Change's recommended book
DRUM DREAM GIRL
How One Girl's Courage Changed Music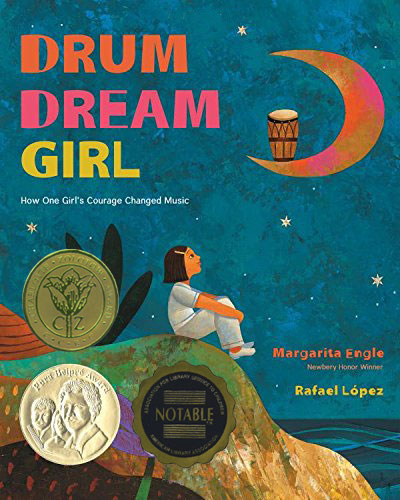 Girls cannot be drummers. Long ago on an island filled with music, no one questioned that rule—until the drum dream girl. In her city of drumbeats, she dreamed of pounding tall congas and tapping small bongós. She had to keep quiet. She had to practice in secret. But when at last her dream-bright music was heard, everyone sang and danced and decided that both girls and boys should be free to drum and dream.
Released in March 2015, this story is inspired by the childhood of Millo Castro Zaldarriaga, a Chinese-African-Cuban girl who broke Cuba's traditional taboo against female drummers.
Read reviews here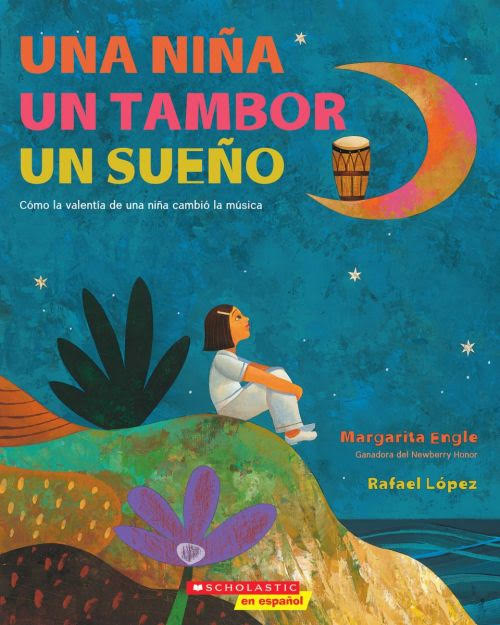 Order book here
Honors:
NYPL 125 Books We Love For Kids
National Geographic Around the World in 20 Books for Kids
CNN Common Sense Media List o Diverse Books
Gathering Books' Social and Emotional Learning list
Latinx Heritage Month Reading List, Conscious Kid Library, Brooklyn Children's Museum
This Picture Book Life's 20 Terrific and True Picture Books
2017 Andrew Carnegie Medal for excellence in children's video by producer Ryan Swenar of Dreamscape Media
Charlotte Zolotow Award for best picture book written in 2015
2016 Pura Belpré Award for illustration (Rafael Lopez)
ALA Notable Children's Book
APALA Award Honor
International Latino Book Award, Most Inspirational Children's Picture Book
Book Riot's List of 100 Must-Read Picture Books For Kids and Adults
Washington Post 19 Books to Help Children Find Hope and Strength in Stressful Times
A Mighty Girl 25 Books to Inspire Your Mighty Girl in 2017
Mom.me 15 Fierce Books About Fearless Females
2016 Book Harvest Mirrors and Windows Project
Empowering Books for Girl (coolmompicks.com)
14 Books To Inspire Kids to Follow Their Dreams (whatdowedoallday.com)
We're the People 2016 Summer Reading List
Finalist, California Book Awards
2016 Bank Street Best Books of the Year
Building STEAM with Día 2016 Booklist
Essence 17 Afro-Latino Children's Books to Read to Your Kids
Timbuktu's 30 Best Children's Books for Girls of all Time
2016 CBC Notable Social Studies Trade Book for Young People
CBC/ALSC Building a Home Library (cbcbooks.org)
International Latino Book Award Finalist, Most Inspirational Children's Picture Book
The Ultimate Diverse Summer Reading List for Kids (HereWeeRead.com)
Américas Award Commended Book
GreatKidsBooks.com Summer 2016 Reading List
26 Multicultural Picture Book Biographies About Inspiring Women and Girls (coloursofus.com)
Amelia Bloomer Top 10
Notable Books for a Global Society, International Literacy Association
Best Multicultural Books of 2015, Center for the Study of Multicultural Children's Literature
School Library Journal Top 10 Latino Books for 2015
School Library Journal Best Books of 2015
Kirkus Best Informational Picture Books of 2015
Georgia Book Award Nominee, 2016-2017
Children's Literacy Initiative Diverse Book Recommendation
Huffington Post Best Books of 2015, Most Inspiring Picture Book
San Francisco Chronicle Best Books of 2015
Top 15 Mighty Girl Books of 2015
100 magnificent Children's Books of 2015 – SLJ Fuse#8
Smithsonian Book Dragon Books for the Multi-Culti Reader
Brown Bookshelf Favorite Books of 2015
10 Books That Empower Kids to Stand Up and Speak Brightly Readbrightly.com
2015 Cybils Award Nominee
Anansesem Picture Book Month Recommendation
Best Picture Books of 2015 selection from howdoesshe.com
California Kids Reviewers Choice
Scholastic's Instructor magazine annual summer reading list for students
Featured on the Washington Post education blog
ALSC Notables Nominee
Starred review from Kirkus Book Review
Children's Book Council Hot Off the Press List for March 2015
Cooperative Children's Book Center's Recomended Book of the Week
We Need Diverse Books March 2015 Educational kit
Starred review on the January 2015 issue of School Library Journal
SILVER PEOPLE
Voices from the Panama Canal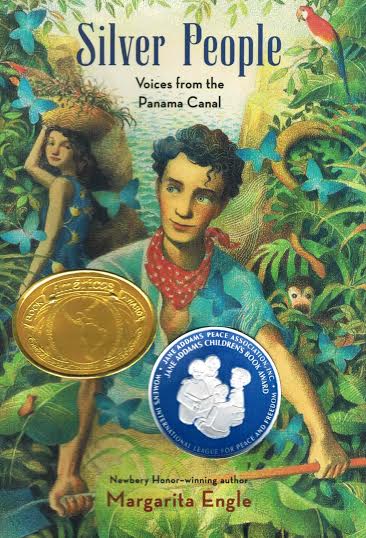 One hundred years ago, the world celebrated the opening of the Panama Canal, which connected the world's two largest oceans and signaled America's emergence as a global superpower. It was a miracle, this path of water where a mountain had stood—and creating a miracle is no easy thing. Thousands lost their lives, and those who survived worked under the harshest conditions for only a few silver coins a day.
From the young "silver people" whose back-breaking labor built the Canal to the denizens of the endangered rainforest itself, this is the story of one of the largest and most difficult engineering projects ever undertaken, as only Newbery Honor-winning author Margarita Engle could tell it.
This book features Raúl Colón's spectacular cover art and published in the U.S by Harcourt, in Australia and New Zealand by University Press.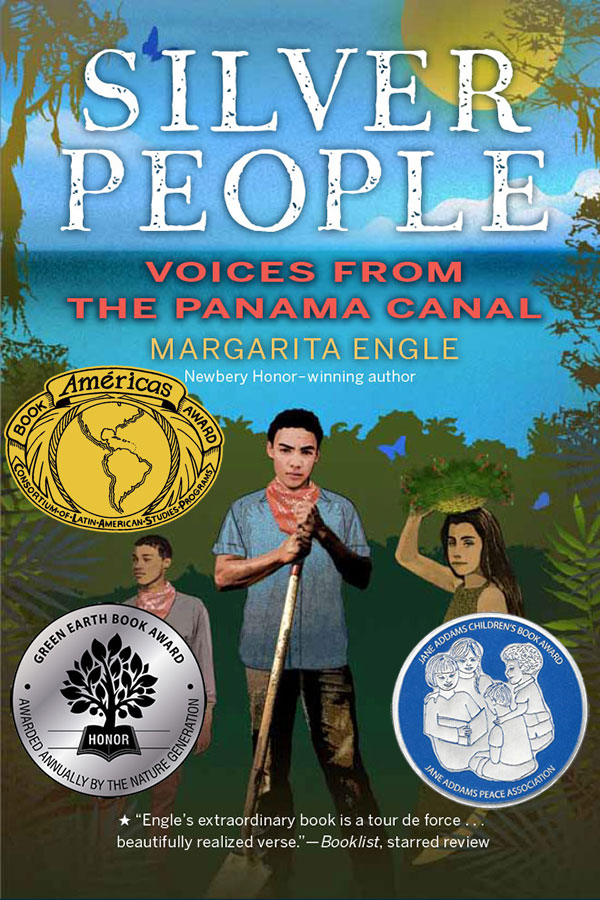 Read reviews here
Honors:
THE LIGHTNING DREAMER
Cuba's Greatest Abolitionist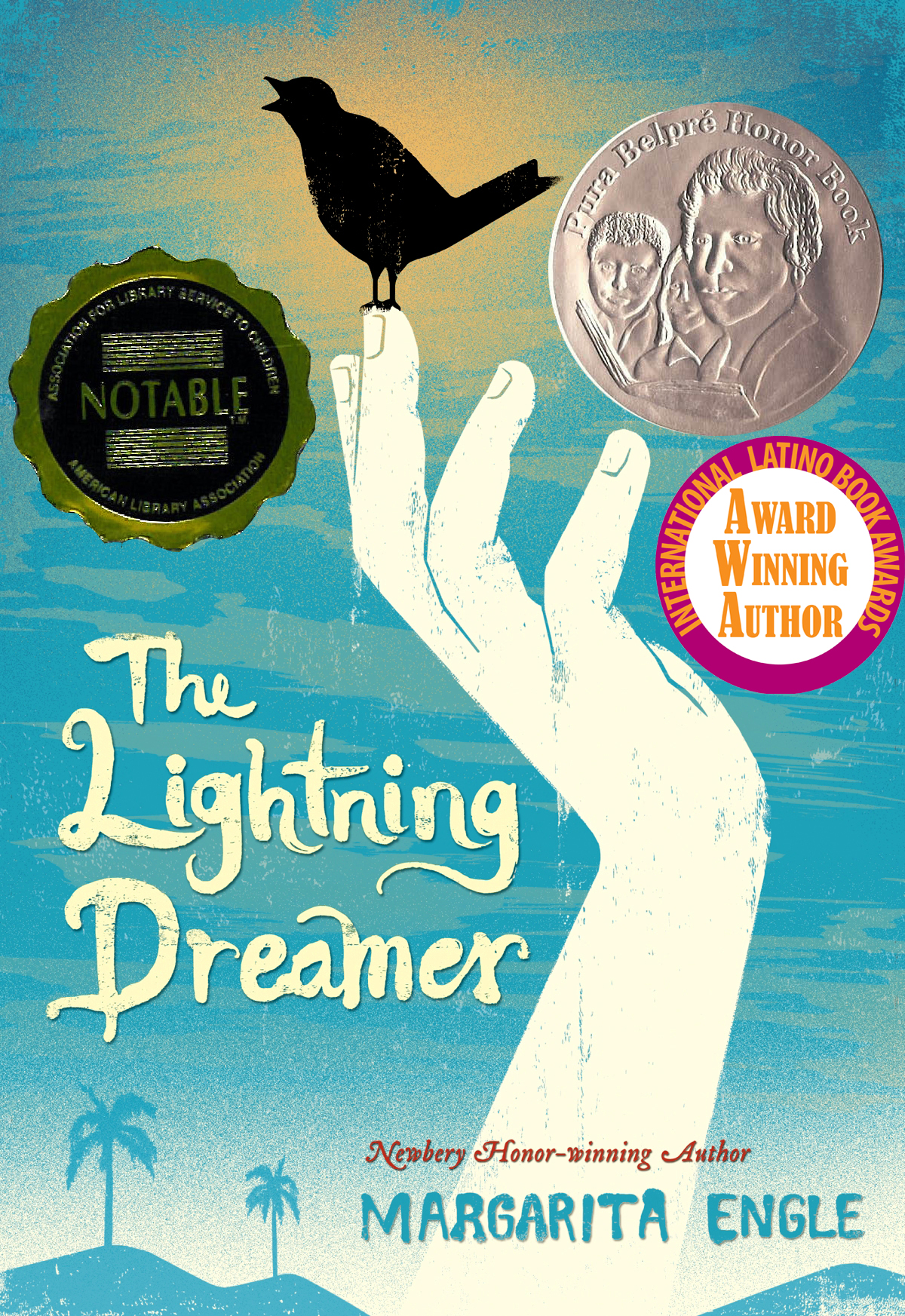 I find it so easy to forget / that I'm just a girl who is expected / to live / without thoughts.
Opposing slavery in Cuba in the nineteenth century was dangerous. The most daring abolitionists were poets who veiled their work in metaphor. Of these, the boldest was Gertrudis Gómez de Avellaneda, nicknamed Tula.
In passionate, accessible verses of her own, Engle evokes the voice of this book-loving feminist and abolitionist who bravely resisted an arranged marriage at the age of fourteen, and was ultimately courageous enough to fight against injustice. Historical notes, excerpts, and source notes round out this exceptional tribute.
Read reviews here
Order book here
Honors:
THE WILD BOOK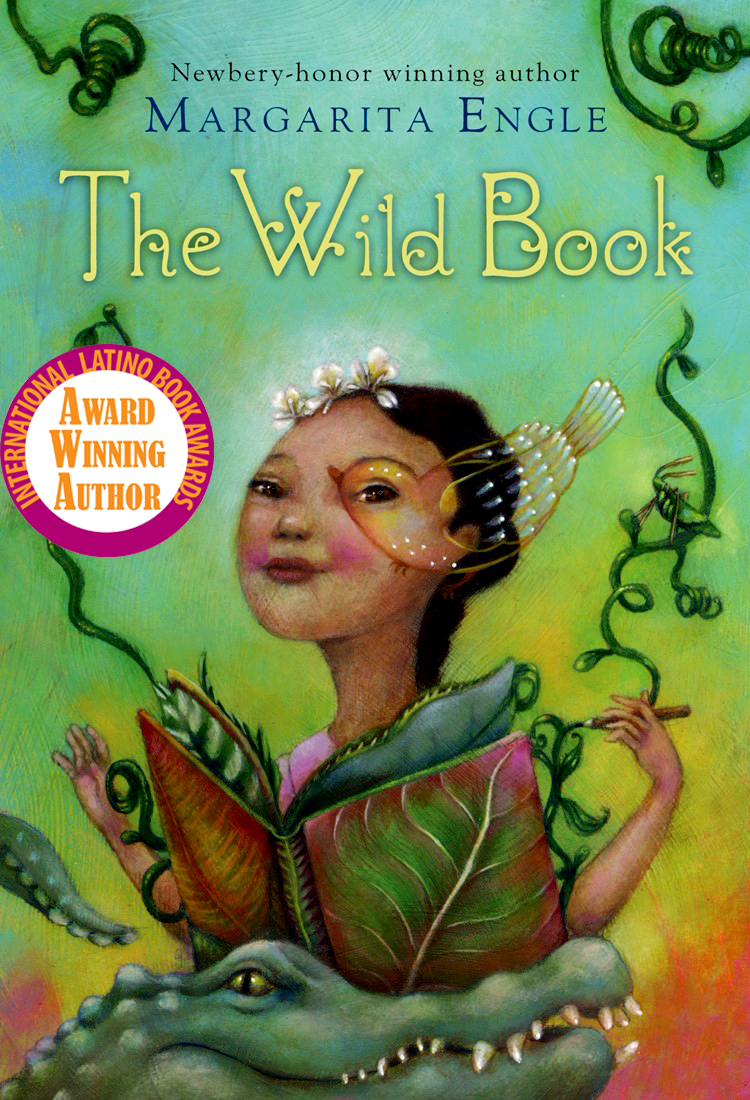 Fefa struggles with words. She has word blindness, or dyslexia, and the doctor says she will never read or write. Every time she tries, the letters jumble and spill off the page, leaping and hopping away like bullfrogs. How will she ever understand them?
But her mother has an idea. She gives Fefa a blank book filled with clean white pages. "Think of it as a garden," she says. Soon Fefa starts to sprinkle words across the pages of her wild book. She lets her words sprout like seedlings, shaky at first, then growing stronger and surer with each new day. And when her family is threatened, it is what Fefa has learned from her wild book that saves them.
The Wild Book is a novel in verse inspired by stories told by Margarita's grandmother about her childhood. The gorgeous cover is illustrated by talented multiple Pura Belpré winning illustrator, Yuyi Morales.
Follow this link to hear Margarita sharing some of the backstory for The Wild Book.
Read reviews here
Order book here
Honors:
33 Latino Middle Grade Chapter Books You Should Know (jumpintoaboook.com)
Kirkus Reviews New & Notable Books for Children (March 2012)
2012 Staff Favorites at Teaching for Change's Bookstore at Busboy and Poets
2013 Mock Belpre from Reforma Heartland Chapter
Horn Book's Guide to 2012 Notable Novels in Verse, in honor of National Poetry Month
Latinas for Latino Lit 2014 Summer Reading Program
HURRICANE DANCERS
The First Caribbean Pirate Shipwreck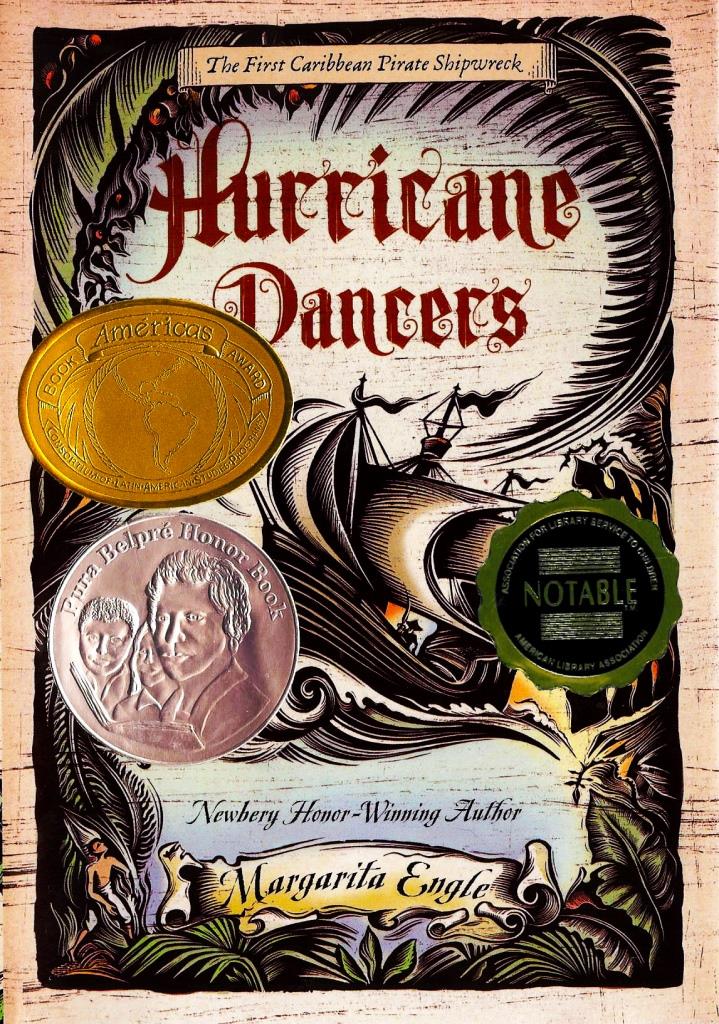 Quebrado has been traded from pirate ship to ship in the Caribbean Sea for as long as he can remember. The sailors he toils under call him el quebrado—half islander, half outsider, a broken one. Now the pirate captain Bernardino de Talavera uses Quebrado as a translator to help navigate the worlds and words between his mother's Taíno Indian language and his father's Spanish.
But when a hurricane sinks the ship and most of its crew, it is Quebrado who escapes to safety. He learns how to live on land again, among people who treat him well. And it is he who must decide the fate of his former captors.
Order book here
Honors:
2012 Pura Belpré Author Honor
2012 Américas Award Winner
ALSC 2012 Notable Children's Book for older readers
ALA Best Books for Young Adults nominee
Poetry for Children Blog's Top 20 Most Distinctive Books of Poetry 2011
2012 White Ravens List
2012 Notable Social Studies Trade Books for Young People
SUMMER BIRDS
The Butterflies of Maria Merian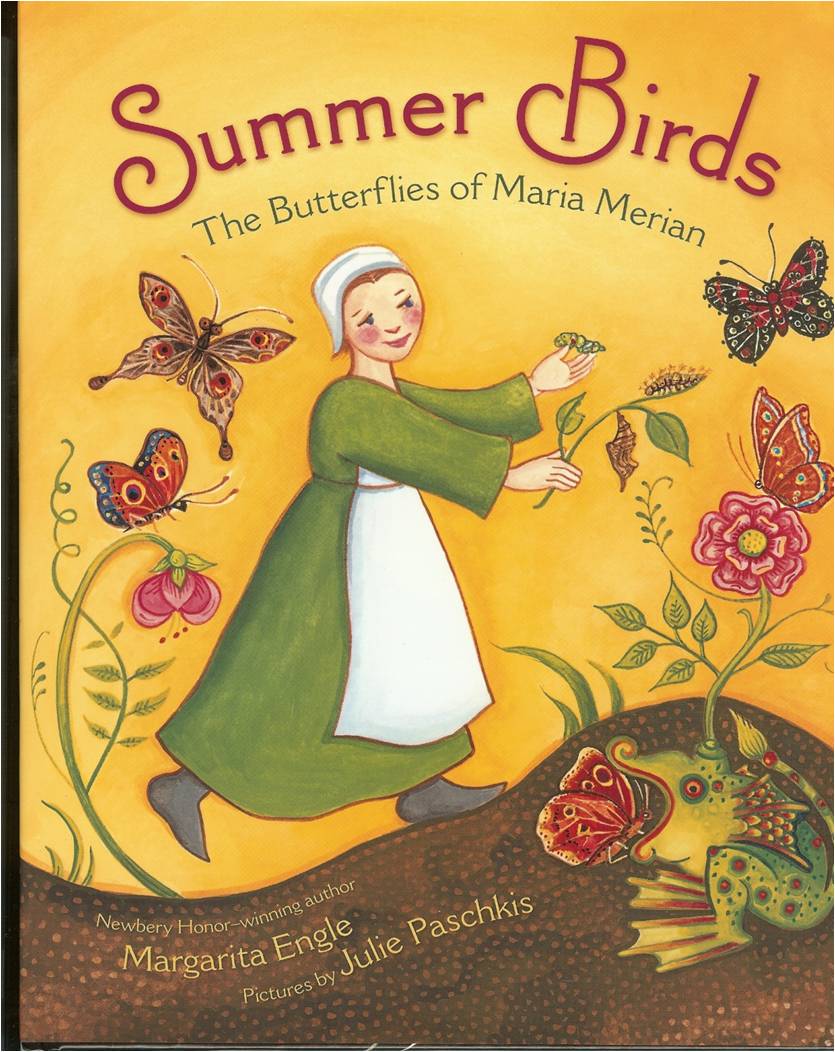 In the Middle Ages, people believed that insects were evil, born from mud in a process called spontaneous generation. Maria Merian was only a child, but she disagreed. She watched carefully as caterpillars spun themselves cocoons, which opened to reveal summer birds, or butterflies and moths. Maria studied the whole life cycle of the summer birds, and documented what she learned in vibrant paintings.
This is the story of one young girl who took the time to observe and learn, and in so doing disproved a theory that went all the way back to ancient Greece.
Order book here
Honors:
Geek Wrapped list of the 100 Best Science Books for Kids
15 Picture Books about Women in History (whatdowedoallday.com)
Science is for Girls: 25 Books About Female Scientists
Kirkus Best Books for Children
NCSS-CBC Notable Social Studies Book
Amelia Bloomer Book
Top 100 Mighty Girls Picture Book
THE FIREFLY LETTERS
A Suffragette's Journey to Cuba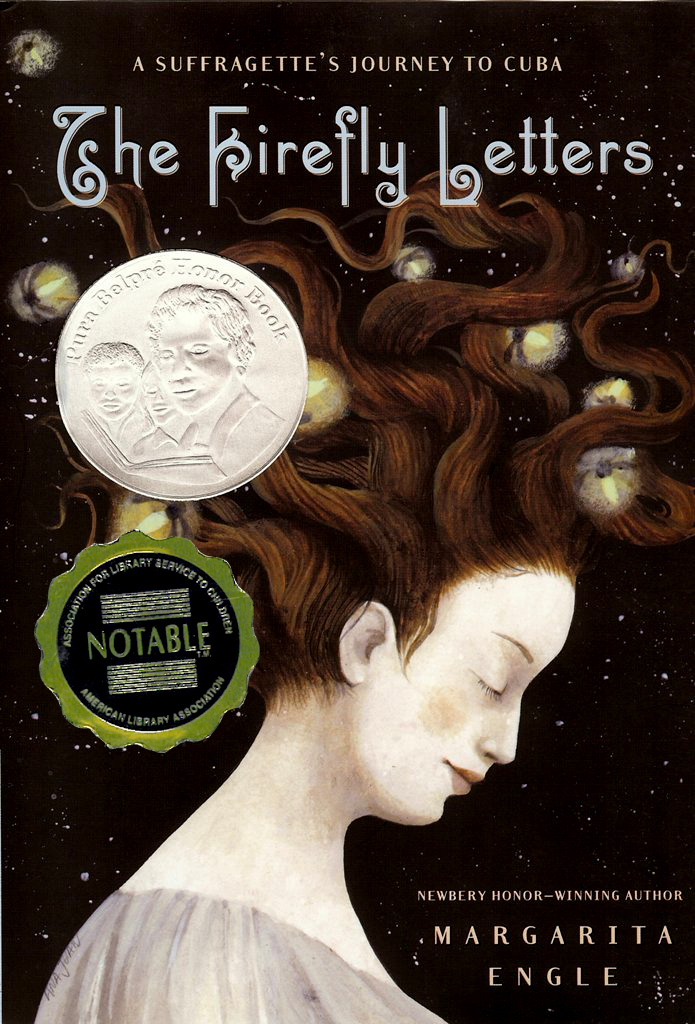 The freedom to roam is something that women and girls in Cuba do not have. Yet when Fredrika Bremer visits from Sweden in 1851 to learn about the people of this magical island, she is accompanied by Cecilia, a young slave who longs for her lost home in Africa. Soon Elena, the wealthy daughter of the house, sneaks out to join them. As the three women explore the lush countryside, they form a bond that breaks the barriers of language and culture.
In this quietly powerful new book, award-winning poet Margarita Engle paints a portrait of early women's rights pioneer Fredrika Bremer and the journey to Cuba that transformed her life.
Order book here
Honors:
Pura Belpré Honor
2017 Social Justice Book List of the National Network State Teachers of the Year
Jane Addams Award Finalist
California Book Award Finalist
33 Latino Middle Grade Chapter Books You Should Know (jumpintoaboook.com)
International Reading Association Notable Book for a Global Society
Américas Award Honor
NCSS-CBC Notable Social Studies Book
Amelia Bloomer Book
TAYSHAS Choice
Junior Library Guild Selection
ALSC 2011 Notable Children's Book
Latinas for Latino Lit 2014 Summer Reading Program
TROPICAL SECRETS
Holocaust Refugees in Cuba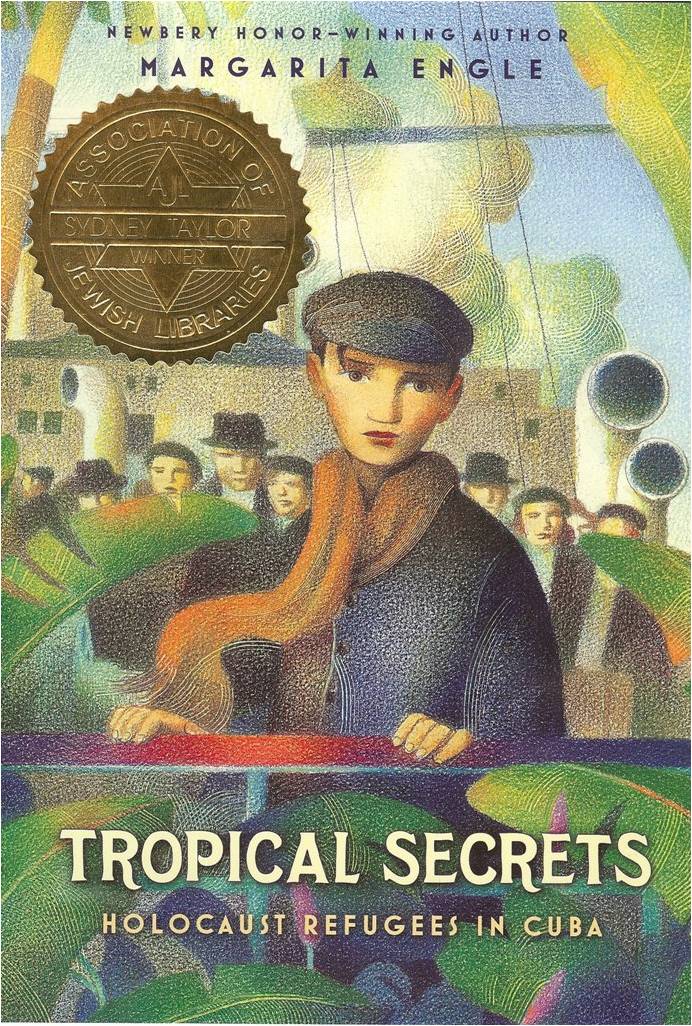 Daniel has escaped Nazi Germany with nothing but a desperate dream that he might one day find his parents again. But that golden land called New York has turned away his ship full of refugees, and Daniel finds himself in Cuba.
As the tropical island begins to work its magic on him, the young refugee befriends a local girl with some painful secrets of her own. Yet even in Cuba, the Nazi darkness is never far away . . .
Order book here
Honors:
Sydney Taylor Award
Paterson Prize
Américas Award
30 MG/YA Verse Novels for National Poetry Month Engaging Reluctant Readers, from YAWednesday.com
33 Latino Middle Grade Chapter Books You Should Know (jumpintoaboook.com)
Jane Addams Award Commendation
New York Public Library 100 Titles for Reading and Sharing
ALA Best Books for Young Adults Nominee
California Teachers Association Recommended Book
THE SURRENDER TREE
Poems of Cuba's Struggle for Freedom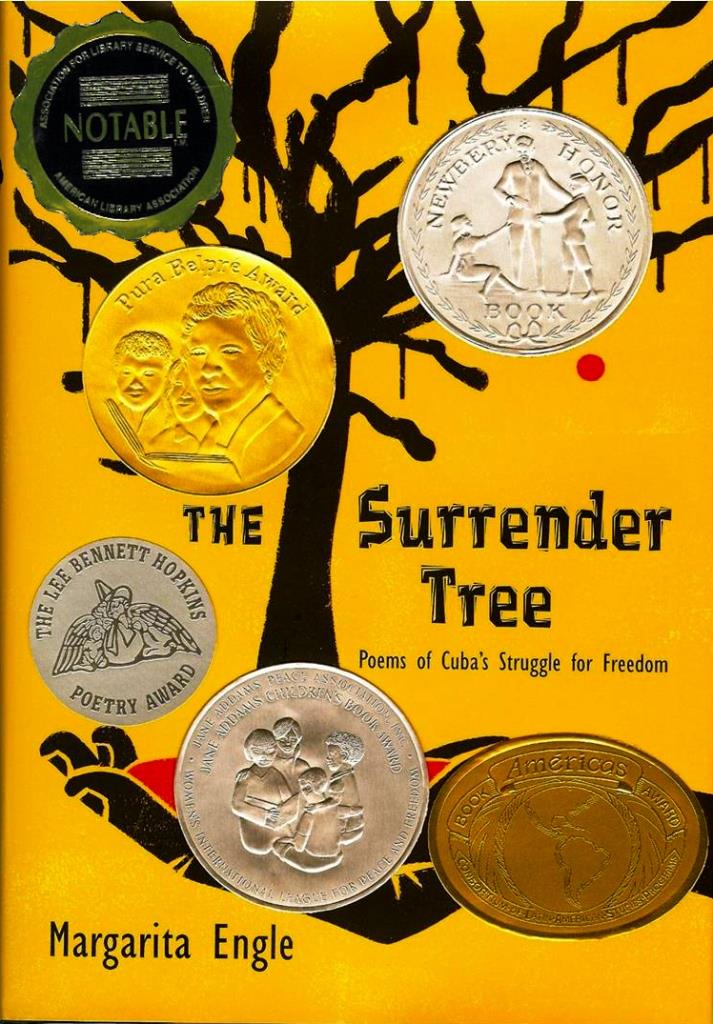 Who could have guessed that after all these years,
the boy I called Lieutenant Death
when we were both children
would still be out here, in the forest,
chasing me, now,
hunting me, haunting me . . .
It is 1896. Cuba has fought three wars for independence and still is not free. People have been rounded up in concentration camps with too little food and too much illness.
Rosa is a nurse, but with a price on her head for helping the rebels, she dares not go to the camps. Instead, she turns hidden caves into hospitals for those who know how to find her. Black, white, Cuban, Spanish—Rosa does her best for everyone. Yet who can heal a country so torn apart by war?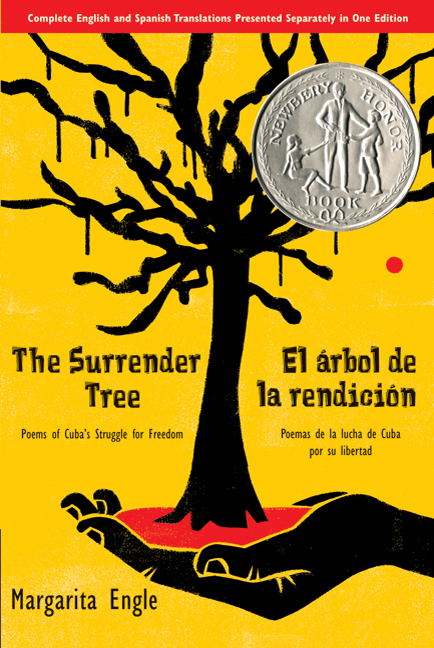 Order book here
This book is also available in bilingual English and Spanish translation.
Honors:
Newbery Honor
Pura Belpré Award
Américas Award
Jane Addams Award
Claudia Lewis Poetry Award
Lee Bennett Hopkins Honor
ALA Best Books for Young Adults
ALA Notable Book
NCSS-CBC Notable Social Studies Book
Amelia Bloomer Book
Booklist Editor's Choice
Kansas State Reading Circle
Michigan Great Lakes Great Books Award Master List
Junior Library Guild Selection
Finalist - Once Upon a Word Children's Book Award, Museum of Tolerance, Simon Wiesenthal Library
Bank Street College of Education Selection List of Reading Aloud With Children Twelve and Older
ALSC Notable Books
Great Social Studies Poetry Books list, from CLA Master Class: Poetry Across the Curriculum (Social Studies and Poetry)
Book Riot 100 Must-Read Latin American Book
Artists Without Walls Performance, New York
THE POET SLAVE OF CUBA
A Biography of Juan Francisco Manzano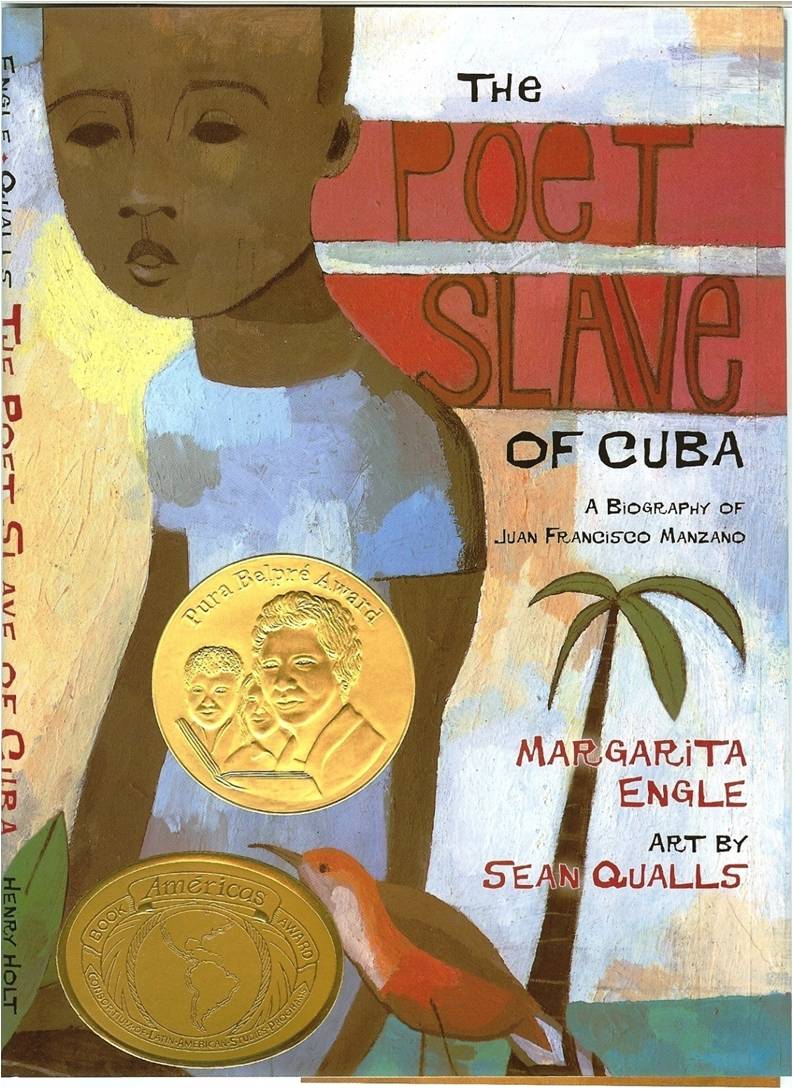 A lyrical biography of a Cuban slave who escaped to become a celebrated poet.
Born into the household of a wealthy slave owner in Cuba in 1797, Juan Francisco Manzano spent his early years by the side of a woman who made him call her Mama, even though he had a mama of his own. Denied an education, young Juan still showed an exceptional talent for poetry. His verses reflect the beauty of his world, but they also expose its hideous cruelty.
Powerful, haunting poems and breathtaking illustrations create a portrait of a life in which even the pain of slavery could not extinguish the capacity for hope.
Order book here
Honors:
Pura Belpré Medal
Américas Award
International Reading Association Children's Book Award
International Reading Association Teachers' Choice
ALA Best Books for Young Adults
NCTE Notable Children's Books in the Language Arts
Bank Street College of Education Best Books of the Year
New York Public Library Best Books for the Teen Age
Bulletin of the Center for Children's Books Blue Ribbon Book
Cooperative Children's Book Center Choice
Booklist Editor's Choice
Arizona Grand Canyon Young Readers Master List
CCBC Global Reading List
Junior Library Guild Selection
Bank Street College of Education Selection List of Reading Aloud With Children Twelve and Older
Teachingthought.com's 25 of the Best Poetry Books for Teens
25 of the Best Poetry Books for Teens, from TeachThought.com