News
November 8, 2015
Recent wonderful reviews for Enchanted Air:
October 30, 2015
Enchanted Air has been given the 2015 Eureka! Gold Awards book by the California Reading Association.
October 26, 2015
Margarita contributed on a blog article at Latin@s in Kid Lit, on About that Embargo.
The 2015 Cybils Award nominees includes four of Margarita's books, Enchanted Air, Drum Dream Girl, The Sky Painter, and Orangutanka.
October 4, 2015
The Kindle edition of The Sky Painter is included in the Pizza Hut BOOK IT! program. It is a reading program set up by teachers in classrooms to motivate children to read by rewarding their reading accomplishments with praise, recognition and pizza.

*************************
December 24
The Lightning Dreamer has been chosen by the Center for the Study of Multicultural Children's Literature as a Best Multicultural Book of 2013.
The Lightning Dreamer is a Teaching for Change 2013 Favorite
December 13
The Lightning Dreamer has been named one of School Library Journal's Top Ten Latino-themed Books for 2013.
Silver People advanced review:
November 20
Margarita's newest book, Silver People, Voices From the Panama Canal, will be a Junior Library Guild selection in their Spring 2014 catalog.
Book update: Tiny Rabbit's BIG WISH, Margarita's new picture book that will be released in March 2014 by Harcourt, will also be published in Japan, by Iwasaki.
Mountain Dog has been selected as one of the Kirkus Best Book of the Year for 2013!
Wonderful review of The Wild Book and Tropical Secrets, on De Colores: The Raza Experience in Books for Children website.
November 10
Mountain Dog received the Parent's Choice Award Silver Honor in the fiction category.
Margarita is this month's guest blogger for Authors for Earth Day website. Follow the link to read her article, Voices from a Tropical Rain Forest.
October 30
Mountain Dog has been nominated for the Middle Grade Fiction category of the Cybils Award 2013
October 3
Margarita enjoyed a Skyped school visit to ESL and AP Spanish classes at Lake Park High School, Illinois.
September 20
Summer Birds has been selected for Scholastic's Quest For Knowledge science packet.
Margarita's upcoming book,Silver People, Voices From the Panama Canal will be published in Australia and New Zealand by the University of Queensland Press, along with U.S. publication by Harcourt, in 2014.
Both Hurricane Dancers and The Wild Book will be available in paperback in Fall 2013.
The Lightning Dreamer was featured in a video and interview on the No Water River poetry blog
September 17
Check out these blog articles highlighting Margarita's newest book, The Mountain Dog:
August 5
Margarita has joined the community of friends of the Foundation Cuatrogatos. Her book, The Surrender Tree, is included among the 50 books for children and young people by Latin authors titled "De raíces y sueños", by Cuatrogatos and the CEPLI of the University of Castilla - La Mancha.
Margarita has also joined Authors For Earth Day. The organization provide assistance to teachers to host authors for an Earth Day school visit.
August 1
This is the beautiful new Korean (Borim Press) edition of Tropical Secrets. The cover is wonderfully redesigned while keeping the original artwork. It's great to see how far a book can travel!
The Lightning Dreamer has been nominated for YALSA's 2014 Best Fiction for Young Adults list.
July 31
Sneak Peek:

Check out Raúl Colón's spectacular cover art for Margarita's upcoming book, Silver People, Voices From the Panama Canal (2014).
July 28
Book Release Updates:
Margarita's newest book, Mountain Dog, have an official release date of August 27. Mark your calendar and contact your local bookstore to get your copy!
Paperback edition of Hurricane Dancers will be released by publisher Square Fish in winter 2014.
July 26
July 23
Margarita spoke to children at a North Fresno Church youth group about wilderness search and rescue dogs, and introduced her new book, Mountain Dog.
Check out Margarita's interview on her book When You Wander at Annemarie O'Brien's blog, Dog Reads, a blog that features interviews with authors who've written stories for kids with a key canine character.
July 17
Check out few of Margarita's favorite poetry books selection for younger and older children on Latinas4Literature's blog.
July 11, 2013
During the first week of July, Margarita served as a guest author for the University of Wisconsin's online course, Using Children's Literature to Explore Latin American/Latino Cultural Heritage. The Poet Slave of Cuba was the focus of class discussions.
Wonderful review of The Lightning Dreamer on Repeating Islands' website.
When You Wander was featured on No Water River's website. Check out also the video of Margarita reading the book!
June 10, 2013
Happy Caribbean-American Heritage Month!
Latinas for Latino Literature, in partnership with Google, just posted their summer reading list. Both The Wild Book and The Lightning Dreamer are included.
May 24, 2013
Click here to read a new five star review of Margarita's new book,The Lightning Dreamer.
Great news! The Wild Book has been chosen as one of Bankstreet's Best Children's Book of the Year.
May 10, 2013
A new paperback edition of Because of Shoe and Other Dog Stories, with a new and very cute cover, will be released on May 21.
April 30, 2013
Click here to read Kirkus Reviews of Margarita's new picture book,When You Wander.
April 24, 2013
Margarita's The Wild Book has been chosen as one of five bilingual books recommended for National Poetry Month by NBCLatino. The book was also spotlighted by The Horn Book as notable novel in verse to celebrate poetry.
Margarita's interview on The Lightning Dreamer with Kidsbiographer's Blog, can be read through this link.
April 11, 2013
Enid Lee, co-editor of Beyond Heroes and Holidays, selected three titles at Teaching for Change's bookstore at Busboys and Poets while in town yesterday: "Surrender Tree" by Margarita Engle, "There Is Nothing Wrong with Black Students" by Dr. Jawanza Kunjufu, and the graphic novel version of "Race to Incarcerate". Learn about the work of Enid Lee.
April 10, 2013
Some great review and interview on Margarita's new book, The Lightning Dreamer, from Kids Biographer and Anne Marie O'Brien's World Reads.
April 7, 2013
Margarita will be participating in Latinas4LatinoLiterature's Día Blog Hop. Her article will be posted on April 12.
UPDATE: The link for Margarita's article.
April 5, 2013
Margarita's haiku is featured on tinywords, an international, daily magazine of haiku and micropoetry.
March 22, 2013
Visit Campaign for the American Reader blog to read two articles by Margarita:


Also, check out this video of Margarita's interview with CBS 47 on March 21, 2013:
March 18, 2013
Margarita's featured guest post is up on Kidlit Women's History Month. Her interview on The Lightning Dreamer can also be read on The Hispanic Reader.
March 6, 2013
Update! The paperback edition of The Wild Book will be published by Houghton Mifflin Harcourt in January 2014.
March 2, 2013
February 25, 2013
Click here to watch Margarita receiving the 2012 Americas Award for Children and Young Adult Literature, at the Library of Congress.
February 15, 2013
A glowing review for The Lightning Dreamer from the Kirkus Review. Read it here.
February 8, 2013
Margarita spoke to 1400 children, ranging from 3rd grade through middle school, as part of the amazing Words Take Wing program at U.C. Davis. She was also featured for the event, by local news outlet, The Davis Enterprise. Read the article here.
January 30, 2013
The Wild Book won the 2013 Mock Belpre from the Heartland chapter of Reforma, The National Association to Promote Library and Information Services to Latinos and the Spanish Speaking.
January 20, 2013
Margarita had a wonderful time speaking about The Firefly Letters to an enthusiastic Fresno area book club hosted by Denise Sciandra on January 17. She was amazed and grateful for the ease with which this particular book crosses over from young adult reading to women's book clubs!
The Korean edition of Tropical Secrets will be released in March by Borim Press.
January 15, 2013
A wonderful review of The Wild Book on Reforma website. Reforma is an organization that promotes library and information services to the Latinos and Spanish speaking.
The Wild Book is also featured on Poetry for Children blog as one of the favorite poetry for young people 2012 list.
Paperback edition of The Wild Book will be released by Harcourt this fall.
January 10, 2013
The Lightning Dreamer was reviewed and featured in Books to Build Connections to Latino Culture for K-10 article, on School Library Journal's website.
January 3, 2013
A wonderful review of Hurricane Dancers is posted on The Gathering Books' website
January 1, 2013
Visit Haiku Prayer's website to read the first three tanka of Margarita's haiku.
December 19
Another review for The Wild Book from Jennifer Bardsley, on Teaching My Baby To Read blog.
December 6
Thank you to Teaching for Change's Bookstore at Busboy and Poets, for selecting Margarita's book, The Wild Book, as one of their 2012 staff favorites. Visit their website to see their complete selections.
November 28
Review of Margarita's book, Tropical Secret is available at the Gathering Books Blog.
Check out photos of Margarita and other authors featured at the Petunia's Place Bookstore's Festival of Author on November 24.
November 13
From A Book Barn's Picture Book Festival on November 10, Margarita with her granddaughter, Izabella, and one of the Tail Waggin' Tutors dog.
November 5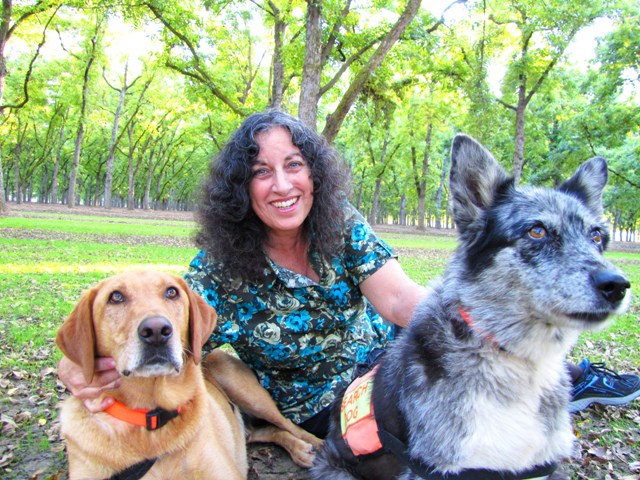 (Left) Margarita with her search and rescue dogs. Click here to check out Margarita's new dog-themed books.
Margarita's interview with Uma Krishnaswami of Writing with a Broken Tusk on her book, The Wild Book.
Margarita will be featured in The ALAN Review issue 40:1 (page 64-69) in an article titled, Invitational History in Margarita Engle's The Poet Slave of Cuba: A Biography of Juan Francisco Manzano, by Zaira Aruelo.
October 10
Advanced review copies of Margarita's upcoming book, The Lightning Dreamer, are now available to reviewers. A copy can be requested by contacting Margarita.
The Lightning Dreamer is a novel in verse about Cuba's great abolitionist/feminist poet, Gertrudis Gómez de Avellaneda, who was world-famous in her lifetime, but has been forgotten by history.
October 8
Updated: September 1
Updated link to purchase a copy of Poetry Friday Anthology.

Also, don't miss the chance to win a copy of Poetry Friday Anthology and instigate the Poetry Friday movement in your school or library.
Original: August 17
Coming just in time for the 2012-2013 school year, a new poetry anthology, The Poetry Friday Anthology, is available now. This anthology includes three of Margarita's poems, along with more than 200 original poems for children in kindergarten through fifth grade by 75 popular poets including J. Patrick Lewis, Jack Prelutsky, Jane Yolen, Margarita Engle, X. J. Kennedy, Kathi Appelt, Guadalupe Garcia McCall, Georgia Heard and Nikki Grimes and many more.
Download and read a sample (pdf) of the anthology.
For information about purchasing a copy, click here.
August 13
The cover of Margarita's next novel in verse, The Lightning Dreamer, to be published by Harcourt in spring, 2013. It tells the story about Cuba's great abolitionist poet, Gertrudis Gómez de Avellaneda.
August 7
Margarita was the featured guest blogger at TeachingBooks.net. Click here to read her article on Writing Historical Novels in Verse, and see a picture of 'Fefa' that inspires Margarita's The Wild Book.
Follow this link to hear Margarita sharing some of the backstory for The Wild Book.
August 2
Click here to read Cynsations' Celebrating Poetry interview with Margarita. The interview was done by Kate Hosford.
August
Margarita was recently invited as a speaker for Ms. Nicole Karanjit's ESL (English as Second Language) classes, at the American English Institute:
Speaking about The Wild Book at the Reading and Vocabulary class.
Discussing both of Margarita's rescue dog-themed books, Because of Shoe and When You Wander, at the America Culture Camp for Chinese students and California Experience Camp for Taiwanese students. Margarita also brought along her retired search-and-rescue dog, Maggi, for both presentations.

July 18

Follow this link to see news coverage of Margarita's book signing at A Book Barn Bookstore on July 14, in Clovis.

July 11

Read Margarita's response to receiving the Pura Belpré Honor for Hurricane Dancers at 2012 America Library Association Annual Conference & Exhibition last month, by La Bloga's blog.

Photo © http://labloga.blogspot.com/

June 24

Margarita was at the 2012 America Library Association Annual Conference & Exhibition in Anaheim, California. Her book, Hurricane Dancers: The First Caribbean Shipwreck is one of the Pura Belpre Author Honor book for this year. She also participated in YA Author Coffee Klatch (YALSA) and book signing sessions. Thanks to all that came out to meet her at ALA!

June 22

Click here to read more glowing review of Because of Shoe and Other Dog Stories from the School Library Journal.

June 17

Margarita was one of the guest speaker at Asian Festival of Children's Content in Singapore, on May 26-29. She also had the chance to see a wildlife refuge for rescued orangutans in Sarawak.

June 6

May 25

Hurricane Dancers has been selected as one of two recipients of the 2012 Américas Award for Children's and Young Adult Literature. The announcement of the award winners and other commended titles will be released soon through Consortium of Latin American Studies Programs (CLASP).

May 18

More review of The Wild Book from Ella Johnson at Mymcbook blog. Click here for her review on Goodreads.

May 11

This is Margarita's newest picture book to be published in March 2013 by Holt/Macmillan. We'll post updates on the website as the book progresses.





May 6

Thank you Angelica Carpenter for the wonderful editorial in The Fresno Bee on Margarita's book!

May 1

Here's another great review for The Wild Book from Bulletin of the Center for Children's Books. Click here to read the review.

April 13

Margarita is one of El día de los niños/El día de los libros (Children's Day/Book Day) Author and Illustrator Ambassadors.
Watch Margarita reading from The Wild Book and The Surrender Tree on Pat Mora's BookJoy! website.

A word from Margarita on Children's Day/Book Day:

April 30, 2012 marks the sixteenth anniversary of a visionary program launched by poet Pat Mora, in cooperation with REFORMA and now housed at the Association of Library Service to Children, a division of ALA. Children's Day/Book Day has grown into a national day of festivities. Schools, museums, bookstores, and libraries host events promoting books and celebrating the joy of reading.

When I try to describe my own love of books, I feel like I could go on and on for pages, writing about the profound role that reading played in my childhood. Adventurous trips to the public library. School assignments that were so challenging and enjoyable, I thought I had to keep my delight secret, to avoid being teased by less bookish kids. Stories. Poems. Travel books. Plays. The variety was thrilling!

The variety of books available to children and their families should always be thrilling. Whether we are writers, teachers, students, parents, librarians, or simply readers from any far-flung branch of the world's varied careers, let's all remember to celebrate April 30.

Happy Children's Day/Book Day! Happy reading!

April 11

Read Margarita's previously unpublished poem 'Chocho Seed' featured on GottaBook website's 30 Poets, 30 Days.

Also, check out another interview that Margarita did on the Gathering Books website. The interview talks about The Women [and Poetry] in Margarita's Writings.

April 5

April 3

Read Margarita's 5Q Poet Interview Series for National Poetry Month at Poetry for Children's website.

March 30

March 24

Margarita did an author appearance and book signing event for The Wild Book at A Book Barn bookstore in Clovis, California.

March 23

Hurricane Dancers is on the 2012 WHITE RAVENS LIST. This is a list of outstanding international books for children and young adults, named by the Internationale Jugendbibliothek, or International Youth Library, in Munich, Germany. The list was presented at the Bologna Children's Book Fair in Italy, consists of 250 titles from 40 countries, and will appear in a catalogue available at www.ijb.de.
Margarita was featured on TV program Channel 47 On Your Side with Zara Arboleda.

Margarita was interviewed about The Wild Book, by La Vida en el Valle newspaper, for an upcoming article

March 20

Margarita was interviewed about The Wild Book, on KVPR's Valley Edition. Click here to listen to the interview (Margarita's segment starts on minute 51).

March 19

Margarita was invited to speak to graduate students enrolled in California State University Fresno's Master's in Education program. The students are public school teachers who are preparing to become reading specialists. They were a wonderful audience!

March 8, 2012

Great news: The Wild Book is one of top 20 New & Notable Books for Children: March 2012, picked by Kirkus Review.

Also, one of Margarita's poems will be featured in April's National Poetry Month 30 Poets Celebration on Gottabook Blog. So, keep an eye on that blog next month!

March 3, 2012

February 5, 2012

Check out Margarita's reaction for her 2012 Pura Belpré Award Honor for Hurricane Dancers: The First Caribbean Shipwreck on ALA Youth Media Award's YouTube channel.
See also reaction from other award winners here.

January 26, 2012

Hurricane Dancers: The First Caribbean Shipwreck is a 2012 Pura Belpré Author Honor Book and ALSC 2012 Notable Children's Book for older readers!
See complete list of the winners and honorees for this year here. Margarita will be presented with this award in June, at the ALA conference in Anaheim.

January 16, 2012

The Wild Book is now available for pre-order wherever books are sold. Reserve you copy now!

Excerpts of reviews of The Wild Book:

"...The author gives readers a portrait of a tumultuous period in Cuban history and skillfully integrates island flora, fauna and mythology into Fefa's first-person tale..." (Kirkus -- a starred review!)
"... beautiful collection of poems that together tell the story of a young girl's challenge with language, and it is much more. We learn the history and culture of Cuba, and the power and importance of family..." (VOYA)

Click here to read complete reviews of the book.

January 9, 2012

Recent reviews: Gathering Books Blog wrote another review of Margarita's book, The Poet Slave of Cuba.

January 2, 2012

December 20, 2011

Recent reviews:

December 1, 2011

November 5, 2011

Click image on the left to see how Margarita's book, The Firefly Letters, inspired Ms. Shearer's 8th grade English students, from Calhoun Middle School in Texas.

November 1, 2011

Margarita did a guest blog on the Kidsbiographer's Blog, on 'Choosing Voices'. Read it here.

October 2011 - Book News!

* The Korean edition of Summer Birds is now in print

* Thank you for all the reviewers, librarians, and teachers that have requested an ARC of Margarita's upcoming book The Wild Book. Please let us know what you think of the book.

Recent and upcoming reviews:

On October 23, Margarita spoke in a plenary session of the International Board on Books for Young People Regional Conference, in Fresno, along with author Adwaa Badoe from Ghana.
On October 19, Margarita spoke to a group of Fresno school librarians at Liddell School.
On October 1, Margarita signed copies of her books at Petunia's Place Bookstore in celebration of the Hispanic Heritage Month, along with author Gary Soto.

September 24, 2011

Margarita's poem is featured in a new poetry anthology, P*TAG (PoetryTagTime), along with 31 other YA poets and verse novelists like, Naomi Shihab Nye, Paul Janeczko, Helen Frost, Joyce Sidman, current Children's Poet Laureate J. Patrick Lewis, and Lee Bennett Hopkins.
This anthology is available to download in e-book/digital format. For more information, visit Poetry Tag Time's website.

August 25, 2011

Margarita was the guest speaker for a book club, unofficially called the Bad Girls Book Club, from Madera, CA. For their meetings, members of the book club read different books and recommend them to each other, rather than discussing a single book. At this meeting, each member read different books written by Margarita. The event was organized by Janet Claassen, a retired librarian and dedicated Friends of the Library volunteer.

Special thanks for Petunia's Place Bookstore, the only independent children's bookstore in Fresno, for staying open late to host the club.

July 30, 2011

Check out new interviews with Margarita from Pat Mora's Bookjoy Creativity Salon, and from The Gatekeepers Post.

Margarita and her works will be featured on these future publications:
* Poetry Tag Time for Teens, an e-book anthology, edited by Sylvia Vardell and Janet Wong (September 2011, Poetry For Children)
* The new edition of Her Story: A Timeline of the Women Who Changed America (Harper Collins, March, 2012). Margarita will be featured in this book as the first Latina Newbery Honor recipient.

July 8, 2011

Hurricane Dancers, story of the first Carribean pirate shipwreck, has been nominated for the 2012
American Library Association's Best Books for
Young Adults list.




July 7, 2011

Margarita visited Petunia's Place Bookstore to talk about The Firefly Letters at their Good Books Good Times Book Club.


June 26, 2011

Margarita received a Pura Belpré Honor for The Firefly Letters at the American Libraries Association (ALA) Annual Convention, in New Orleans.
She also spoke at a breakfast in honor of the Amelia Bloomer Top Ten List.

June 5, 2011

Update: July 7, 2011
Advanced Readers Copies of The Wild Book will be available to reviewers, librarians, and teachers in August.

Margarita's newest book, The Wild Book is scheduled to be released in March 2012. Check out the gorgeous cover illustrated by Yuyi Morales

June 1, 2011

Exciting News!
Works on the Korean translation of Summer Birds and Tropical Secrets are in progress.

April 2011

Check out Margarita's video interview with Colorín Colorado, as Margarita discusses her childhood memories of Cuba and the ways in which her quest for her own heritage led to the discovery of these unforgettable heroes and heroines.

May 9, 2011

Margarita was one of the speakers at the International Reading Association (IRA) Annual Convention, in Orlando. She was also there to introduce the International Reading Association's Notable Books for a Global Society list. The Firefly Letters is one of the books on this year's list.

May 4, 2011

The Firefly Letters is selected as the Américas Award Honorable Mention.
The Américas Award is given in recognition of U.S. works of fiction, poetry, folklore, or selected non-fiction (from picture books to works for young adults) published in English or Spanish that authentically and engagingly portray Latin America, the Caribbean, or Latinos in the United States. See complete list of the winners and honors here.

April 15, 2011

Update (June 7): Click here to read an article on Margarita by Sylvia Vardell.

Margarita participated in the Texas Library Association's Annual Conference's Poetry Round Up, reading her works along with other contemporary poets, and hosted by Sylvia Vardell of Poetry for Children blog

March 2011

Margarita's new book, Hurricane Dancers, the First Caribbean Pirate Shipwreck, is out on stores this month.
Get your copy from local bookstore or order it online, and read about Quebrado's adventures in the Caribbean Sea